As we have moved through this world-wide pandemic, from the very beginnings to our current state, our Bay Area Senior Apartment Homes have had zero cases of COVID-19. This positive record brings to light the diligence and dedication of our professional and caring staff members. Their concern for keeping our senior residents safe, coupled with their adherence to following the guidelines provided by the CDC, state, and county, has built a protective barrier that has kept the virus outside our doors. With over 100,000 positive cases of the coronavirus in the United States, we are pleased to know that our senior apartments have been kept out of harm's way.
Keeping a COVID-19 Status of Zero Cases is Our Top Priority
The Heritage Downtown takes its role in preventing the coronavirus from reaching our senior community very seriously. This is demonstrated by the fact our Active Senior Apartment Community in Walnut Creek has had no cases of the virus, at any time. It's our main priority to keep our case number at zero by maintaining a high level of attention to the safety protocols that were outlined by the Center for Disease Control and Prevention. We would like to share what some of those safety measures look like that have allowed The Heritage Downtown to remain COVID-19 free:
Our Enhanced Safety Protocols Have Kept the Virus Outside of Our Doors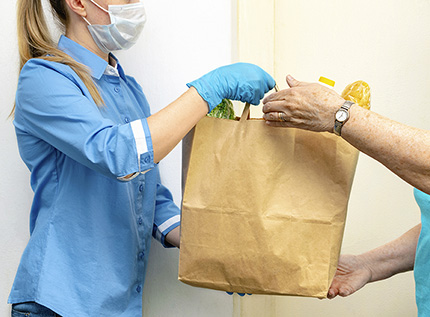 From the crack of dawn, into the evening, our commitment to ensuring all safety precautions are taken remain steadfast. It's not difficult for our team to accomplish this each day. Why? Because our staff cares a great deal about the well-being and health of each and every resident at The Heritage Downtown. With that in mind, some of our daily safety procedures are outlined below:
Strictly complying with all CDC, state, and county guidelines.
All our staff member's temperatures are taken daily.
Provide a COVID-19 screening questionnaire to our staff.
Ensure the use of face masks and gloves.
All residents are assisted with sheltering in place and social distancing.
Only essential visitors are permitted to enter The Heritage Downtown.
A large focus has been placed on cleaning and disinfecting
Bringing nutritious meals right to our resident's doors to eliminate the need to gather in the dining area.
Preparing Food that Keeps Our Residents Healthy
Whether there is a COVID-19 pandemic among us, or it's just an average day, The Heritage Downtown ensures its senior residents are well taken care of when it comes to their health. This is accomplished when their residents dine at Newton's Restaurant, their on-site, award-winning eatery. It serves only the healthiest foods that are obtained through local sources such as their on-site Chef's Garden, and from the local Walnut Creek Farmers Market. The restaurant's Chef, JV, creates meals using fresh herbs, vegetables, fruits, and more. The 55+ residents appreciate the culinary excellence found at Newton's Restaurant, along with its fresh cooking philosophy. They certainly look forward to enjoying delicious and healthy meals on a daily basis while residing at The Heritage Downtown.
Keeping Safe During a COVID-19 Outbreak While Reducing Isolation and Inactivity

One benefit of living at The Heritage Downtown is that we incorporate social and physical activities to eliminate isolation and inactivity. These two elements are extremely important to consider when in your golden years. Now, with the coronavirus among us, we have all had to change our daily routines. This includes isolating ourselves from others, and staying inside our own spaces. It goes without saying that this can be detrimental to one's well-being if not done properly. This is why The Heritage Downtown has taken additional steps to alleviate the possible negative effects this can cause.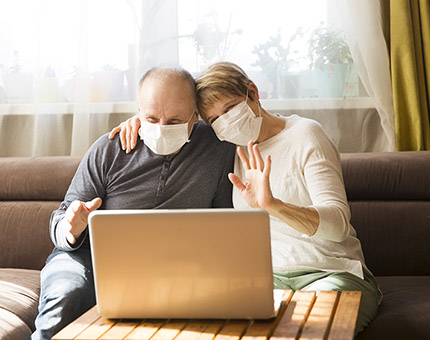 Although we have had to adapt to a new way of living, for the time being, we are still very socially connected and physically active here at The Heritage Downtown. In keeping with the safety guidelines, we have incorporated some outstanding programs to ensure our senior residents are enjoying their days and keeping physically fit. Here is just a sampling of what is taking place at our San Francisco Bay Area Active Senior Resort-Style Apartments:
Utilizing modern technology such as Zoom, our 55+ residents take part in activities such as fitness classes that keep them moving, and discussion groups that connect them with their fellow seniors.
Our dedicated staff brings the entertainment right to our resident's doors. This includes contests, monthly birthday cupcakes, happy hour, ice cream and other snacks, and crossword puzzles, just to name a few.
We Continue to Adapt Our Safety Measures in Accordance with New Coronavirus Guidelines
As we go through the different phases of the coronavirus, the Heritage Downtown will continue to receive essential information from our state and local officials, as well as monitor the most recent guidelines and policies as set forth by the CDC. Our proactive approach will keep our senior residents guarded as we implement any new precautionary measures that may be suggested. Our professional staff will continue to do whatever it takes to shield our wonderful senior community from this pandemic.
Walnut Creek Also Does Their Part to Keep Our Community Safe
We would also like to call attention to the fact that our city, Walnut Creek, has done a fantastic job in keeping COVID-19 at bay. With its population of 70,860, they have been able to report, as of June 17th, a number as low as 72 for their positive case count. Our 55+ residents of The Heritage Downtown feel safe living in a city that goes to such great lengths to keep their community safeguarded from this virus. There is no doubt that this has also helped us maintain zero positive cases within our Senior Apartment Community.
Zero COVID-19 Cases Makes The Heritage Downtown a Safe Bay Area Senior Community
We are relieved to know that our efforts have led to no coronavirus cases within our Northern CA Senior Apartment Homes. The bottom line is that our 55+ residents feel safe, and we couldn't be happier about that. As we move through the months, we will ensure that our senior community continues to feel safe, comfortable, and that their spirits remain uplifted during this time. If you would like to speak to one of our dedicated team members regarding all that we are doing to protect our senior residents, please feel free to contact us at (925) 943-7427, or visit The Heritage Downtown contact page. From our staff to all who are reading, we wish for you and your loved ones a safe year ahead.