Those who reside at The Heritage Downtown are accustomed to special outings, but on a beautiful day, mid-February, one resident by the name of Celia, and a small gathering of her co-residents, were in for a meaningful afternoon getaway that they would never forget.
A Special Heritage Downtown Senior Outing
Our story begins with our wonderful resident, Celia, who was turning 95 years young. As a special surprise to celebrate her big day, The Heritage Downtown coordinated a trip to the Slice House, a popular artisan pizza restaurant in Walnut Creek, CA.
It so happens that Celia has a grandson, Scott, who is the owner of the well-known Scott's Pizza Tours of NYC, which has been featured on the Food Network and The Oprah Magazine. Being the main player that Scott is within the pizza industry, he actually knew the owner of Slice House, where his grandmother would enjoy her birthday lunch celebration. How could someone who runs an acclaimed pizza tour company in NYC know the owner of a pizza house on the other side of the country? The answer is simple, because the owner of this Walnut Creek eatery is Tony Gemignani, a famous restauranteur and world pizza champion.
World-Famous Guest Makes the Celebration Complete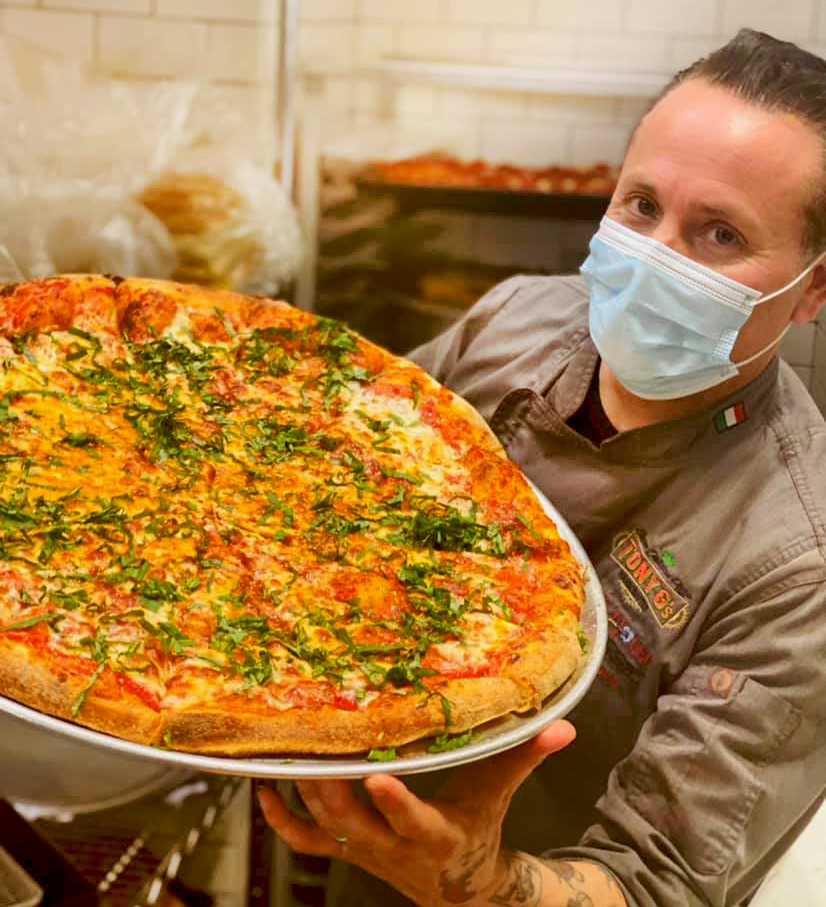 Celia's grandson, Scott, contacted Tony to ask if he wouldn't mind doing him a favor – he requested Tony be present at his restaurant to make Celia's birthday extra special. Tony was happy to help and arranged to be at his Slice House Walnut Creek restaurant location the day of the birthday luncheon.
Tony went above and beyond to make his guests feel special, but before we dive into the details of the lunch, we would like to throw in a few facts about Tony, so you understand why The Heritage Downtown residents were so excited that he was a big part of Celia's 95th birthday celebration.
Tony Gemignani, who so kindly took time out of his busy day to meet with Celia and her fellow Heritage Downtown co-residents, has many impressive accomplishments. For starters, upon entering his first pizza throwing competition, he was named the top pizza thrower in the world. Additionally, he became the first and only Triple Crown winner for baking at the International Pizza Championships in Lecce, Italy. Plus, his restaurant in San Francisco, Napoletana, was named the best pizzeria by USA Today, and top pizza restaurant by the Travel Channel. He has many other accomplishments that have landed him a guest spot on the Tonight Show with Jay Leno, and Good Morning America, and he also makes regular appearances on the Food Network.
A Walnut Creek Birthday Luncheon that Celia Will Always Remember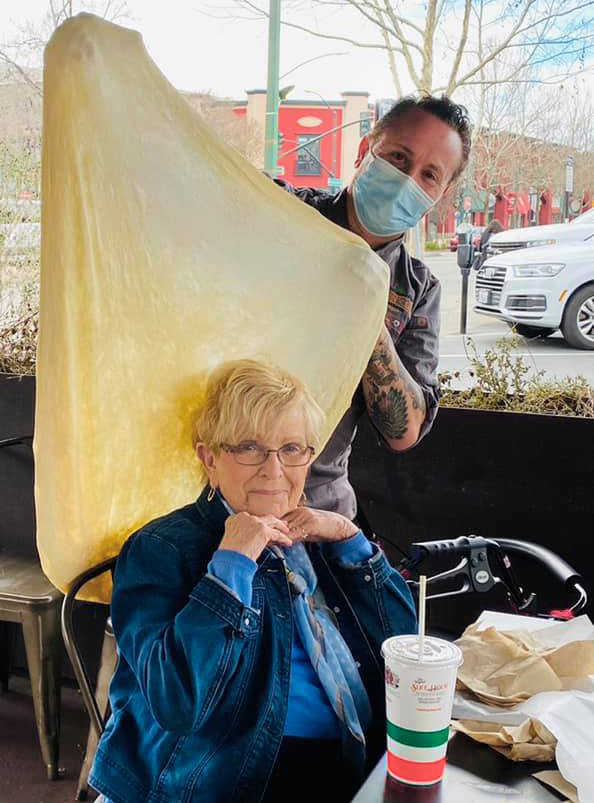 This specially planned birthday lunch for Celia was no ordinary gathering, and it turned out to be a fabulous personal pizza experience for each Heritage Downtown resident who attended.
Tony personally served two of his favorite pizza varieties to Celia and her friends. He also put on quite a performance for them as he demonstrated his pizza dough throwing and stretching skills. He showed his "Pizza Bible", which is a comprehensive guide to making pizza, told entertaining stories of his career, accomplishments, and details on operating a pizza business during a pandemic.
Tony also personally served Celia and her fellow seniors outstanding spumoni ice cream – a crowd favorite. The most thoughtful part of this story is that Scott, Celia's grandson, was planning on paying for the entire birthday lunch, but Tony insisted that it was his treat in honor of Celia's 95th birthday.
All this, and more, made for an especially interesting, entertaining, and very special birthday lunch for a much-loved resident of our Heritage Downtown community.
Join Our Bay Area Senior Retirement Family
If you want to be a part of a great senior community in the San Francisco Bay Area, we welcome you to reach out to one of The Heritage Downtown Team Members. Our well-known senior apartments are located near downtown Walnut Creek. This is a great location that allows our senior residents to take a walk over to their favorite restaurants and shops. Additionally, The Heritage Downtown is considered Northern CA Bay Area's number one retirement community.
Before you go, be sure to take a look at our Active Senior Guide to Northern California Bay Area Destinations. It details 30 interesting and fun travel hot spots that would make for great day trips.