Walnut Creek vs Lafayette Retirement Community Comparison

For those of you who are looking into a Lafayette retirement community, as well as one in Walnut Creek, you have come to the right place. Our retirement community comparison that details these two senior hot spots will provide you will all the information needed to make a sound decision on which city would be best for you. We go over the essentials such as transportation, cost of living, and much more. Your search for the perfect retirement community in the Bay Area is just the start of your exciting retirement journey! Let's dive in and learn all out these two fabulous Northern CA cities. [toc]
Senior Retirement Communities in Lafayette and Walnut Creek
The San Francisco Bay Area covers a vast amount of land and includes many cities, large and small. With this in mind, it can seem a bit overwhelming to pinpoint which of these Northern CA cities will meet your needs. So, the fact that you have narrowed it down to a retirement community in Lafayette or Walnut Creek means you have made much progress. Now it's time to go over all the fine details. Take your time processing the information. After all, this is a significant decision that will determine where you will live for many years to come.
Location – Retire in a Fantastic San Francisco Bay Area City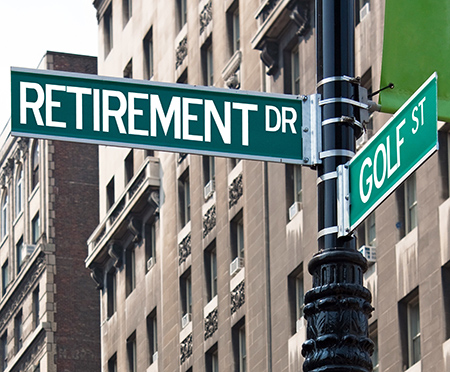 Although both cities are in the Bay Area, there can be slight differences in the two locations. It's worth looking into each area to be aware of the pros and cons of both. For instance, one may have better freeway access over the other. Or, one city may offer more greenery, and so on.
Take a look at the location specifics of these two San Francisco Bay Area cities:
Walnut Creek:
This sunny Northern California retirement community is a favorite among the 55 plus community. It rests within the San Francisco Bay Area in Contra Costa County. Several main highways run through Walnut Creek, CA, which makes visiting nearby Bay Area cities simple. The older adults that reside at the
Heritage Downtown Senior Apartments
frequently go on group trips. So, the ability to easily access these highways makes it possible to visit San Francisco and other interesting places without any issues. This is important for keeping active and enjoying all the Bay Area has to offer. The retirement community of Walnut Creek showcases beautiful landscapes that include rolling hills, open spaces, areas to walk and hike, and so on. This popular senior community also provides the locals with a bustling city life for those who love to shop and dine. A Bay Area retirement location such as this certainly has a lot to offer its senior residents!
Lafayette:
Also part of Contra Costa County, this location occupies 15.2 square miles of land, of which 0.2 miles are comprised of water. This area is known for having beautiful rolling hills and more suburban or rural areas. Because of this, in the Southwestern section of the city, you will find the Lafayette Reservoir and large parks. There is only one main freeway that runs through Lafayette, CA. But, it's a major road that will definitely take you where you need to go. In sum, a senior community in Lafayette provides a location that would be pleasant to retire in.
Climate – Live in a Bay Area Retirement Community with Great Weather
Older adults who retire in the San Francisco Bay Area won't have too much to worry about when it comes to bad weather. At the same time, there are differences from city to city. So, you may want to take a closer look at each NorCal retirement community to ensure it has the weather that you prefer.
Walnut Creek:
This Contra Costa County retirement city is known for sporting a very enjoyable climate. Walnut Creek provides warm weather during the summer months, with consistent sunny days. This creates the ideal weather for getting out in the sunshine for a walk, or, to just sit and enjoy the sun. During the winter months, you will see some frost on the colder days, but, it's nothing to be concerned about. Average temperatures can range from the lower 50s to the low 80s. As far as rain is concerned, you really won't have to worry about this in Walnut Creek because this sunny California senior community doesn't experience too much of it. All in all, Walnut Creek will supply you with weather that's comfortable all year round.
Lafayette: This retirement community located in the East Bay region of Northern Ca also doesn't experience much rain. Although, its precipitation numbers are a little higher than Walnut Creeks. When rain does occur, it's typically in winter months. This city's average temperatures range from low 40s to mid 70s. Just like most of the Bay Area, Lafayette features a great Mediterranean climate. It's worth mentioning though that sometimes the temperatures can get out of range. It's not unheard of to see temperatures in the triple digits when its surrounding cities are 20 degrees cooler. Summers are typically warm and dry with winters being cool and damp. If you are interested in a retirement community in Lafayette, you certainly won't have to worry about the climate getting in the way of your plans!

Cost of Living – Walnut Creek Sports Lower Cost of Living Numbers
If the cost of living is a concern for you, it's important to research the various expenses within a city. For instance, if you love a certain San Francisco retirement community, but, the senior housing prices are through the roof, it might not be a wise decision to make plans to retire there. We found that Walnut Creek boasts a lower cost of living than Lafayette, CA. This doesn't mean that Lafayette is not the right choice, it's just something to take note of. Take a look at these cost of living numbers to see which East Bay Area city falls in line with your budget:
Walnut Creek Cost of Living Data:
Overall: 225.5
Housing: 478.2
Lafayette Cost of Living Data:
Overall: 332.4
Housing: 835.1
Under 100 means less expensive than the U.S. averages. Above 100 means more expensive.
Population – More Seniors Reside in Walnut Creek
If you retire in Lafayette, CA or Walnut Creek, you will certainly won't have to deal with an overpopulated city. Both San Francisco Bay Area senior communities have low population numbers. Walnut Creek has a population of 68,516, while Lafayette's numbers come in at 25,792. Lafayette's lower population number might sound appealing, but, keep in mind, that if they are too low, that may also coincide with not having as many resources within that city. Furthermore, you will want to take into consideration the number of seniors within the city you are looking into. Walnut Creek comes out on top in this category also. Here are a few facts on Lafayette, CA and Walnut Creek's population when it comes to age:
The percentage of senior citizens ages 65 to 74 is 13% in Walnut Creek and 10.7% in Lafayette
The Median Age is 3.5 years older in the city of Walnut Creek.
If you are 85 or older, you will want to see these statistics: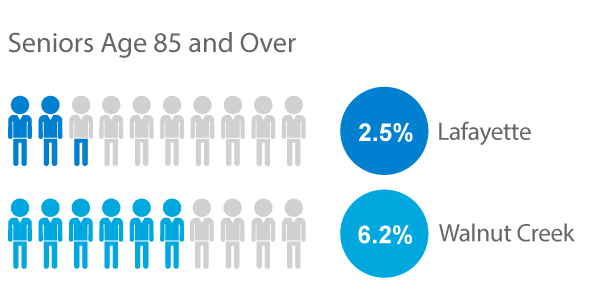 Transportation – Northern CA Senior Communities with Great Mobility Options
Not all seniors choose to drive, and some may not feel comfortable. With this in mind, it's essential to ensure that the Bay Area retirement community you are looking into offers adequate transportation options. Let's take a look at the transportation options for these two Northern California senior hot spots:
Transportation Options for Retirement Communities in Walnut Creek, CA: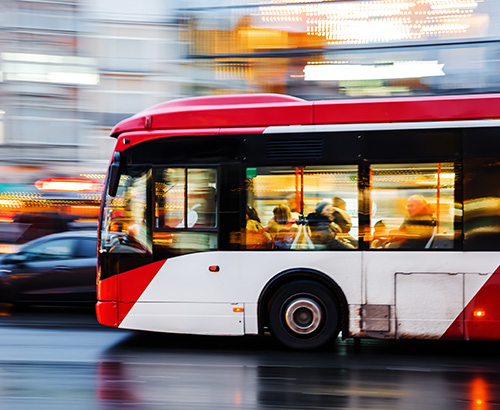 For those of you who are just looking for a location with good transportation options to travel around the city, or, seniors who want a means of transportation to get to other
San Francisco Bay Area destinations
, Walnut Creek has you covered!
Rides for Seniors Program: If you prefer not to ride the city bus or train, Walnut Creek's Rides for Seniors program is a wonderful option. It comes in handy when you need to get out to run errands.
Public City Transportation: Older adults that have retired in the city of Walnut Creek frequently use the Advanced Rapid Transit System – BART. This terrific means of transportation allows senior citizens to easily travel around the Bay Area. If you are just looking for a way to get around town, Walnut Creek's County Connection will be your go-to source of transportation.
The Downtown Trolley: If you're one to spend a lot of time downtown, then you will love Walnut Creek's trolley system. It will take you to several downtown locations to do some shopping and fine dining. It operates 7 days a week and there is no charge.
Shuttle Services: You can also catch the Shadelands Shuttle, as well as the Creekside Shuttle to travel within the borders of Walnut Creek. You can conveniently use these shuttles to run errands, meet a friend for lunch, or go to your medical appointments.
Transportation Options if You Live in a Retirement Community in Lafayette:
If you're considering a retirement community in Lafayette, CA, you will be sure to have reliable transportation provided to you. The city has several means of public transportation that's both affordable and reliable.
The City Bus: The Central Contra Costa Transit Authority's County Connection offers public bus services 7 days a week. This reliable means of transportation is utilized by seniors of all ages who have retired in Lafayette, CA.
BART: The Bay Area Rapid Transit District provides rail connections to surrounding San Francisco Bay Area cities. This source of transportation is perfect for independent active seniors who love to plan day trips.
Crime Rate – Safe San Francisco Bay Retirement Cites for Seniors
If you do any research, it should be on the crime rate for the Bay Area retirement city you are interested in. Living in a safe community is essential to living in a peaceful environment. There would be nothing worse than moving into your new Northern CA senior housing facility only to find it's not even safe to take a walk around the neighborhood by yourself. You will be happy to hear that both a Lafayette retirement community, along with Walnut Creek senior communities, both offer safe, low crime rate locations.
Healthcare – Retire in a Bay Area Location that Offers Outstanding Healthcare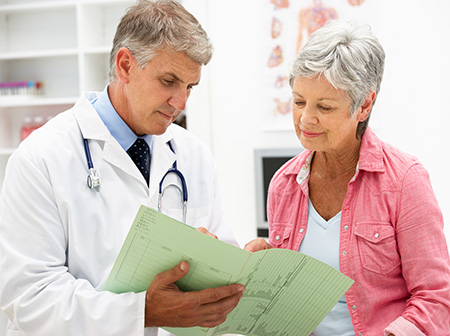 As a senior citizen, having a good hospital nearby might be at the forefront of your mind, and with good reason. So, it makes sense to research the hospitals in the San Francisco Bay Area you plan on retiring in. It so happens that if you retire in Lafayette, CA, the nearest hospital is John Muir Medical Center in Walnut Creek. Let's take a look at this fantastic Bay Area hospital:
Walnut Creek John Muir Medical Center:
This outstanding hospital specializes in orthopedics, rehabilitation, neurosciences, cardiac, trauma, cancer care, as well as other critical areas. They provide 554-licensed beds, and are named as the sole trauma center for all of Contra Costa County. Additionally, U.S. News & World Report has rated John Muir Medical Center as one of the nation's premier healthcare providers. Plus, John Muir has received the Joint Commission's Gold Seal of Approval™ for certification as a primary stroke center. Seniors who retire in Walnut Creek will be happy to hear that this hospital is located less than two miles from the Downtown area. If you reside in a retirement community in Lafayette, depending upon your location within the city, it will be a 10 to 20 minute drive to reach this hospital.
Entertainment – Activities for Seniors Who Retire in the Bay Area
Independent active seniors looking for a retirement community in the San Francisco Bay Area should be sure the city they select has plenty to keep them busy. Having fun, socializing, and getting out in the community is an important factor when it comes to the retirement years. With this in mind, let's look into these two Northern CA retirement locations to see what they have to offer:
Retire in Walnut Creek with the Following Activity Options:
The residents of the Heritage Downtown Active Senior Living Apartments never run out of interesting things to do in their Walnut Creek retirement community. From playing golf to enjoying music at a street fair, Walnut Creek is a senior hot spot for those that are 55 plus! Check out this sampling of things to do in Walnut Creek:
Senior Club
Walnut Creek Senior Club: This sensational senior club has been keeping the 55+ community active and entertained for years. It's a great place to get involved with when you move to a new retirement community in Walnut Creek. This senior club ensures that you will have plenty to keep you busy. They plan activities such as bridge, bowling, pickleball, sing-a-longs, and skiing for those of you who are adventurous. Joining this Bay Area senior club will set you on the right social path in your new city.
Must-Visit Places in Walnut Creek
Boundary Oak Golf Course: If you're a golf lover, then you are going to be visiting this course quite often! It's an impressive 18-hole championship course that showcases well-manicured putting greens, an outstanding driving range, as well as friendly and helpful staff members. While playing a round of golf, you will enjoy breathtaking views of the San Ramon Valley area. They have a popular eatery, the Tap House, where you and your friends can grab a bite to eat. Furthermore, their clubhouse is a must-visit if you are in need of professional golf accessories.
Lesher Center for the Arts: This premier arts and entertainment center features more than 900 productions and events in the course of a year. Lesher Center for the Arts is actually owned by the city of Walnut Creek, and partnered with the Heritage Downtown Senior Apartment Homes. This center is an East Bay favorite and enjoyed by all who live in this Northern CA retirement community. When not enjoying the show, you can check out the Bedford Art Gallery. Here you will experience wonderful displays of art, along with great conversations with your fellow seniors. If you retire in Walnut Creek, you will want to stop by this art center to see all it has to offer.
Events You Won't Want to Miss
Walnut Creek Art & Wine Festival: For those seniors who reside in Walnut Creek, you can't miss this art and wine festival. The whole community will be talking about it! It's been entertaining seniors in the Bay Area for the past 38 years. This festival sports artwork for sale, a chance to enjoy the best local wine and beer in the area, along with an opportunity to hear some great music.
Music & Movies Under the Stars: This event is a local favorite among retired seniors in Walnut Creek. The community gathers to view an outdoor screening of a popular movie, as well as enjoy a little music before the show. Most bring dinner or snacks to enjoy during the movie.
For those of you that like to visit surrounding cities for a chance to explore the area, you may be interested in our
Senior Bay Area Destination Guide.
It will give you and your new friends a chance to have some fun together!
Retire in Lafayette with the Following Activity Options:
If you decide to retire in this San Francisco Bay Area senior retirement community, there are a few signature events you won't want to miss. These events are the talk of the town and enjoyed by seniors of all ages.
PLACES TO VISIT IN LAFAYETTE:
Lafayette Art, Wine and Music Festival: This amazing street festival normally takes place in September and is said to be the biggest annual festival in all of Contra Costa County. Seniors from other Bay Area cities travel to attend this East Bay event because it's such a good time. You will enjoy great works of art, crafts, delicious food, local wines, along with quality microbrews. You will also enjoy live music and everything else this festival has to offer. If you move to a retirement community in Lafayette, CA, you will have a chance to attend this outstanding art, wine, and music festival every year.
Taste of Lafayette: If you find a senior community in Lafayette, you will certainly want to mark your calendars to attend the Taste of Lafayette. It features a "stroll" on a popular street where 25 restaurants participate. You will get a chance to get some exercise while sampling a variety of great food. This event also showcases live street music, as well as a guaranteed great time!
55+ Senior Housing in Lafayette and Walnut Creek
Since you have thoroughly gone through all the details of these two Northern CA retirement communities, you should now have a clear idea of which city meets your needs. This means it's time to start searching for the best retirement community in Lafayette, CA, or, Walnut Creek.
Retirement Housing in the City of Lafayette, CA:
If an active senior community in Lafayette is the place for you, make sure to visit several senior housing facilities within this Bay Area city. You will want to ensure that the location you choose has transportation options nearby. Also, it's important that the senior housing you have your eyes on is affordable. We wish you the best and hope you enjoy your retirement years in Lafayette, CA!
Retirement Housing in the City of Walnut, CA:
Walnut Creek is known for being a great place to retire. This, in part, is because the city of Walnut Creek takes care of its senior community in many ways. This includes its senior programs, special transportation options, as well as clubs. In addition to this, the retirement community of Walnut Creek offers some fabulous senior housing options. Let's take a look at one of the most popular independent active senior apartment homes in Walnut Creek.
The Heritage Downtown Active Senior Living Apartments
These particular senior apartments have been voted as the Bay Area's #1 Active Senior Living community. The Heritage Downtown showcases outstanding
amenities
, amazing programs, professional and friendly staff members, and much more. They feature resident gardens, a home theater, around the clock concierge service, free shuttle service every day of the week, as well as in-home washers and dryers. This bay Area senior community also offers a technology center, fitness programs, a beautiful swimming pool, and a relaxing spa. If you're looking for a place with exceptional dining options, they offer an award-winning eatery where many residents meet on a daily basis. The Heritage Downtown is located in downtown Walnut Creek. A perfect location for shopping, dining, and meeting friends. This San Francisco Bay Area retirement community has much to offer and will provide seniors 55+ with a chance to live a quality life, keep active, and love their place of residence!
Compare Other Northern CA Retirement Communities
If you would like to compare other Bay Area senior retirement communities, take a look at this convenient list:
Explore Your New Retirement Home in Lafayette or Walnut Creek!
We hope that you have found the perfect Bay Area retirement community, whether it's in Lafayette, or, Walnut Creek. No matter where you retire, make the best of it! Get to know your community and enjoy all the area has to offer you. Before we sign off, we would like to present to you this wonderful video that showcases downtown Walnut Creek. Take a look and see what a great Bay Area location this really is, especially for retired seniors!
.
.