Walnut Creek vs Union City Retirement Community Comparison – Bay Area Guide for Seniors

If you're looking for a fabulous place to retire in the San Francisco Bay Area, and you have your eye on a retirement community in Union City, CA, and Walnut Creek, our comparison can help you determine which of these two Northern California cities would best meet your needs. We have included all the elements that are important to seniors of all ages so that your Bay Area retirement community search will be less complicated, and maybe a little fun too! [toc]
Retirement Communities in Union City and Walnut Creek
Moving to a Northern CA Bay Area senior community is a big commitment. Because of this, it's imperative to research and compare the cities that you are considering. This Bay Area city comparison will provide you with the information needed to place you on the right path. It will conveniently give you details pertaining to Union City and Walnut Creek transportation options, crime statistics, entertainment, and much more. Start reading and find your dream retirement community in the San Francisco Bay Area today!
Location – Retire in a Northern CA Area that You Love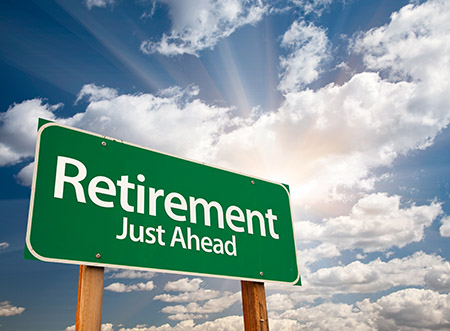 Northern CA, especially in the San Francisco Bay Area, is said to be a dream retirement location. With its rolling hills, ocean views, bay front properties, and must-visit wineries, it has become a popular place for seniors to retire. Trying to figure out which Bay Area location is the best place to retire can be a challenge though.
Check out what these Bay Area locations have to offer:
Walnut Creek:
This Contra Costa County retirement community is loved by seniors of all ages, and for good reason. It's situated in the San Francisco Bay Area in the East Bay region. Major freeways connect within Walnut Creek, creating an opportunity to easily travel to surrounding areas. The seniors of the
Heritage Downtown Luxury Apartments
often plan day trips and utilize these freeways to travel to the city of San Francisco and other fun locations. Walnut Creek features lovely landscapes with wide-open spaces and rolling hills. It also sports a busy city life that will meet all your needs. This location has everything an active senior could hope for in a Bay Area retirement community.
Union City:
This sunny California location is located in Alameda County within the San Francisco Bay Area. It's only a 30-mile drive from San Francisco, and a short distance from San Jose, as well as other major Bay Area cities. A few major freeways run across Union City, CA, making it a great location for seniors who love to travel around Northern CA. Additionally, if you move to a retirement community in Union City, you will find that its location offers mostly city landscapes. But, there is also the Dry Creek Regional Park in this city, a nature lover's dream, which covers a large portion of land.
Climate – The San Francisco Bay Area Offers Great Weather
Some may overlook the climate in the city they wish to retire in, but it's actually very important. Certain Bay Area cities can experience more rainfall than others. This can be a deal-breaker for some retired seniors due to arthritis issues. Or, some seniors may want to avoid the San Francisco Bay fog that is common in cities close to the bay. If you plan to retire in Union City or Walnut Creek, it would be best to ensure that you can handle the weather that's offered in these locations. Let's take a look at a few weather-related details that can give you a general overview of these two Bay Area senior communities:
Walnut Creek:
This Bay Area favorite boasts comfortable warm weather during the summer months. Additionally, you will find that there are mostly sunny days during this time. This provides active seniors with a chance to get out and enjoy the day. When winter hits, frost occurs early in the day, and the temperature is colder, but still pleasant. Temperatures range from the low 50s to the low 80s. When it comes to rain, you won't find too much of that in Walnut City. The bottom line is that if you retire in Walnut Creek, you will love the weather it has to offer!
Union City: Due to its great weather patterns, active seniors will enjoy living in this Northern CA retirement city. Its average temperatures range from the low 40s to high 70s. It features the same terrific rainfall averages as Walnut Creek, and is said to have comfortable weather all-year-round. Moving to a retirement community in Union City, CA, will offer you typical Bay Area weather that seniors can enjoy.
Cost of Living – Union City & Walnut Creek Seniors Can Retire without Breaking the Bank
Affordability is a big concern among active seniors. This is why it's important to ensure the Bay Area retirement community you choose doesn't have a high cost of living. Imagine moving to your new retirement home in Northern, CA, and finding out you can't afford to live there! No need to worry though, we did extensive research and found that whether you retire in Walnut Creek, or, Union City, CA, you won't have to worry about your wallet. Both cities have an affordable cost of living that will allow seniors to live the life they desire.
Population – Walnut Creek has a Higher Active Senior Population
Both of these San Francisco Bay retirement communities offer comfortable population numbers. The numbers are close, with Walnut Creek sporting a population of 68,516, and Union City coming in just a bit higher at 74,358. In addition to this, if you are concerned about living in a community with individuals who are much younger than you, know that Walnut Creek showcases a higher population of independent seniors. See how Union City, CA and Walnut Creek compare with these age and population details:
The percentage of seniors ages 65 to 74 is 13% in Walnut Creek and 9.2% in Union City.
The Median Age is 10.4 years younger in Union City than it is in Walnut Creek.
Walnut Creek has a much higher percentage of seniors that are 85 years and older. Take a look at these statistics: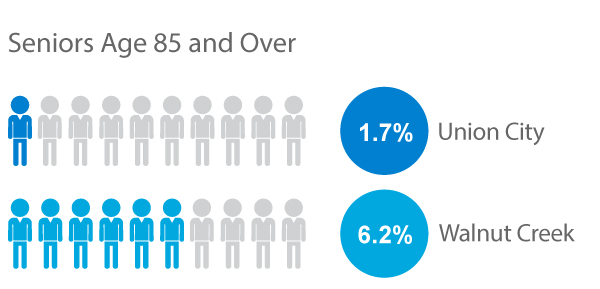 Transportation – Seniors Who Retire in the Bay Area Need Reliable Mobility Options
Some senior citizens don't feel comfortable driving, while others are unable to. This makes living in a Northern CA retirement community that offers reliable transportation a must. Additionally, you may prefer to only ride the bus, while others love to jump on other means of transportation that can take them to surrounding cities. Whatever your needs are, you should ensure that if you retire in Union City, CA, or Walnut Creek, that they meet your transportation requirements.
Transportation Offered to Older Adults Who live in a Retirement Community in Walnut Creek, CA: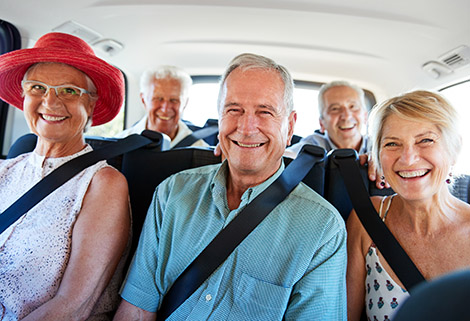 55+ seniors who retire in Walnut Creek will have great transportation options available to them. This includes the city bus, the BART system, and more. Let's take a more detailed look at what transportation options would be available to you if you were to retire in this East Bay city:
Rides for Seniors: Older adults have the option of utilizing Walnut Creek's Rides for Seniors program. This helpful program enables seniors who are unable to run errands, go to medical appointments, and so on.
City Transportation: Senior Citizens who live in Walnut Creek can take advantage of the city's Advanced Rapid Transit System, commonly known as BART. This fantastic system of travel will take seniors all around the Bay Area. For those of you who would like to travel to different San Francisco Bay Area cities, take a look at our Bay Area Day Trips information guide. If you prefer to stay within the city limits, you can conveniently use the City Bus that's known as the County Connection.
The Trolley: Do you love to go downtown to hit the shops. If so, take the trolley! It runs 7 days a week and it's completely free. It's an East Bay favorite!
Shuttle Services: Seniors who live in a Walnut Creek retirement community can easily take the Shadelands Shuttle, along with the Creekside Shuttle. It's a no-cost way to travel around town!
Transportation Offered to Older Adults Who live in a Retirement Community in Union City, CA:
If you're a senior who plans to retire in Union City, CA, you will have a few different means of transportation available to help you run errands, travel, and keep active. Here are some affordable options for you to consider:
Union City Transit: Senior residents of Union City depend on this city-run bus system for their transportation needs. The Union City Transit coordinates with BART train arrivals and departures. This makes planning senior day trips around the Bay Area simple.
BART: The Bay Area Rapid Transit District (BART) offers rail connections to San Francisco and other Bay Area cities. It's a fast and reliable means of transportation for independent active seniors who love to explore the area.
Crime Rate – Low Crime Retirement Communities in Union City & Walnut Creek
Before making your big move, you may want to take a careful look at the crime rates of the Bay Area retirement communities you are considering. This may be one of the most important factors when it comes to moving to a new area. We did our research and found that if you move to Union City or Walnut Creek, you will be safe and sound. These two cities have very low crime rates, which makes them great San Francisco Bay Area locations to retire in. Take a look at these crime statistics in both Walnut Creek and Union City, CA:

1 = low crime and 100 = high crime
On a scale from 1 through 100 with 1 being low crime and 100 being high crime.
Healthcare – Senior Communities in the Bay Area Offer Impressive Hospitals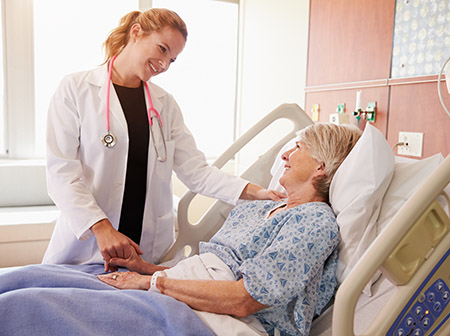 As we grow older, we tend to need a bit more healthcare. This makes having sensational hospitals in the area a must! We found that seniors residing in a Union City, CA, retirement community, will have to drive to a nearby city, which is Fremont, CA, to have access to a main hospital. You may want to take this in to account when choosing your Bay Area retirement destination. Having a quality hospital nearby is essential to ensuring you are taken care of in a timely manner when health issues arise.
Walnut Creek John Muir Medical Center:
This well-known Walnut Creek hospital features a substantial number of licensed beds and is the sole trauma center for Walnut Creek and its surrounding cities within the county. Plus, this terrific hospital is known for specializing in orthopedics, rehabilitation, neurosciences, cardiac, trauma, along with cancer care. In addition to this, U.S. News & World Report has rated John Muir Medical Center as one of the nation's premier healthcare providers. If you retire in Walnut Creek, you will be sure to have all your healthcare needs taken care of.
Washington Hospital: Union City doesn't have a major hospital within its city limits. The best nearby hospital is in the city of Fremont, which is about a 15 to 20-minute drive, depending on traffic. This particular medical facility is a 415-bed, acute-care hospital. Also, Washington Hospital was given the America's 100 Best Hospitals Award™ from Healthgrades. This puts Washington Hospital in the top two percent of hospitals in the US for its clinical excellence.
Entertainment – Things to do in the Bay Area for Independent Retired Seniors
Northern California's San Francisco Bay area is an excellent place for seniors to keep busy and stay entertained. There are many activities to take part in, events to go to, and places to visit. Walnut Creek and Union City are no exception, these Bay Area retirement communities offer their senior locals a chance to keep active and enjoy life. It's worth mentioning though, that Union City doesn't have quite as much entertainment options as Walnut Creek does. Let's take a look at what these two NorCal senior communities will have in store for you if you retire there:
Retirement Communities in Walnut Creek, CA, Offer the Following Entertainment:
Seniors of all ages will have an entertaining time if they live within a retirement community in Walnut Creek. This incredible city really caters to their 55+ residents. This keeps its senior population healthy and thriving. It's important to keep active, as well as have a good time on a regular basis. The residents of the Heritage Downtown Luxury Apartments in Walnut Creek are always on the go. You might see them at a musical, the golf course, or maybe even a local street event. Furthermore, Walnut Creek always has something interesting going on no matter what time of the year it is.
A FUN SENIOR CLUB
Walnut Creek Senior Club: This ever-popular senior club offers much to those who retire in Walnut Creek. You will find that this club is a must-join with all the activities they offer. Members can get together to play bridge, softball, tennis, as well as participate in sing-a-longs. The Walnut Creek senior club will allow you to make plenty of friends in your new East Bay retirement community.
PLACES TO VISIT IN WALNUT CREEK
Boundary Oak Golf Course: You will find plenty of 55+ golf lovers at this popular golf course located in the Walnut Creek retirement community. This 18-hole championship course features five putting greens, sixty stalls, and more. Its grounds are well manicured and look amazing. After a round of golf, visit the Tap House, its in-house eatery. They serve excellent food! Boundary Oak showcases a clubhouse where you can buy all your golf equipment, gifts, and more. If you need golf lessons, Boundary Oak can handle that also.
Lesher Center for the Arts: This East Bay art center offers much to the retired seniors of Walnut Creek. In fact, some visit it on a weekly basis. In addition to this, older adults from around the Bay Area travel to visit this popular art center. They provide the community with entertainment such as musicals, comedies, plays, and a lot more. When not enjoying a performance, you may want to visit their Bedford Art Gallery. It's a great place to meet with friends. This center is so popular with retired seniors that the Heritage Downtown has partnered with the Lesher Center for the Arts. This art center certainly makes retiring in this San Francisco Bay Area retirement community well worth it!
WALNUT CREEK AT ITS BEST
Walnut Creek Art & Wine Festival: 38 years into it and the Walnut Creek Art & Wine Festival is still adored by seniors from all over the Bay Area. For those of you who retire in Walnut Creek, CA, you will want to mark your calendars for this big event! Also, if you're into arts & crafts, and love a good beer or glass of wine, then you will be sure to enjoy yourself. You can also look forward to some good music and plenty of vendor booths to visit.
Music & Movies Under the Stars: Walnut Creek locals love this community event! Retired seniors gather with their friends to watch an outdoor moving screening, enjoy good company, as well as listen to great music. You will be sure to have a great time at this outdoor Walnut Creek event!
If you want to explore more than just Walnut Creek for fun activities, you can take a look at our
Senior Bay Area Destination Guide.
It will provide you with plenty to keep you busy!
Retirement Communities in Union City, CA, Offer the Following Entertainment:
If you are leaning towards a retirement community in Union City, you should know that there actually is not as many activities or places to visit as its surrounding cities. But, the following two places are worth a visit for anyone living or passing through the area.
PLACES TO VISIT IN UNION CITY:
Union City Historical Museum: A small but interesting museum that everyone living in a Union City retirement community should visit. It's a non-profit organization that is committed to the preservation of elements dealing with the architectural and cultural history, along with the heritage of Union City. They maintain artifacts, historical books, and more. They also offer educational programs to the community. Seniors with find this place interesting and will want to visit it more than once!
Flight 93 Memorial: A touching and beautiful memorial dedicated to those who passed away on Flight 93 on September 11th. The memorial includes a large "remembrance stone" for each individual who lost their lives that day, lined up in a flowing path. The memorial ends at the "Circle of Hope." The circle features an American flag that symbolizes the bravery of those on Flight 93. This is a unique and meaningful memorial that Bay Area residents should see.
Older Adult Housing in Union City and Walnut Creek
You may have a good idea of where you would like to retire at this point – Union City or Walnut Creek. So, now it's time to find retirement housing within your preferred city. No matter what San Francisco retirement community you choose, be sure to select one carefully so you will be confident that you are making the best decision.
Senior Retirement Housing in Union City, CA:
If you have made up your mind to retire in Union City, then be sure to continue your search for the best senior housing facility in the area. Check out several 55+ senior centers in this Bay Area city until you find your dream location. There are plenty to choose from in this Northern CA retirement community. We hope you have a wonderful retirement in Union City, and that you make plenty of new friends!
Senior Retirement Housing in Walnut, CA: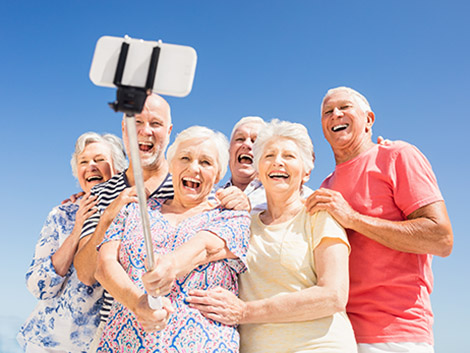 Walnut Creek is said to be a popular retirement community. Most likely because it has so much to offer its senior residents, including senior programs and fabulous senior housing. Plus, retiring in Walnut Creek will allow you to have great transportation options, an incredible social life, as well as quality healthcare services, and more. When it comes to senior housing, hands down, the Heritage Downtown Luxury Apartments are an East Bay favorite, and worth looking into. Let's take a closer look!
The Heritage Downtown Active Senior Living Apartments
Known as the Bay Area's #1 Active Senior Living community, the Heritage Downtown Luxury Apartments feature impressive
amenities
, beneficial programs, and a friendly atmosphere. These popular San Francisco Bay Area senior apartments offer resort-style living to retired individuals seeking to live an enriched life. The Heritage Downtown showcases 24-hour concierge service, van & bus shuttle service 7 days a week, along secured covered parking and storage. Plus, resident gardens, a high-end, on-site home theater, in-home washers/dryers, technology centers, fitness activities, along with a swimming pool and spa, can all be found here at this sensational Northern CA senior housing community. If you're into fine dining, you can meet your friends at its on-site, award-winning restaurant. It gets rave reviews from the seniors at the Heritage Downtown! In addition to this, it's in a convenient location that's within walking distance to downtown Walnut Creek. Once there, seniors can enjoy dining and shopping with their friends!
Compare Other Northern CA Retirement Communities
If you're not completely sure if a Union City or Walnut Creek retirement community is right for you, read through these additional comparisons:
Enjoy the Retired Life in Either Union City or Walnut Creek!
Choosing a location you want to spend many years in can be a difficult decision. But, the fact that you are on this page now means you are doing everything possible to make the right choice. No matter which San Francisco Bay Area retirement community you select, we hope you enjoy the retired life, make new friends, and have a chance to explore your city. We would like to share this exciting video that showcases downtown Walnut Creek. It will give you a well-rounded overview of this fantastic city and all it has to offer retired seniors!
.
.