Walnut Creek vs Napa Retirement Community Comparison

The San Francisco Bay Area is a beautiful place to live, especially when you reside in a retirement community in Napa or Walnut Creek! These two Northern CA retirement hot spots are known for their great weather, as well as being in an area that provides seniors with plenty of entertainment. If you're not positive which area is best for you, read over this Walnut Creek vs Napa Retirement Community Comparison to get a full overview of both cities. This will give you a better idea of what these two active senior living Bay Area retirement communities have to offer their 55+ residents. [toc]
Choosing the Perfect Retirement Community in Napa or Walnut Creek
Depending on where you are currently residing, making the move to a Northern, CA retirement community could be a big process. For this reason, it's essential to gather all the details and compare your preferred locations before packing your bags. This Retirement Community Comparison will give you a good indication of which direction you may want to head in. It details all the important elements that a retired senior will want to take note of. From crime rates, transportation options, to nearby hospitals, our Bay Area retirement guide will become your best friend in your search for that perfect sunny California location.
Location – Top Retirement Areas within the San Francisco Bay Area
The specific location a senior chooses to retire in can depend on certain elements such as the landscape, major highway access, and if it's centrally located or out in the middle of nowhere! You might not think some of these details are important now, but when you move to what you believe is your dream retirement location, only to find that the closest highway is an hour away, you will have wished you looked into the location better.
Let's check out what seniors can expect, location wise, if they retire in Napa, Ca or Walnut Creek:
Walnut Creek:
This popular Bay Area retirement location is centrally located and contains the essential highways that active seniors would hope for. They can easily make their way to all the other fantastic Northern Ca cities that are perfect for
senior day trips
. The ability for independent seniors to travel outside their retirement city is important for keeping life interesting and fun. The residents of the
Heritage Downtown Senior Living Apartments
frequently plan senior group trips all around the San Francisco Bay Area. When they are out and about in Walnut Creek, they enjoy a beautiful landscape that is part nature and part city. Walnut Creek offers a bustling, yet charming city where seniors can spend the day shopping and dining. When out in nature, there is plenty of natural open space with fresh air and scenic views. Either way, it makes for a lovely day in Walnut Creek, Ca.
Napa:
Referred to as the entrance to wine country, Napa rests on the north end of the San Francisco Bay. If you love nature, then you will enjoy retiring in Napa, Ca. The Napa River runs through this city, and on the outskirts, you will find rolling hills and vineyards. Several freeways run through Napa and are used by active seniors to tour the area and take day trips. Additionally, it's only one hour from San Francisco, as well as Sacramento. Napa is one of the largest cities in Napa County. It consists of 18.1 square miles, with 0.3 square miles being water. Retiring in Napa will offer you city life, plus nature, all wrapped up into a location that any senior would enjoy.
Climate – Retire in Napa or Walnut Creek with Typical Bay Area Weather
You may love the heat, or prefer the colder weather, either way, it's best to fully research the weather patterns for your preferred retirement city. Although Napa and Walnut Creek have similar climates, there are a few variations that you will want to take note of.
Seniors retiring in Napa or Walnut Creek can expect this type of weather:
Walnut Creek:
This city experiences cooler temperatures in the mornings and with warmer weather in the afternoons. As with most Bay Area cities, Walnut Creek provides a delightful Mediterranean climate with average temperatures in the 50s-80s. Although it does not rain too often, Walnut Creek has beautiful greenery throughout. Additionally, you will find that this city has a higher number of sunny days compared to some of its surrounding cities.
Napa: If you get setup within a retirement community in Napa, CA you can expect a traditional Northern CA Mediterranean climate. This city's temperatures average between the mid 50s to high 80s. However, Napa has been known to have temperature spikes as high as 113 degrees. On some occasions, the temperature has dropped to 14 degrees. The higher temperatures can sometimes bring about wildfires in the summer months.
Seniors who are trying to avoid the rain should know that although Napa has the about the same average rainfall as its surrounding Bay Area cities, its precipitation is slightly higher than Walnut Creeks. Napa's rainy months are October through April. The winters can be cold and wet, but the summers are warm and dry.

Cost of Living – Napa and Walnut Creek Come Out on Top
Some seniors keep track of their money to the penny, and for good reason. At this stage in your life, you are not working, so every penny counts. For this reason, it's imperative that you wisely consider a city's cost of living before renting your moving truck. A location that offers high rents, outrageous utility bills, and so on, will leave you with less money for your food and expenses. We researched both Napa and Walnut Creek and found that if you retire there, it won't break the bank. These two Northern Ca 55 plus communities offer independent living seniors an affordable area to retire in.
Population – Walnut Creek has a Higher Number of Retired Seniors
If you move to a retirement community in Napa, you will experience a population of 79,722. Walnut Creek's population number is only slighter lower, coming in at 68,516. Population can be a concern if the Bay Area city you retire in happens to be overcrowded. However, these two Northern California retirement cities have numbers that fall in a comfortable range. However, Napa does have a lower percentage of seniors, but not enough to make a considerable difference. Overall, if you retire in Napa or Walnut Creek, you will enjoy a population that is in the norm.
The median age is 10.4 years younger in Napa than in Walnut Creek.
Napa is 22% more densely populated than the city of Walnut Creek.
If you're 85 and over, check out this Napa and Walnut Creek population chart:

Transportation – Seniors Should Have Options for Mobility
The ability for independent retired seniors to get out and about with great transportation options within a city is a must! Imagine having no way to get to your medical appointments, grocery store, or to just travel. This can lead to a serious situation, as well as cause isolation and depression. Getting out and taking care of your needs, as well as having fun, is important to any retired older adult. We did extensive research on both areas so you won't have to. Overall, if you move to a retirement community in Napa or Walnut Creek, you will have plenty of great transportation options. Walnut Creek, does, however, have more transportation options for seniors.
Walnut Creek Retirement Community Transportation Options: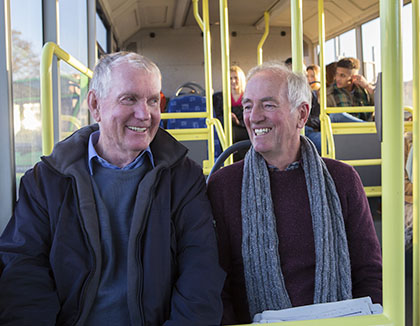 The residents of the Heritage Downtown Senior Living Apartments take advantage of Walnut Creek's many transportation options. You will frequently see retired seniors traveling on the city Trolley or catching the bus to run their errands. With all that Walnut Creek has to offer their retired senior community as far as transportation is concerned, there is no stopping them! Let's take a look at what Walnut Creek has to offer:
Walnut Creek City Transit: Independent older adults that love to get out of the house, utilize the City Bus "County Connection". Riding the bus is an affordable transportation option for seniors within Walnut Creek, CA. Additionally, the city's Advanced Rapid Transit System is a fast and affordable way for retired seniors to travel within Walnut Creek, as well as connect to other Bay Area cities.
Walnut Creek Trolley: The Trolley is a popular option among the Heritage Downtown residents. It's free and runs Monday through Sunday from the BART Station to various downtown Walnut Creek areas.
Catch a Convenient Shuttle: If you retire in Walnut Creek, you will become very familiar with the Creekside or Shadelands Shuttle. They are both free options that will allow you to get out of the house.
Senior Specific Transportation: The city of Walnut Creek offers their older adult community transportation that was designed specifically for them. They have put together a few programs that assist retired seniors with their transportation needs. Their Senior Mini Bus Program provides rides to retired seniors as long as they are traveling within the city of Walnut Creek. It's a great deal for only $1 each way. In addition to this, they have created a Rides for Seniors program that is just as popular. This program helps older adults get to their appointments, go food shopping, and more.
Napa Retirement Community Transportation Options:
For those of you who are thinking about retiring in Napa, you will want to ensure that their transportation options are right for you. It's worth mentioning that there are no BART services in NAPA. Here's what's available:
Vine Transit: Napa, Ca offers a terrific public transit system which allows seniors to catch a bus and travel to the destination of their choice. They offer a variety of times and locations for a low-cost option. This city bus is utilized by many retired seniors within Napa. If needed, this bus will take anyone to a surrounding city that offers BART services, as well as Amtrak.
Crime Rate – Retire in a Safe Northern CA Retirement Community
Safety should be your number one concern when it comes to retiring in the Bay Area. Some say they will just be careful, but you really should take all crime statistics into account. You will want to feel safe and comfortable wherever you retire. Imagine being afraid to take a walk, or you find that you don't like to keep your windows open out of the fear of someone breaking in. We did some upfront research into the crime rates of Napa and Walnut Creek. Here's what we found.
Walnut Creek Crime Rate: 11.7
Napa Crime Rate: 24.4
On a scale from 1 through 100 with 1 being low crime and 100 being high crime.
As you can see, retiring in Napa, Ca or Walnut Creek will provide you with a safe comfortable environment. Although, as you can see, Napa's crime rate is slightly higher than Walnut Creeks.
Healthcare – Quality Hospitals in the Area is a Must!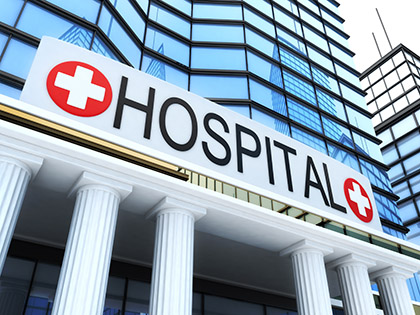 As we grow older, we tend to need more medical care. As a result, it's imperative that you retire in a Northern CA city that offers a quality hospital. We did our research and found that both Napa and Walnut Creek offer their retired senior citizens professional hospital facilities.
Walnut Creek John Muir Medical Center:
Situated close to downtown Walnut Creek and the Heritage Downtown, this hospital is well-known for its exceptional care. Additionally, U.S. News & World Report rated John Muir as one of the nation's premier health care providers. It is also certified by the Joint Commission as a primary stroke center. This medical center provides high-quality care and they specialize in orthopedics, rehabilitation, neurosciences, cardiac, trauma, and cancer care. John Muir hospital boasts 554-licensed beds, qualified physicians, and top-of-the-line medical equipment. If you decide that you want to live in a Walnut Creek retirement community, you will be in good health with this hospital nearby.
Queen of the Valley Medical Center:
This hospital is used by many seniors who live in a retirement community in Napa Valley. It sports 208 hospital beds and has an outstanding emergency trauma center. Queen of the Valley Medical Center is a non-profit health care facility that specializes in cardiac care, neurology, minimally-invasive robotic surgery, cancer care, neurosurgical services, and acute rehabilitation. This Bay Area medical center offers leading-edge technology, as well as excellent physicians and nurses. Furthermore, they have won numerous awards throughout the years.
Entertainment – Retiring in Northern CA offers a Variety of Entertainment
Now that you are retired, it's time to have some fun! Since you won't be working, you will need to find interesting things to do in your new Walnut Creek or Napa retirement community. We have gathered some information on a few things that may be of interest to seniors.
A Walnut Creek Retirement Community Will Provide the Following Entertainment:
This popular senior community has a variety of things to do all year-round. From shopping, dining, wine tasting, or playing a round of golf, Walnut Creek is the place to be. The seniors that live at the Heritage Downtown Apartments never seem to run out of activities while living in this active and charming Bay Area city. Let's take a look at a few fun things to do in Walnut Creek:
PLACES TO VISIT
Walnut Creek Shadowbrook Winery: If you're a lover of fine wine and good company, then you are going to enjoy your time spent at this fabulous winery. Often frequented by retired Walnut Creek seniors, this local winery has a lot to offer. It features innovative wine making equipment that only top wineries utilize. In addition to this, they import their fermenting tanks from Italy. This Northern Ca winery is a local hot spot for retired senior citizens who live in Walnut Creek. If you stop by for a visit, the Shawdowbrook's Verandah is worth taking a moment to enjoy. It contains a comfortable sitting area, as well as a wonderful fireplace.
Boundary Oak Golf Course: The older adults of the Walnut Creek retirement community love this outstanding golf course! It was designed as an 18-hole championship course with all the bells and whistles that seniors would expect. Additionally, Boundary Oak provides 5 putting greens, as well as 60 popular stalls. If you're hungry after a round, you can easily stop by the Tap House located on the grounds. They serve excellent food and drinks. This course features a professional clubhouse that you will want to visit to see all that they have to offer.
SOCIAL EVENTS
Walnut Creek First Wednesdays: Retired seniors living in Walnut Creek look forward to this amazing street festival every year. You will see many Heritage Downtown Apartment residents enjoying themselves at this fun event. If you end up retiring in Walnut Creek, you will want to mark your calendar for the first Wednesday of each month, May through September. It is here that you will see great works of art on display. You will also enjoy plenty of good food, hear great music, visit interesting vendor booths, and much more!
Music & Movies Under the Stars: Calling all moviegoers! If you're a senior who is retiring in Walnut Creek, you will want to take part in this activity. A large portion of the community gets together to watch an outdoor movie under the stars. Music is played before each showing. Make sure to bring some food and be ready to have some fun!
SENIOR CLUB
Walnut Creek Senior Club: Walnut Creek certainly takes care of their 55+ community, and their senior club is proof of that! If you decide to move to a retirement community in Walnut Creek instead of Napa, then you will want to check out this senior club. It will allow you to socialize with other older adults your age. You can also play a few rounds of bingo when the mood strikes you, as well as join walking groups, and so on. They will even provide you with a ride, if needed!
ART IN WALNUT CREEK
Lesher Center for the Arts: Those who have retired in Walnut Creek visit this fabulous art center frequently! The Lesher Center for the Arts provides outstanding entertainment for those who reside the Bay Area. The seniors of the Heritage Downtown stop by for a show, have dinner, or to take a walk through their Bedford Art Gallery, sometimes on a weekly basis. It's that good! They showcase musicals, Broadway-style plays, comedians, operas, and a lot more. This sensational art center has proudly partnered with the Heritage Downtown.
Walnut Creek Art & Wine Festival: If you are going to retire in Northern CA, then you will have to stop by this much-talked about festival. You will be guaranteed to have a great time while you enjoy their fantastic music, arts, food, fine wine and specialty beers, and of course, art! If you are in town, come see why this festival was voted Best Community Event by Walnut Creek's Magazine!
If you are interested in seeing more of what the San Francisco Bay Area has to offer, read this helpful
Senior Citizen Bay Area Destination Guide.
A Napa Retirement Community Will Provide the Following Entertainment:
No matter where you live, enjoying yourself by going out and seeing what your community has to offer is very important. It can mean the difference between living a fulfilled life to becoming isolated and depressed. Napa California has plenty to do and their retired seniors never run out of enjoyable activities to take part in.
AWESOME THINGS TO DO IN NAPA
Napa Golf Course at Kennedy Park: For all you golf lovers out there, you will be happy to hear that if you retire in Napa, you will have access to this beautiful, as well as famous golf course. It boasts an 18-hole full-service championship course that you will fall in love with. In addition to this, it showcases an 8,500 square foot putting green, chipping greens, and 22 stalls! If you need new equipment, their clubhouse has got you covered. Furthermore, they provide professional lessons for those who would like to improve their game.
Napa Valley Wine Train: Take an outstanding tour through the Bay Area's wine country by hopping on the Napa Valley Wine Train. Suitable for seniors 55+ and beyond, this activity will provide you and your friends with an experience you will never forget. Retired seniors from around Northern Ca travel from afar to take this tour that provides stunning scenery and a chance to try some of the finest wines available.
di Rosa Center for Contemporary Art: If you decide upon a retirement community in Napa, and you're into the art scene, then you will really enjoy the di Rosa Center for Contemporary Art. It features over 200 acres of indoor and outdoor gallery space! This museum displays fantastic Bay Area art in many forms such as sculpture, paintings, photography, and more.
Where Will Your Bay Area Retirement Housing Be?
Finding your Northern Ca retirement community can be an overwhelming task, so we hope that our Walnut Creek vs Napa Retirement Community Comparison has been of great help to you. Now that you most likely have an idea of where you would like to retire, you will want to find your new retirement housing.
Find Your Retirement Housing within Napa, Ca
If you plan on moving to a retirement community in Napa, you will want to do some research on senior retirement housing in the area. Gather information on a few prime places. Consider things such as monthly costs, the specific area of the city it's located in, and if transportation options are within walking distance. We wish you the best in your search for your new home and sincerely hope that our guide has helped you along the way!
Find Your Retirement Housing within Walnut Creek, Ca
If you have decided that you would like to retire in Walnut Creek, you are in for a wonderful retirement experience! This sensational city offers much to their senior community. There are many programs that cater to Walnut Creek's older adult community. As you have read, retiring in Walnut Creek will provide you with great entertainment, comfortable weather, and other elements that are of importance to retired senior citizens.
The Heritage Downtown Active Senior Living Apartments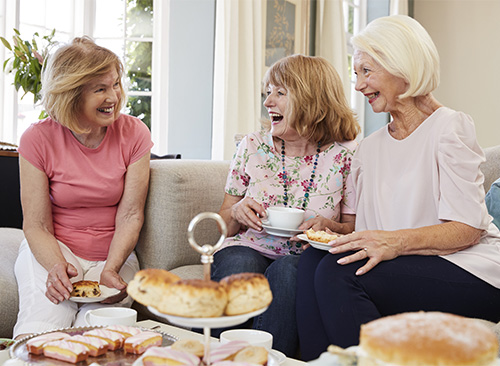 The Heritage Downtown is a popular and well-known retirement community within Northern CA. These luxury apartments are actually considered the #1 retirement community in the Bay Area. We have your attention now, don't we! The Heritage Downtown provides accommodations that are just not seen in other senior housing centers. On top of that, they offer their residents the necessities such as concierge service, fitness and health programs, and more. You will also find that the seniors who reside in this community are frequently provided the opportunity to take group trips within the Northern California Bay Area. The older adults of the Heritage Downtown are presented with a stunning spa and swimming pool, along with gardens they can tend to. Also, this Bay Area retirement center has a fantastic technology center that lets their residents brush up on their tech skills. Additionally, they provide fine-dining within their onsite restaurant that has earned several awards. Downtown Walnut Creek is just a quick walk from these Northern CA senior apartments. This makes things very convenient for their residents as they stroll over to the local shops and restaurants. Find out more about the
Heritage Downtown
and why retired seniors feel it's the best retirement community in the Bay Area.
Check Out More NorCal Retirement Community Comparisons
If you are still on the fence as to where you would like to retire within the Bay Area, take a look at these additional retirement cities in Northern CA.
Retire in Napa or Walnut Creek for a Fabulous Experience!
With all there is to consider, we hope you were able to narrow down your choice as to retiring in Napa or Walnut Creek. We especially hope our Walnut Creek vs Napa Retirement Community Comparison has been a big help. Before you make your final decision, be sure to have a look at this outstanding video! It will reveal to you just how terrific Walnut Creek really is!
.
.