Walnut Creek vs Petaluma Retirement Community Comparison

If you would like to settle in a retirement community within Petaluma, CA or Walnut Creek, but you're on the fence as to which one, we are here to help you learn more about each city. Our Walnut Creek vs Petaluma retirement community comparison will provide you with the information needed to give you a general overview of what it would be like to retire in one of these popular Northern CA retirement communities. The city you choose should be one that you will absolutely love. It should be your dream Bay Area retirement destination! We know you're eager to get started, so let's dive in and find out which city is right for you. [toc]
Retire in a Petaluma or Walnut Creek 55+ Senior Community
The San Francisco Bay area covers a large section of the West Coast. So, it's understandable how it can be a bit difficult to pinpoint which retirement community is best for you. There are many factors to sort through. This can include the area's healthcare facilities or what city transportation is available, and so on. The fact that you have narrowed it down to retiring in Petaluma CA or Walnut Creek means you must have done your initial research! Now it's time to fine-tune your search.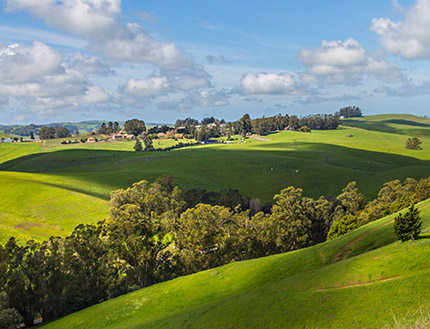 Location – A Bay Area Landscape That Can't be Beat
You should like most everything about the location you retire in. This would include such things as a preference for major freeways that allow you to easily travel, or, maybe a landscape that includes beautiful rolling hills. Perhaps you would like to be centrally located. We have gathered location details on both of these popular Bay Area senior communities so you can make an educated decision on which area you would prefer.
Let's take a look at these two Northern CA retirement locations:
Walnut Creek:
This outstanding location is considered the jewel of the East Bay. It rests in Contra Costa County, in the San Francisco Bay area of Northern California. It sports an excellent landscape for nature lovers, as well as those who like to spend time shopping and dining in the city. This retirement community is often referred to as a hub for its surrounding cities. This is because it's situated in an area where multiple freeways intersect and branch out to other popular cities. This is a great feature of Walnut Creek's location and the seniors of the
Heritage Downtown Senior Apartments
appreciate it when they plan their
Northern CA Bay Area Day Trips
.
Petaluma:
This NorCal retirement community is located in Sonoma County in the North Bay Area and is part of California's ever-popular wine county. This city rests just 37 miles north of San Francisco. This is perfect for those who love to visit the big city! The retirement community of Petaluma consists of 14.5 square miles with a good portion of it running along the scenic Petaluma River. Farmlands and wineries can be found nearby, giving this 55 plus retirement community a landscape that's enjoyed by nature lovers, as well as those who appreciate fine wine. Several main highways run through Petaluma, CA. This certainly makes for easy day trip planning. In sum, Petaluma, CA, is a great location to retire in.
Climate – San Francisco Bay Area Cities That Offer Comfortable Weather
If you are particular about the climate, then you should take a closer look at the weather patterns of the retirement city you are considering. Some seniors try to avoid the rain, while others stay clear of foggy landscapes. It's best to read up on the typical climates in both Petaluma and Walnut Creek before declaring one of them your Northern, CA retirement destination. Here is what we have gathered on both cities:
Walnut Creek:
This popular retirement city boasts a lovely warm summer Mediterranean climate. It also experiences a full summer of sunshine, perfect for those who love the outdoors. The winters are generally clear and mild with some morning frost. The temperatures are typically in the 50s through 80s which is consistent with Bay Area weather. You won't see much rain in Walnut Creek, CA, but it does have enough to keep the area looking green. The residents of the Heritage Downtown feel that their retirement city offers them great weather all year round.
Petaluma: This Northern CA retirement city also provides a comfortable Mediterranean climate. It sports summers that offer warm afternoons and cool evenings. However, the summer mornings are typically a bit cold and foggy. During the winter months, you will find that it's normally rainy and chilly. Petaluma's average temperatures range from high 30s to low 80s.

Cost of Living – Move to a Northern Cal Community that You Can Afford
You may have your heart set on a specific San Francisco Bay Area retirement community. But, first things first, you have to make sure it's an affordable area to retire in. This would include housing costs, typical utilities for the area, as well as transportation costs. We did extensive research on Petaluma, CA and Walnut Creek and found that both areas would be affordable for retired 55 plus seniors.
Population – More Older Adults Retire in Walnut Creek Than Petaluma
If you are one to avoid crowds, then retiring in Petaluma, Ca or Walnut Creek would work out just fine. Walnut Creek has a comfortable population of 68,516, with Petaluma's numbers being very similar. The population age can also be a concern for some. So, if you prefer to retire in a Bay Area city that has more senior citizens, then Walnut Creek might be the city for you. These statistics will give you a closer look at what the population is like Petaluma, CA, and Walnut Creek:
Petaluma is 17% more densely populated than the city of Walnut Creek.
The Median Age is 6.8 years younger if you live in a retirement community in Petaluma, CA.
If you are 85 or older, you may want to take a look at these statistics: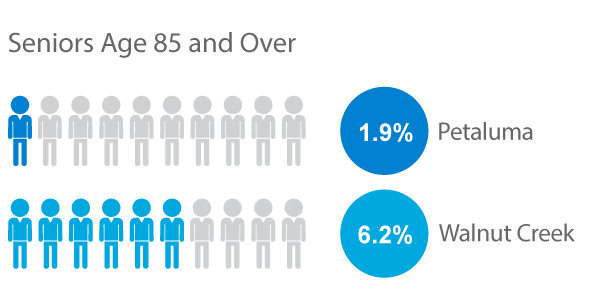 Transportation – Options for Easily Getting Around Town is Imperative
No matter where you decide to move, it's essential to ensure that your new city has great transportation options. You will want to be able to easily go to the grocery store, the doctors, or even just to get out for lunch. Our research has found that whether you move to a retirement community in Petaluma, or Walnut Creek, CA, you won't have a problem when it comes to traveling around town.
Transportation that will be Available if You Move to a Retirement Community in Walnut Creek:
Independent active seniors who love to travel around town, or, get out to the surrounding cities for an afternoon getaway, will be happy with Walnut Creek's transportation options.
Transportation for Seniors: For $1 each way, you can catch a ride utilizing the Senior Mini Bus Program. It will take you almost anywhere within the city borders to run your errands, and so on. Also, those who retire in Walnut Creek, CA can utilize their popular Rides for Seniors program.
City Transportation: Seniors from the Heritage Downtown Active Senior Living Apartments frequently use the Bay Area Rapid Transit System. It's especially helpful when you want to travel to other Bay Area cities. Additionally, traveling around Walnut Creek is a snap when you catch the city bus – County Connection.
The Walnut Creek Trolley: Ride the trolley so you can do a little shopping or dining downtown. It conveniently operates seven days a week.
Walnut Creek Shuttles: The retirement community of Walnut Creek offers two popular means of transportation that seniors tend to use – Creekside and Shadelands Shuttles. You won't even have to pay because they are both free of charge!
Transportation that will be Available if You Move to a Retirement Community in Petaluma:
Petaluma CA has excellent transportation options that will ensure you are not home-bound and relying on others to run errands for you. Here are a few examples of the transportation available in this San Francisco Bay Area 55+ retirement community.
City Buses: If you retire in Petaluma, CA, you will have access to three different bus transit services. This includes the Petaluma Transit, Sonoma County Transit, and the Golden Gate Transit. So, if you need to catch a ride to your medical appointments, or, maybe meet someone for dinner, you can easily accomplish this by utilizing one of these convenient city buses.
The SMART Train: Catch this sleek looking train to get to the surrounding Bay Area cities. It's an affordable and fast means of transportation that will get you where you need to go!
Crime Rate – A Safe Bay Area Retirement Community Should Be Your Goal
Packing up your life and moving to a new city is a life-changing event. So, you would certainly want it to be a good one. One way to make that happen is to know the area's crime statistics before making your final decision. This is extremely important because you would not want to move to a city where you don't feel safe or comfortable. If you are still considering moving to a retirement community in Petaluma, or, Walnut Creek, know that both areas have decent crime rates. It's worth mentioning though that Walnut Creek does have a lower crime rate. Take a look at the following crime statistics for a better idea of the crime rates in these two cities:
Crime Rate in Walnut Creek, CA: 11.7
Crime Rate in Petaluma, CA: 25
On a scale from 1 through 100 with 1 being low crime and 100 being high crime.
Healthcare – Active Seniors Prefer a City with an Exceptional Hospital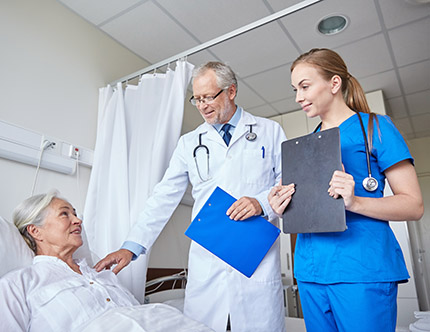 Having an outstanding hospital nearby is essential for seniors of all ages. So, when looking into the city you prefer, it's important to take a look at all its local hospital has to offer. We researched both Petaluma, CA, as well as Walnut Creek, to provide you with a few facts on their main hospitals.
Walnut Creek John Muir Medical Center:
Noted for being one of the top hospitals in the area, it provides excellent care for active seniors. John Muir serves as Contra Costa County's only trauma center. Additionally, it features 554-licensed beds, and specializes in orthopedics, rehabilitation, neurosciences, cardiac, and cancer care. This hospital has been named one of the nation's, state, and region's premier health care providers by U.S. News and World Reports. Seniors who retire in Walnut Creek can be confident that they will receive outstanding healthcare!
Petaluma Valley Hospital: This Medical facility is in the top ten percent of hospitals within the Northern CA area for its best practices. Plus, it has been named by Blue Shield of California as a Blue Distinction Center® for spine surgery, knee, and hip replacement. In addition to this, for the fourth consecutive year, this Bay Area hospital has received the Avatar International's Exceeding Patient Expectations Award. Petaluma Valley Hospital is set up with a 24-hour emergency department, which can give any senior a feeling of peace. This NorCal retirement center community hospital specializes in coronary care, general surgical services, full-service images, physical therapy, and more.
Entertainment – Great Activities for Retired Seniors in Northern California
Independent active seniors are always on the lookout for fun things to do. This makes it important to research what your future Bay Area retirement community has to offer. From attending a street festival to an outdoor moving screening, Petaluma CA and Walnut Creek will certainly keep you entertained!
Retire in Walnut Creek with These Fantastic Entertainment Opportunities:
Walnut Creek is known for being a social city that offers incredible entertainment for their senior community. Additionally, the residents of the Heritage Downtown Senior Apartments will tell you that they never run out of fun and interesting things to do in Walnut Creek. One day they may catch a musical, and on another, they might be socializing at a local art & wine festival. Read more about what this outstanding San Francisco Bay Area retirement community has to offer:
THE WALNUT CREEK ART SCENE
Lesher Center for the Arts: If you asked any senior in Walnut Creek what the most popular entertainment center is in the area, they would say the Lesher Center for the Arts. This center is frequented by so many seniors throughout the year that the Heritage Downtown decided to partner with the Lesher Center for the Arts. However, it's not just popular with Walnut Creek seniors, older adults from other Bay Area retirement communities travel to take part in what this art center has to offer. If you go, you might hear a beautiful opera, laugh historically at one of their comedy shows, or, see a ballet, plus, much more. When not enjoying a show, you can take a walk through their much-talked-about Bedford Art Gallery.
Walnut Creek Art & Wine Festival: This annual festival has been named the Best Community Event by Walnut Creek's Reader's Choice Awards, and is still going strong after 37 years! Seniors from all over the Bay Area attend this event. They enjoy fine wine, great beer, exceptional food, dancing, and lots of socializing! If you make Walnut Creek your new retirement home, you will be sure to have a grand time with your new friends at this annual art & wine festival.
WALNUT CREEK SOCIAL EVENTS
Walnut Creek First Wednesdays: Every May – September, the retired active living seniors of Walnut Creek have a chance to attend Walnut Creek First Wednesdays. It's an event that will allow you to have a great time with your fellow seniors. You will be able to enjoy local music, have a few drinks, or, grab a bite to eat. You can also stroll up and down the street to view all the local vendor booths that display unique and interesting things to buy, such as artwork, crafts, and more.
Music & Movies Under the Stars: Are you a fan of music and movies? If so, getting set up in a retirement community in Walnut Creek will allow you to attend their Music & Movies Under the Stars series. A large portion of the community gathers to watch an outdoor screening of a popular movie. Music is played beforehand as you visit with your friends!
A FANTASTIC ACTIVE SENIOR CLUB
Walnut Creek Senior Club: Getting involved in a senior club could be the best thing you can do when you move to a new retirement community. It will enable you to fast-track making new friends, and will have you fitting into your new community in no time! The Walnut Creek Senior Club offers much to the older adults of Walnut Creek. They provide you with many activities such as tennis, pickleball, sing-a-longs, and more. This club is a must join for any independent senior citizen!
As you can see, there is a lot going on in Walnut Creek. However, if you are the type that likes to explore your surrounding cities, take a look at this
Senior Citizen Bay Area Destination Guide.
Retire in Petaluma with These Terrific Entertainment Opportunities:
Retirement communities in Petaluma, CA, offer a variety of entertainment for their senior residents. There's always something going on, such as a popular art exhibit or a movie screening in the park. No matter what your preference, you will always find something interesting to do in Petaluma!
GREAT THINGS TO DO IN PETALUMA:
Adobe Road Winery: If you retire in Petaluma, CA, you will certainly want to visit the Adobe Road Winery. It's a popular boutique winery that creates artisan wines from local premium wine country vineyards. You and your friends can enjoy a relaxing time in their intimate Adobe Road Winery Tasting Room!
Petaluma Art Center: This Northern CA Bay Area retirement community sports an outstanding 4,000 square-foot gallery. It certainly creates a wonderful setting for local bay area art to be displayed. A handful of sensational exhibits are shown each year, and worth marking your calendars for. Furthermore, you can sign up for art classes to learn how to paint or draw, and so on. Expect to make a few new friends when you participate in this art center's classes, events, or exhibits.
Movies in the Park: This Petaluma retirement community has put together a great Movies in the Park series that seniors of all ages can enjoy. The City of Petaluma's Parks and Recreation Department hosts this fun event. Additionally, it takes place on certain Friday evenings in the Summer and Fall. Once there, you will enjoy delicious food and a fun outdoor moving screening!
Seek Out the Best Retirement housing in Petaluma or Walnut Creek
You now have all the details on both San Francisco retirement communities! So, now it's time to start seeking out the very best senior housing facility in Petaluma, CA, or Walnut Creek. Both offer affordable retirement housing. It's just a matter of what your preferences are when it comes to amenities and location options.
Retirement Community Housing in Petaluma, CA:
Are you leaning towards retiring in Petaluma? If so, it's a lovely city to spend your golden years in. Additionally, we're sure you will find senior housing that fits your needs. Do some research to see which senior housing facility will work best for you. Take a look at the monthly costs, nearby transportation options, and so on. Once you find your dream retirement housing in Petaluma, you can start enjoying your new life in Northern California!
Retirement Community Housing in Walnut, CA:
If you were to ask the seniors who reside in this East Bay retirement community if they like living in Walnut Creek, they would say they love it! This is because the city of Walnut Creek caters to their local senior citizen's needs. It makes for a fabulous NorCal retirement community. Let's take a look at one of the best retirement housing facilities in the area. This will give you an idea of just how good life can be when you retire in Walnut Creek!
The Heritage Downtown Active Senior Living Apartments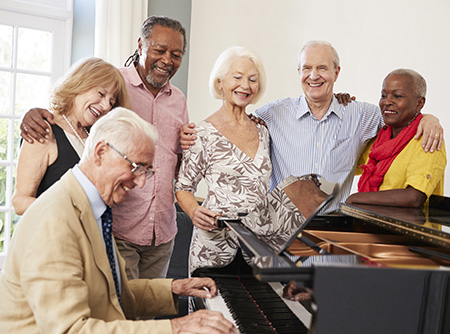 If you are looking for a popular and affordable place to retire, then the Heritage Downtown Luxury Apartments would be your best bet. This high-end senior housing facility is perfect for 55+ adults. Especially if you who would like to retire in style in Northern California's beautiful East Bay Area. The Heritage Downtown
senior apartment amenities
are said to far exceed what any other retirement facility in the area can offer. Additionally, the Heritage Downtown is San Francisco Bay Area's #1 Active Senior Living Apartment Community. The Heritage Downtown offers such things as weekly housekeeping, 24-hour Concierge service, heated pool and spa, two technology centers with internet service, van & bus shuttle service 7 days a week, and much more. When you're not dining in their award-winning 5-star, onsite restaurant, you can easily walk to nearby restaurants. Or, take a quick walk over to all the boutiques and shops. This is possible because of the fabulous location these senior apartments are situated in, which is in the heart of downtown Walnut Creek – A charming area that is adored by seniors of all ages. As you can see, the Heritage Downtown has a lot to offer you if you decided to make this Bay Area retirement community your new home.
Check Out These Additional San Francisco Bay Area Retirement Community Comparisons
Would you like to find out more about other Northern CA retirement communities? If so, check out at these Bay Area city comparisons:
A Senior Retirement Community in Petaluma or Walnut Creek that You Can Be Excited About!
We sincerely hope that you find a Northern CA senior retirement community that you can not only be excited about, but also be proud of. One that fits all your needs and that allows you to truly feel at home. Before settling on your final destination, take a look at this Walnut Creek informational video that will give you a glimpse into how wonderful it is to retire in Walnut Creek.
.
.