Walnut Creek vs Brentwood Retirement Community Comparison – Bay Area Guide for Seniors

If you're considering retiring in the beautiful Northern CA Bay Area, this Walnut Creek vs Brentwood retirement community comparison will be of great help. It will supply you with essential information that's needed when searching for a new retirement home within the San Francisco Bay Area.
We cover elements such as what entertainment options are available, area hospitals, crime rate statistics, and more. In sum, this guide will set you on the path to retiring in the city that's best for you and your needs. Let's begin so you can see what fabulous NorCal city awaits you!
Walnut Creek & Brentwood Retirement Communities
It can certainly take some time to properly research the Bay Area cities you're interested in retiring in, but in the long run, it's worth it. This is due to the fact that you would not want to get set up in a city that's not right for you. Like most retired seniors, you will have preferences that will have you favoring one city over the other. For example, you might be looking forward to retiring in an area that has art galleries, or maybe you only use public transportation and need an area that offers safe and reliable options. Our guide will dive into these topics, and more. Let's get started!
Location – Retire in a Fabulous Northern CA Bay Area City
Northern CA is a sensational place to retire, and for good reason. It boasts breathtaking landscapes and a plethora of areas to go on group walks or bike rides. Both Walnut Creek and Brentwood retirement communities are set in a location worth considering. With that in mind, let's see what both of these NorCal senior cities have to offer you.
Take a look at what these two Bay Area locations can offer older adults:
Walnut Creek, CA:
This well-known Bay Area senior community sits within the beautiful Contra Costa County, and allows for convenient freeway access. This is perfect for those seniors who are active and love to get out and about to explore other areas. In fact, the city of San Francisco is only a 30 minute drive from Walnut Creek. Since Walnut Creek's freeway access is so easily accessible, the residents of The
Heritage Downtown
often take
senior day trips
around the Bay Area. One thing that makes this East Bay retirement community stand out is its wide-open natural spaces that really look stunning, and provide Walnut Creek locals with a place to get out and enjoy the scenery, and the sun. Additionally, Walnut Creek sports a terrific view of the much talked about Mount Diablo. On the other hand, if you are a city person, you will also find a wonderful downtown area that has fantastic restaurants, shopping opportunities, and much more. The Downtown Walnut Creek area is a great location to spend the day, or evening. Those who desire to retire in a location that has it all, will be very pleased with Walnut Creek.
Brentwood, CA:
Also in Contra Costa County, in the East Bay, you will find the retirement community of Brentwood. It's not too far from Walnut Creek, and so it has similar characteristics when it comes to location, with Walnut Creek having slightly more nature. Even so, if you move to a Brentwood retirement community, you will also be able to enjoy spectacular views of Mount Diablo. This city is located on the plain of the Sacramento-San Joaquin Delta. This delta is under the protection of the California Bay and Estuaries Policy. Brentwood is comprised of 14.81 square miles. If you take a tour of this Bay Area senior community, you will notice rolling hills, fruit orchards, as well as vineyards. This senior hot spot also features a great city life, complete with shops and popular dining experiences.
Climate – Find Good Weather in a Walnut Creek or Brentwood Retirement Community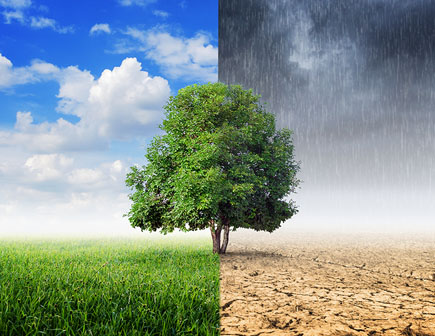 No matter what Bay Area retirement community you are considering, you will want to ensure that it sports acceptable weather. A city's weather can determine how much you enjoy the location you have settled in. If it's rainy and foggy most days, you can imagine that won't allow for much outdoor activity. It's important to get out in the sunshine, take walks, and enjoy the great outdoors on a weekly basis.
Walnut Creek, CA:
This San Francisco Bay Area retirement community boasts comfortable cooler temperatures in the mornings for those who love to go on walks before the day gets warmer. You will find its average temperatures will range from the 30s to 80s, these numbers are mostly in the winter and summer, and are average Bay Area temperatures. Walnut Creek is known for having almost unbroken sunshine over the course of the year. This is one reason why the older adults that reside at The Heritage Downtown love this city. It allows them to enjoy their afternoons by getting out in the sunshine. Plus, this San Francisco retirement community doesn't experience much rain. Overall, Walnut Creek provides great weather that makes it a very comfortable place to live.
Brentwood, CA:
Moving to a Brentwood Retirement Community will allow you to enjoy what is between a Mediterranean and semi-arid climate. Like Walnut Creek, this East Bay city has less rainfall than most cities in the area. When it does rain, it's typically in the months of October – April. During the summer, it can get pretty warm, but the Delta breezes can cool things down pretty fast. Temperatures range from the 30s to 90s. Brentwood offers retired seniors a place that has predictable weather with plenty of sunshine. Perfect for those who love to get outside during the day.
Cost of Living – Walnut Creek & Brentwood are Affordable Senior Hot Spots
One important factor to look into when considering a certain San Francisco Bay Area retirement community, would be cost of living. Some seniors have made the mistake of moving to a city they fell in love with, only to find out later that they did not have enough money to cover their monthly bills, or not enough spending money. Moving to a Bay Area senior community that doesn't break the bank is an essential element in making sure you are able to enjoy your golden years to the fullest. We have done extensive research and found that if you move to a Walnut Creek or Brentwood retirement community, you will not be living in a high cost area. This includes affordable senior housing, transportation costs, healthcare, and more. Both cities are affordable and home to many seniors of all ages!
Population – Walnut Creek Sports More Seniors Than Brentwood CA
Those who are on the hunt for the best place to retire in the San Francisco Bay Area, may overlook the population factor. Some cities are densely populated, while others have such a small population that there are not enough senior programs offered because of it. You will want to find a good in between number. Both Walnut Creek and Brentwood retirement communities have a perfect population number – not too small and not too large. Walnut Creek comes in at 68,516 and the city of Brentwood has a population number of 58,828.
So when it comes to population, both cities are about the same. Where the difference comes in is Walnut Creek has a higher number of seniors. This is a sure sign of how popular Walnut Creek is with the older crowds. It may have something to do with the fabulous senior programs the city offers, or maybe the beautiful landscapes and weather.
Here are a few numbers that show how Walnut Creek seems to be a senior hot spot:
The percentage of seniors ages 65-74 that live in Walnut Creek is 13%, compared to Brentwood's 7.7%.

The median age is 9.8 years younger in Brentwood than in Walnut Creek, CA.
If you are a senior over the age of 85, you might be interested in these statistics: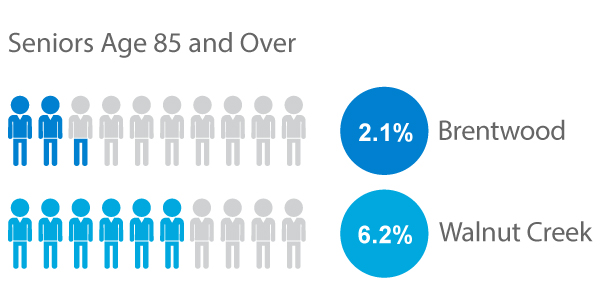 Transportation – A Variety of Options for Active 55+ Seniors
You may love a particular city's entertainment option, but if there is no way to travel to where the entertainment is taking place, then you are out of luck! This is just an example of one reason why adequate transportation is important. Even more important is a way to get to the grocery store. With all that said, let's take a look at what a Walnut Creek and Brentwood retirement community would look like transportation wise:
Walnut Creek Older Adult Community Transportation: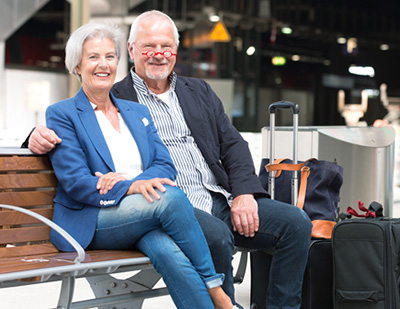 This East Bay favorite has more than enough transportation options. From the typical city bus, to convenient senior mobility options, Walnut Creek has got you covered. Let's see what this city has to offer the older adults who reside there:
Senior Transportation: A Walnut Creek retirement community provides older adults with a reliable option – the Senior Mini-Bus Program. They only charge $1 each way, so it won't empty your wallet or purse. It allows senior citizens to avoid riding the city bus if they prefer. This program enables seniors to go shopping for the essentials as well as travel to their medical appointments.
Walnut Creek Downtown Trolley:

The trolley is a favorite among the seniors of The Heritage Downtown. They ride it often when shopping, dining, and running errands in the downtown area. It's a free Walnut Creek transportation service that runs 7 days a week and gets you where you need to go.

Shuttle Service: Also popular with the senior crowd in Walnut Creek is the

Creekside or Shadelands shuttles. This service is also free to ride and will take seniors to their doctor's appointment, grocery store, and other essential destinations.

Public Transportation: For those active seniors out there that love to explore your surrounding cities, Walnut Creek offers the Bay Area Rapid Transit (BART) System. It enables seniors of all ages to visit nearby attractions, visit friends, and the like. It's cost-effective and reliable. For those who want to stay within the borders of Walnut Creek, you can utilize, County Connection, the city bus. It travels all around the city, making frequent stops at popular destinations.
Convenient Transportation Options in Brentwood, CA:
Brentwood CA has all that you would need when it comes to transportation options. No matter what your destination – the local grocery store or a neighboring city, you will have no problems getting there.
TRI-Delta Transit:

If you're one to ride public transportation, Brentwood offers the TRI-Delta Transit city bus. It's a very affordable means of transportation that will take you just about anywhere within the borders of Brentwood, as well as to nearby cities. This is perfect for those independent seniors who just want to walk out the door to catch a bus to their favorite shopping center, without having to call anyone.

Rides for Seniors Program:

Those who move to a retirement community in Brentwood, and are 60 years or older, can take advantage of their Rides for Seniors Program. It will take them to essential destinations such as medical facilities, the dentist, grocery stores, and the like. It's a great option for seniors living in Brentwood who can't afford public transportation, and don't live within the Dial-a-Ride area. Volunteers donate their time to make this program happen.
If you like visiting other cities to see what else is out there to explore in Northern CA, you might want to check out our
Bay Area Senior Destination Guide.
Or, if you want to learn more about other areas because you are on the fence as to where to retire, here are a few more retirement guides –
Santa Rosa
,
Lafayette,
Livermore,
Concord
,
Santa Clara,
Alameda,
and
Pleasanton
.
Crime Rate – Safe Retirement Communities in Brentwood & Walnut Creek
Out of all the details you will research as a retired senior looking for a new home in the Bay Area, the crime rate is one to pay special attention to. Your safety is essential, and no matter how wonderful a city may look, it's important to dig deeper to ensure you will actually be living in a low crime area. A high crime area can prevent you from enjoying your golden years to the fullest. This is because you may not feel comfortable riding public transportation or even walking around the neighborhood if your safety is a concern. We have looked into both Bay Area cities and found that they have low crime rates. If safety is number one on your list, it's worth mentioning that Walnut Creek has a slightly lower crime rate than Brentwood, CA.
Crime Rate in Walnut Creek: 11.7
Crime Rate in Brentwood: 14
On a scale from 1 through 100 with 1 being low crime and 100 being high crime.
Healthcare – It's Essential to Retire in an Area with an Outstanding Hospital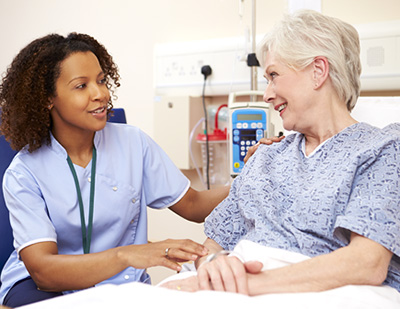 Smart senior citizens, along with the general public, should always ensure that a major hospital is nearby their place of residence. Imagine a medical emergency arising where it's a 30 mile drive to the nearest hospital. Or even if you require a simple procedure, it's always reassuring when you have a hospital within a short driving distance.
It's worth mentioning that Brentwood does not have a main hospital, and you will have to make that 30 minute drive if a trip to the hospital is necessary. One of the nearest hospitals is the John Muir Medical Center which is located in Walnut Creek. It's an award-winning hospital that can certainly take care of your medical needs – large and small.
Walnut Creek John Muir Medical Center:
About 30 minutes from Brentwood, and located in the downtown area of Walnut Creek, you will find the John Muir Medical Center. This exceptional hospital provides outstanding and professional care to seniors in Walnut Creek and its surrounding area. John Muir was noted in the U.S. News & World Report as one of the nation's premier health care providers. This East Bay hospital has also earned certification by the Joint Commission as a primary stroke center. It provides care such as orthopedics, rehabilitation, neurosciences, cardiac, trauma, cancer care, and other standard medical categories. John Muir boasts 554 beds, dedicated physicians, nurses, and staff, as well as top-of-the-line hospital equipment. If you are set on retiring in Walnut Creek, this hospital will take care of all your medical needs.
Entertainment – Options for Bay Area Seniors of All Ages
For some, the entertainment factor is a "make it, or break it" situation. This is because they feel that their retirement years should be spent enjoying life, getting out and seeing what life has to offer, and having a great time. With that comes the need for wonderful entertainment options. So let's see what these Northern CA retirement communities have to offer those who want to live the good life.
Sensational Walnut Creek Entertainment for Seniors: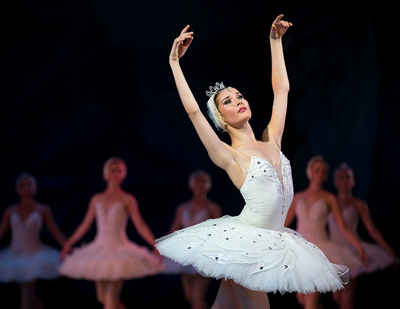 If you are moving to a Walnut Creek retirement community, you will be all set. This fabulous city is filled with great entertainment for seniors 55 plus. From a stroll in a unique garden, to a day at the opera, you are going to love this East Bay city.
THINGS TO DO IN WALNUT CREEK:
Lesher Center for the Arts: Those seniors who have retired in Walnut Creek often visit this popular center for the arts! It boasts incredible live entertainment for its Bay Area locals. This includes such things as ballet performances, incredible musicals, comedies, plays, and a lot more. In addition to this, if you are a lover of fine works of art, you will especially enjoy taking a stroll through the Bedford Art Gallery, which sits within this fantastic art center. They house modern and classical exhibits that you and your fellow seniors will just love! This art center is adored by seniors of all ages which has prompted The Heritage Downtown to partner with the Lesher Center for the Arts.
Ruth Bancroft Garden: This beautiful garden located in Contra Costa County is a well-known hot spot for seniors who love the outdoors. This East Bay garden was founded by Ruth Bancroft many years ago, and sports a 3.5 acre area that contains unique succulents and other plants. The Ruth Bancroft Garden is perfect for taking self or docent-led tours. They also offer classes and community events. If you move to Walnut Creek, you simply must visit this sensational garden!
Walnut Creek Shadowbrook Winery: Do you love to get together with your friends for a glass of wine? If so, then you will certainly want to stop by the Shadowbrook Winery. It sits in the city of Walnut Creek and is a popular hot spot for seniors of all ages. This terrific winery features top-of-the-line winery equipment, along with what is said to be the best wine in the area. So good that their wines have won many awards. There is a lovely sitting area, complete with a fireplace that makes this winery a charming place to relax.
Enjoy Brentwood with These Fantastic Entertainment Options: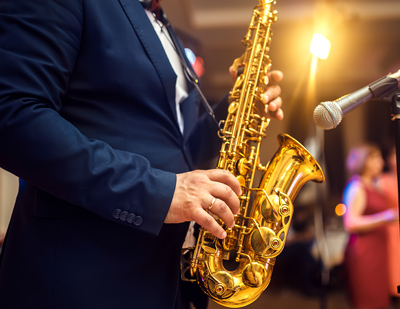 Brentwood CA has some interesting places to spend your afternoons or evenings at. After all, if you are living in the San Francisco Bay Area, it's a place with lots of activities going on throughout the year. Like many Bay Area cities, you will find golf courses, farmer's markets, museums, and more.
GREAT PLACES TO VISIT IN BRENTWOOD CA:
Art, Wine & Jazz Benefit Festival: This East Bay annual event is popular with seniors of all ages. It's a great place to gather with friends, or meet a few new ones. It includes live music, fine art, and many award winning wine and beers. For those who love arts and crafts, you will find plenty of it, seeing such works of art by painters, sculptors, photography professionals, jewelry makers, candle makers, and many handcrafted items.
Starry Nights Concert Series: Do you love concerts and also enjoy the great outdoors? If so, you're going to love this city organized event that takes place every summer. It's run by the Parks & Recreation Department, and gives those who move to a Brentwood retirement community a chance to get to know their neighbors, as well as have a great time. It takes place in City Park in downtown Brentwood. The concerts start at 7pm and the entertainment continues until 9pm. The serious features top Bay Area entertainment that you won't want to miss.
Senior Housing in Brentwood & Walnut Creek
The most difficult part of moving to a new retirement community is figuring out what city would be best for you and your needs. If you have decided upon which city you love to spend your golden years in, it's now time to start your Walnut Creek or Brentwood CA senior housing search. Let's take a look at a few things before you move forward:
The Best Senior Housing in Brentwood CA
If your heart is set on retiring in Brentwood, you can now look for a place to call home. You may want to start with making a list of certain aspects of senior housing that are important to you. This may include its proximity to bus routes, the neighborhood crime, or distance to grocery stores or medical facilities. One factor you will want to pay close attention to is ensuring the Brentwood senior housing facility you are looking into is affordable. Additionally, check out all their amenities before signing those papers. We wish you the best when it comes to retiring in Brentwood, CA!
Walnut Creek Senior Housing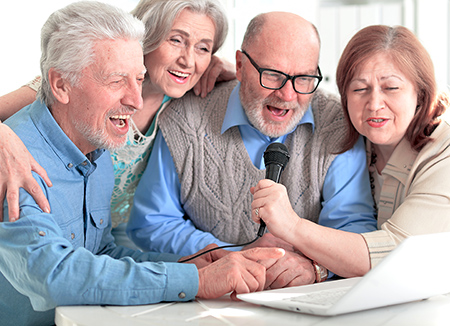 If you feel that Walnut Creek should be your new home, you are in store for a wonderful retirement. In addition to this, this city houses some fabulous retirement communities. One such place is The Heritage Downtown, let's take a look:
The Heritage Downtown Active Senior Living Apartment Homes
Said to be the most popular senior citizen retirement community in the Bay Area, The Heritage Downtown is the home of many happy 55+ individuals. They feature fantastic
amenities
that clearly make them stand out from the rest. For instance, The Heritage Downtown Apartment Homes provides comfortable rooms, with
modern floor plans
, a popular fitness room that offers exercise classes, health programs, and the like. You can stop by for a tour to view their swimming pool and spa, and stroll past their resident gardens that allow for those that live there to get out and enjoy the sun. If you love using a computer, The Heritage Downtown has a popular tech room that's open to all the residents. You will also find an innovative home theater, 24-hour concierge service, and more. Plus, they offer farm to table, 5 star dining at their Newton's own "Slow Food" restaurant. But if you would prefer to grab a bite out to eat, The Heritage Downtown Luxury Apartments is within walking distance to great restaurants that are located downtown. There are plenty of shopping opportunities as well! Contact
The Heritage Downtown
today; they would love to speak with you and get you set up in your own luxury apartment home!
Additional Northern CA Area Senior Community Comparisons
If you would like to take a look at a few more city comparisons before you make your decision as to which Bay Area city you would like to retire in, we offer you a few more city guides:
Enjoy Life in a Walnut Creek or Brentwood Retirement Community!
We're excited that you are starting on your new journey of retiring in Northern CA. It's a lovely place to spend your days! No matter where you decide to retire, Brentwood or Walnut Creek, you are going to love the East Bay Area. From beautiful rolling hills to sensational entertainment options, these two San Francisco Bay Area Cities have it all.
Before you leave, we suggest that you watch this fantastic video that details a few things about Walnut Creek that will have you wishing you moved to the area long ago! The Heritage Downtown is here for you if you have any questions. Feel free to give us a call at 925 943-7427.