Walnut Creek vs Pleasant Hill Retirement Community Comparison – A Detailed Bay Area Guide for Seniors

Are you interested in a retirement community in Pleasant Hill and Walnut Creek? If so, you may be confused as to which one would be best for you? This is where we step in to help. We have prepared a Walnut Creek vs Pleasant Hill retirement community comparison for seniors like yourself. It covers all the details that would be important when making a big decision as to where to retire in the San Francisco Bay Area. From entertainment options to the population size, we are here to provide you with the information you need. Let's begin our journey through these two popular NorCal senior communities! [toc]
Fabulous Retirement Communities in Pleasant Hill & Walnut Creek
The most difficult part of your search is over! You have found the general area within the Bay Area that you would like to retire in, now you would just need to decide on a specific location – Pleasant Hill or Walnut Creek. Although these two Northern CA retirement communities sit almost side by side, there are still slight differences that can have you favoring one over the other. Let's take a look!
Location – Retire in a San Francisco Bay Area Senior Community
Pleasant Hill and Walnut Creek are both in Contra Costa County, and only a short driving distance from each other. This seems like it might make it a little more difficult for you to decide, seeing how they are very similar. But, if you take a closer look, you will find that there are indeed differences that might just matter to you.
Take a look at a few details from each location to get a better sense of what these two Bay Area cities are like:
Walnut Creek:
The senior citizens that reside in this much-talked-about retirement community love all that its location has to offer them. For starters, Walnut Creek is a terrific location if you like to travel. It has more than a few main freeways that connect. This makes driving around the Bay Area a breeze no matter what direction you're heading in. It's especially helpful when the seniors at the
Heritage Downtown
plan their afternoon trips! Walnut Creek's location sports beautiful open spaces, rolling hills, hiking trails, and more. In addition to all the nature that you will see, you can also enjoy the city life in Walnut Creek. This San Francisco Bay Area location features great restaurants, shops, and everything else you would expect to find in a fantastic city such as this.
Pleasant Hill:
Located in Contra Costa County, this small suburban retirement community is comprised of 7.1 square miles of land. It showcases valleys and rolling hills, along with wilderness areas that are filled with oak woodlands and mixed words. Additionally, it does offer a wonderful city life, with lots of options for dining, shopping, and having a great time. This East Bay senior community doesn't have as many freeways running through it as Walnut Creek. This can result in adding a little time to your Bay Area trips, depending on where you may be going.
Climate – Perfect East Bay Retirement Weather
If you're looking for a place to retire in the San Francisco Bay area that offers comfortable weather, then you're on the right path. Walnut Creek and Pleasant Hill, CA, both have weather that seniors just love! From not having much rain to plenty of sunny days, these Northern CA senior hot spots are considered perfect.
Walnut Creek:
This East Bay senior retirement community is known for its great Mediterranean climate. You will find Walnut Creek provides its residents with many sunny days throughout the year. So, if you love getting out to enjoy the fresh air, then Walnut Creek certainly allows for this all-year-round. If you are one to have issues with joint pain during rainy days, this won't happen too often in this Bay Area retirement community. This is because it doesn't rain too often in Walnut Creek. But, it does rain enough to keep the area looking green and beautiful. As far as the temperature is concerned, you will experience average ranges in the 50s to 80s. So, if you're looking or a typical sunny California retirement location to call your home, Walnut Creek might be your answer.
Pleasant Hill: Because this city is within a short distance from Walnut Creek, they share the same weather patterns. This pertains to participation, temperatures, humidity, and so on. If weather is a concern for you, know that Pleasant Hill has very comfortable weather!
Cost of Living – You Can Afford to Retire in Pleasant Hill or Walnut Creek
The cost of living can be a topic that is often overlooked. But, in reality, it can be one of the most important factors in determining which retirement community you prefer. Some cities have high rents and transportation costs, as well as through the roof senior housing costs. This is why it's so crucial to do your research ahead of time. We did some preliminary research and found that retirement communities in Pleasant Hill and Walnut Creek can offer you an affordable cost of living.
Population – Walnut Creek Has More Seniors Than Pleasant Hill
One thing that makes Walnut Creek so popular with the senior crowd is its perfect population numbers, which comes to 68,516. This number is just the right size. On the other hand, Pleasant Hill's population numbers are 34,662. This is also a very comfortable population number, but also low. It's always possible that the lower the population, the less resources the city may offer for seniors. So, that may be something you might want to think about. It's also worth mentioning that Walnut Creek comes out ahead with a higher senior population. This is due to the fact that Walnut Creek has a great reputation for being a popular retirement community. Here are a few stats on age related population numbers:
Walnut Creek's population numbers for ages 65 to 74 is 13% compared to Pleasant Hill's 9.1%.
The median age is 9.3 years younger in the city of Pleasant Hill.
If you are 85 and over, you might be interested in these specific age related population numbers: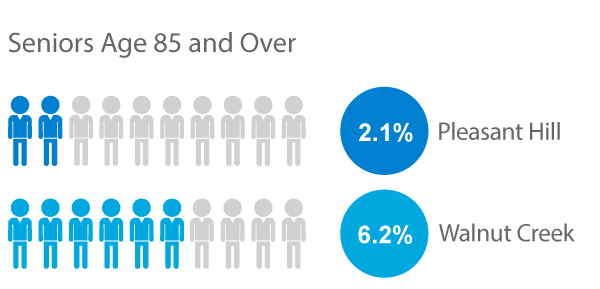 Transportation – Getting Around in the San Francisco Bay Area
If you have decided to retire in the East Bay area without a car, you will have plenty of options for getting around the city. From public buses to the trolley, you will certainly be covered. This is good news because getting out and staying active is essential to enjoying your retirement in good health.
Transportation Options for Seniors in Walnut Creek: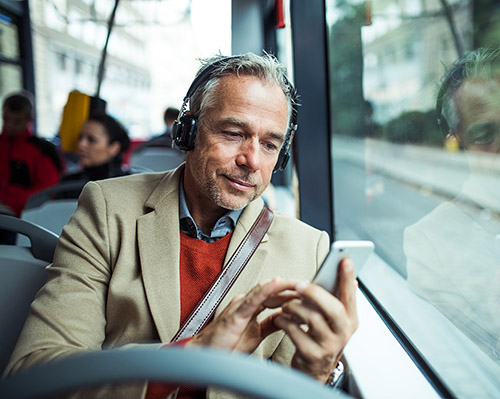 Walnut Creek has set up some amazing transportation options for its senior residents, as well as the general public. Let's dive in to see what you can expect, transportation wise, if you retire in Walnut Creek:
The Downtown Trolley: This unique means of transportation will allow you to easily travel around downtown Walnut Creek. It's definitely great for getting to your favorite restaurant or shop. Additionally, you can ride this trolley seven days a week for free!
Shuttle Services: For those of you who would like to travel around the city of Walnut Creek, you can utilize its reliable shuttle services. This would include the Creekside and Shadelands Shuttle. It's a free service that helps seniors get where they need to go all-year-round.
Rides for Seniors: Walnut Creek also offers a ride program that was designed specifically for senior citizens. This program assists older adults in getting to their medical appointments, the grocery store, and so on.
East Bay City Transportation: Active seniors who love to travel can take advantage of the Advanced Rapid Transit System – BART. It's a safe, cost-effective, and reliable means of transportation in Contra Costa County. If you prefer not to utilize the BART system, you can always hop on the County Connection city bus!
Transportation Options for Seniors in Pleasant Hill:
If you move to a Pleasant Hill retirement community, you will have some of the same fabulous transportation options that are mentioned above in the Walnut Creek transportation section. This would include the city bus – County Connection, as well as the BART system. However, moving to this East Bay retirement community will allow you to take advantage of their van service that was created specifically for seniors that are in need of a ride. Let's take a look:
Pleasant Hill Senior Van Service: The Pleasant Hill Commission on Aging was awarded a grant that allowed them to purchase a van that has the sole purpose of helping seniors 55+ travel around town. The current price is only $1.50 each way. You must first register, and then make a reservation to ride this senior van.
If you find you will want to explore more than just Contra Costa County, then you will want to check out our
Bay Area destination guide
to start planning your next trip to the surrounding areas.
Crime Rate – Move to a Safe Bay Area Retirement Community
When choosing your dream retirement location within the San Francisco Bay Area, you will want to take the crime rate into close consideration. Making the right decision to move to a lower crime area can mean the difference between being able to take a walk around the neighborhood by yourself, to not feeling safe on your own street. We did the research for you and found that senior retirement communities in Pleasant Hill, CA, as well as Walnut Creek, offer a safe, low crime option.

Crime is ranked on a scale of 1 (low crime) to 100 (high crime)
Healthcare – A Fantastic Hospital in the East Bay Area for Seniors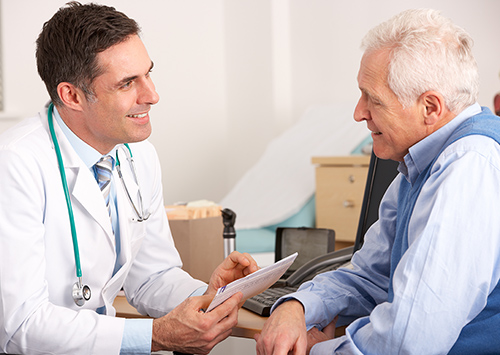 Having a quality hospital nearby is important at any age, but when we hit our retirement years, it becomes crucial. When seconds matter, you should feel at ease knowing that you can reach the nearest hospital within minutes. With this being said, the best hospital in the area is John Muir Medical Center located in Walnut Creek. As far as large hospitals are concerned, John Muir is one of the best hospitals in the East Bay, and is also utilized by Pleasant Hill residents.
Walnut Creek John Muir Medical Center:
This well-equipped hospital features 554-licensed beds, and is Contra Costa County's sole trauma center. This NorCal hospital has been rated as the nation's premier healthcare provider by U.S. News & World Report. Furthermore, John Muir has been given the Joint Commission's Gold Seal of Approval™ for certification as a primary stroke center. If you retire in Walnut Creek, you will have easy access to this top-rated hospital due to its location. For those of you who retire in Pleasant Hill, CA, it can be a 10 to 20 minute drive. The bottom line is that if you live in one of these Bay Area retirement communities, John Muir Medical Center will certainly take care of your health needs.
Entertainment – Have fun in a Retirement Community in Pleasant Hill or Walnut Creek
When looking for a new retirement community in the East Bay Area, you will want to ensure that you find one that offers plenty of entertainment. We have found that both of these Northern CA senior hot spots offers activities that are fun and interesting. It's worth mentioning though that Walnut Creek, CA, has much more to do than the city of Pleasant Hill. Let's take a closer look at the entertainment options for both of these cities:
Retire in Walnut Creek with These Entertainment Options: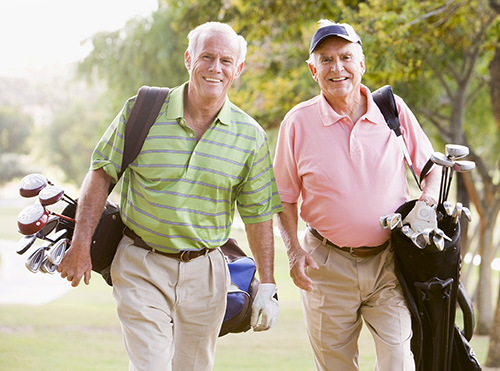 The residents of the Heritage Downtown senior apartment homes are always keeping busy. It's easy to do when you retire in Walnut Creek. This East Bay city has many things to do, big and small. From playing a round of golf with friends to sipping wine at an art and wine festival, it always a good time in Walnut Creek. Take a closer look at what Walnut Creek has to offer its residents:
AWESOME THINGS TO DO IN WALNUT CREEK
Boundary Oak Golf Course: Are you a senior who loves to play golf? If you are, and you retire in Walnut Creek, this course will become your new best friend. It's an outstanding 18-hole championship course that offers fantastic putting greens, and a well-maintained driving range. Also, while you're playing a round, you will certainly enjoy the San Ramon Valley area view. When you're finished, you can have a great time with friends at the Tap House, their onsite eatery. If you need anything to improve your game, walk over to the clubhouse to see what they have available. With all they have to offer, you will be sure to have a grand time at this popular golf course.
Lesher Center for the Arts: If there was nothing to do in Walnut Creek except visit the Lesher Center for the Arts, most residents wouldn't have a problem with it! This is due to the fact that this fabulous art center has it all. A wonderful art gallery, plays, ballets, operas, musicals, comedies, you name it. This art center is so popular with the seniors who have retired in Walnut Creek that they have partnered with the Heritage Downtown Senior Luxury Apartment Homes. Furthermore, seniors from the surrounding areas come to visit the Lesher Center for the Arts on a regular basis.
Walnut Creek Art & Wine Festival: For those of you who enjoy art and wine, this festival will be the highlight of your year. The city puts on this fabulous festival that draws seniors from all over the Bay Area. It's been going strong for 38 years and just keeps getting better. It will allow you to enjoy great food, view art by local artists, visit with friends, listen to live music, and much more.
WALNUT CREEK'S FINEST SENIOR CLUB
Walnut Creek Senior Club: If you love senior clubs, then this one will surely get your attention. It's a great place to meet new friends, keep active, as well as have a good time. This fantastic senior club organizes many events and activities for its members. A few examples would be tennis matches, softball, bingo, ski trips, hikes, movie viewings, and so on. If you move to a retirement community in Walnut Creek, this senior club will make the transition so much easier!
For those who love to travel outside the city they live in, you may be interested in seeing our
Senior Bay Area Destination Guide.
It goes into detail about other exciting places to visit within the Bay Area.
Retire in Pleasant Hill with These Entertainment Options: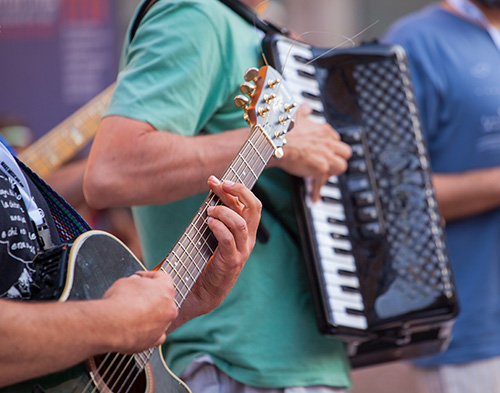 Although there won't be as many activities and places to visit if you move to a Pleasant Hill retirement community, you can still find interesting things to do in this San Francisco Bay Area Senior Community. Take a look at what this older adult hot spot has going on:
PLACES TO VISIT IN PLEASANT HILL:
Annual Art, Wine & Music Festival: When Pleasant Hill puts on their annual festival, the whole community shows up. Seniors will especially enjoy this art, wine, and music festival as they visit all the arts and crafts booths, grab a bite to eat with their fellow seniors, or, enjoy the live music they present! A few wine and beer tasting booths are available, which makes for a great time. So, if you move to a Pleasant Hill retirement community, be prepared to have a great time at this popular festival.
Soldier's Memorial Monument: If you retire in Pleasant Hill, you will want to visit this well-known and respected Soldier's Memorial Monument. It was created in 1927 and still stands tall at 45 feet high. It features bas-relief soldiers, as well as a staircase that is within the tower and a top level viewing area. This upper level was closed for renovations at one point, so be sure to check ahead of time. The monument was sculpted by the famous painter, Ralph Stackpole. This giant monument is a must-see if you retire in this San Francisco Bay Area senior community.
Senior Housing in Pleasant Hill and Walnut Creek
Now that you know what Northern CA Bay Area retirement community you may want to retire in, you can start your senior housing search. Whether you have settled on a Pleasant Hill retirement community or one in Walnut Creek, we are sure you will just love the East Bay area that you have selected. Let talk more about senior housing that are in these sunny California retirement cities.
Senior Retirement Housing in Pleasant Hill, CA
If retiring in Pleasant Hill, CA, you will want to be sure that the senior housing facility you choose is cost-effective, has a good reputation, and is in a safe neighborhood. You will also want to make sure that you have good transportation option close by so you can get out and explore your community. Once you find your senior housing, you can start planning your big move! We wish you the best in your search for the perfect retirement home in Pleasant Hill.
Senior Retirement Housing in Walnut Creek, CA
For those who retire in Walnut Creek, you are in for a wonderful experience. This charming San Francisco retirement community will exceed your expectations. When it comes to finding a great senior housing facility, you certainly won't have any issues. This East Bay senior community will allow you to live a happy fulfilled life, meet new friends, and enjoy all that Walnut Creek has to offer.
The Heritage Downtown Active Senior Living Apartments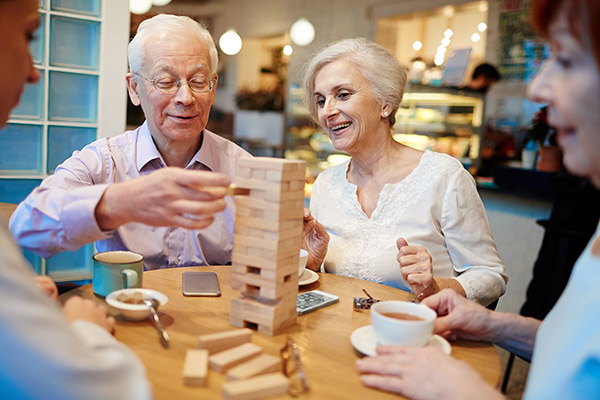 We would like to recommend our preferred choice in senior housing – the Heritage Downtown. It's considered San Francisco Bay Area's #1 active senior living community. These outstanding senior apartment homes offer amazing
amenities
that their residents are raving about. You will also find that they showcase great programs, have a wonderful staff, and the apartments themselves are incredible. The Heritage Downtown also provides gardening for those who love to spend time outdoors. Additionally, for the times when you need assistance, concierge service is provided day and night. They offer complimentary shuttle services, technology rooms, and fitness programs. Not all senior housing facilities have a pool, but the Heritage Downtown does, and their 55+ senior residents just love it. They even offer an award-winning onsite eatery where you and your fellow seniors can meet for lunch and dinner. The Heritage Downtown is conveniently located in the heart of downtown Walnut Creek. This is one benefit of living in these popular senior apartments. The residents can simply take a stroll downtown to go shopping with friends or grab a bite to eat. These Northern CA senior apartment homes are everything you could hope for when it comes to a lovely place to retire.
Additional NorCal Retirement Community Comparisons
For those who are still on the fence about where to retire in the San Francisco Bay Area, take a look at these detailed comparisons:
Live Life to the Fullest in your New Bay Area Retirement Community!
Your new San Francisco Bay Area senior community awaits you! There will be much to explore in the Northern CA city you have decided to retire in. This means that a new journey is starting, one you should make the best of. We hope that you love your new East Bay Area retirement community and that our comparison has been helpful. If you are retiring in Walnut Creek, take a moment to view this fantastic video that will have you loving Walnut Creek even before you move there.
.
.