Walnut Creek vs San Anselmo Retirement Community Comparison – Detailed Bay Area Guide for Seniors

If you're looking for that perfect place to retire in the San Francisco Bay Area, and you have your eyes on a Walnut Creek or San Anselmo retirement community, then you have come to the right place. We put together a detailed guide for seniors that covers all the elements that are crucial to deciding which city would be best to retire in. Our comparison covers such things as retirement housing, crime rates, weather, and more. [toc]
Retirement Communities in San Anselmo & Walnut Creek
With so many places to choose from when it comes to retiring in the Northern CA Bay Area, the fact that you have narrowed it down to these two cities means you must be close to making your final decision. Now it's time to decide which of these two sunny California retirement cities is best for your particular needs. From transportation to entertainment, we will fill you in on all the details. So, let's dive in and learn more so you can start making plans to move to your dream retirement destination in the Bay Area.
Location – Beautiful San Francisco Bay Area Senior Communities
If you are particular about the location you live in, you will want to take a closer look at the specifics of these two NorCal retirement communities. From freeway access to the amount of nature vs city an area contains, you will want to ensure that you are satisfied with what your final retirement destination city has to offer.
Take a look at the location details of Walnut Creek and San Anselmo: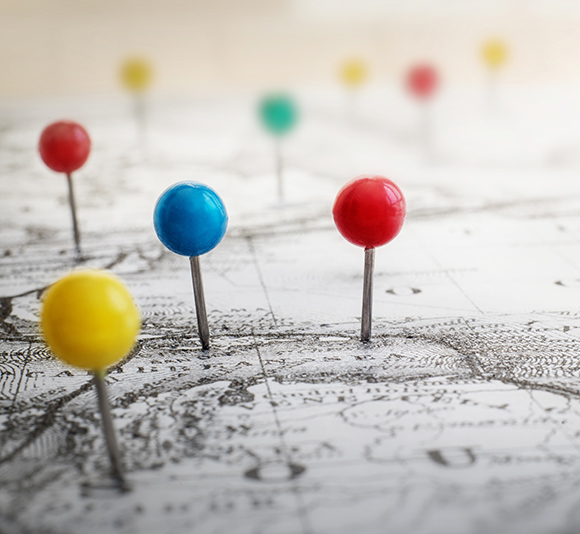 Walnut Creek:
Seniors who have retired in this Contra Costa County city realize that they have it made as far as locations are concerned. This retirement community offers a wonderful mix of both city and nature. It features rolling hills, open spaces, and other elements that nature lovers would enjoy. Walnut Creek also provides its seniors with a terrific city life that offers thriving businesses, a variety of shops, and plenty of fine-dining. You will find a lot of the great aspects of the city are right in downtown Walnut Creek. This is what makes the
Heritage Downtown
so sensational, it rests in the heart of downtown in this charming city. Additionally, more than a few major freeways connect within Walnut Creek, making it a central hub for traveling within the Bay Area.
San Anselmo:
This Marin County retirement community is 1.5 miles west of San Rafael, and 20 miles north of San Francisco. Its location makes for an easy trip to the big city for a day of fun. If you travel extensively, know that the city of San Anselmo doesn't have any major freeways running through it. Depending on where you live with the city, it could take 10 to 45 minutes to travel to the nearest freeway. Some may view this as a negative, but it can also be considered a plus because of less traffic and less pollution. This location sports beautiful skyline views of the Ross Valley Hills, as well as Grove, Red, Balk, and Moore Hills. San Anselmo offers a quaint city life with many shopping and dining opportunities. You should be aware that this city is built on a floodplain, and with that comes periodic flooding. All in all, this Northern, CA senior community is a lovely place to retire.
Climate – Walnut Creek & San Anselmo Retirement Communities with Great Weather
Some seniors move to Northern CA because it's known for its fabulous weather. This is true. However, some cities may be more desirable than others when it comes to the climate. This can apply when one city has more rainfall then the other, or if a city is much hotter, or colder. Let's take a look at these two Bay Area cities to see how they compare:
Walnut Creek:
This popular Bay Area retirement community is known for its comfortable Mediterranean weather. You will find that it typically experiences temperatures that are the mid 30s to high 80s, depending on the season. Walnut Creek doesn't experience much rain, which makes it perfect for seniors who experience joint pain during rainy days. This is certainly one aspect of Walnut Creek that the senior residents of the Heritage Downtown appreciate. They also love the fact that sunshine is no stranger to this city, which allows them to enjoy their afternoons outdoors. Overall, Walnut Creek provides pleasant weather for the retired senior citizens who live there.
San Anselmo: This San Francisco Bay Area retirement community experiences temperatures in the low 40s to low 80s. Additionally, it sports long, comfortable summers, along with short, wet winters. The warmer months are typically June through October. This Bay Area retirement city seems to have more rain than Walnut Creek. So, if you are looking to escape the wet weather, Walnut Creek may be a better choice.

Cost of Living – Walnut Creek Comes Out On Top with Affordability
Wise senior citizens normally have a budget in place. If not careful, retiring in an expensive city can drain their money quickly. With this in mind, we have gathered some information on both NorCal retirement cities to give you a general idea of what the affordability factor is.
Retire in the City of Walnut Creek with These Cost of Living Statistics:
Overall: 195.1
Housing: 377.9
Retire in the City of San Anselmo with These Cost of Living Statistics:
Overall: 245.5
Housing: 535.3
Under 100 means less expensive than the U.S. averages. Above 100 means more expensive.
Population – More Seniors Retire in Walnut Creek
If you're looking for lower numbers when it comes to a city's population, you will find it in both a Walnut Creek and San Anselmo retirement community. Walnut Creek's current population is 68,516, with San Anselmo being 12,619. Both cities feature a lower population number, with San Anselmo being considerably lower. It's worth mentioning that although San Anselmo sports a lower number, with that can come fewer programs and opportunities for seniors.
Here we break down the numbers even further:
Walnut Creek's population numbers for older adults ages 65-74 is 13% and 11.9% in San Anselmo, CA.
The median age is 1.2 years older in the city of Walnut Creek.
Seniors 85 and older will be interested in these statistics as well: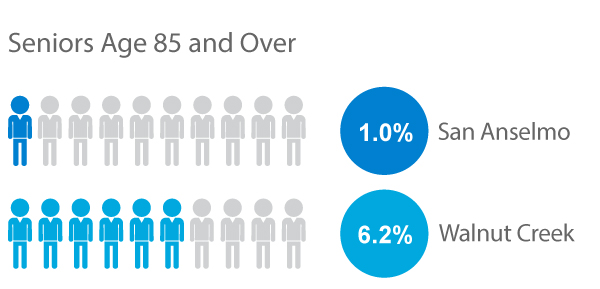 Transportation – Easily Travel Within a Walnut Creek or San Anselmo Retirement City
Many seniors overlook this essential element when it comes to searching for a San Francisco Bay Area retirement community. In reality, ensuring there are good transportation options should be a priority. No matter where you live, a senior community in San Anselmo, or one in Walnut Creek, you will want to compare each city's mobility options to see which is best for you. In doing so, you will have no problems getting to your medical appointments, traveling to do a little shopping, and so on.
Walnut Creek's Transportation Options: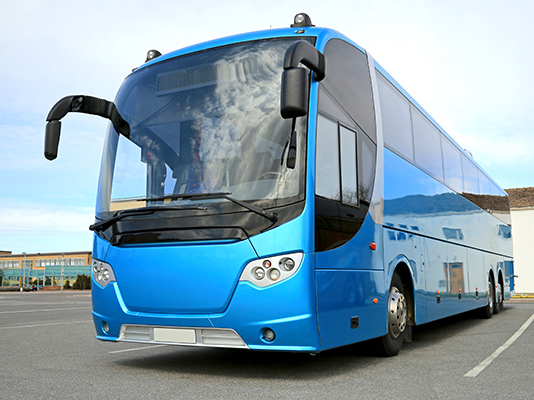 If you are finding that you just love Walnut Creek, you are going to love it even more! This East Bay retirement community features a variety of transportation options that are perfect for independent seniors who like to keep active.
Senior Transportation: The Senior Mini Bus Program of Walnut Creek provides rides for older adults for only $1 each way. It's a great alternative for those who would rather not take public transportation. This program will enable you to get where you need to go, whether it's a medical appointment, grocery shopping, and so on.
Walnut Creek Trolley: This outstanding means of transportation operates 7 days a week, and it's free to seniors ages 55 plus. It travels through the streets of Downtown Walnut Creek allowing you to do a little shopping and dining, any day of the week.
Shuttle Services: Catch the Creekside or Shadelands Shuttles free of charge when you need to get out and about. Seniors of all ages love utilizing these shuttles to run just about any errand, meet with friends, and more. It's a great service that allows seniors to retain their independence.
City Transportation: Walnut Creek's County Connection city bus is an excellent way to travel around the city, as well as nearby cities. There is also a BART station in Walnut Creek that allows seniors to travel even further for fantastic afternoon or weekend getaways. It's a low-cost way to get out and have some fun with your fellow seniors.
San Anselmo Retirement Community Transportation Options
Being the smaller retirement community that it is, San Anselmo does not offer as many transportation options as Walnut Creek. But, our research does show that it provides city bus transportation, which would be more than enough to run errands, and so on.
City Bus Options: This San Anselmo retirement community provide reliable city bus transportation through the Golden Gate Transit, as well as Marin Transit bus lines. These affordable bus options will assist you in getting to your medical appointments, going to the grocery store, as well as travel to surrounding cities.
If you think you might want to travel to other cities that are nearby, check out our
Bay Area destination guide.
Also, if you feel that this city doesn't have the transportation options that you had hoped for, then check out the retirement communities in
Dublin
or
San Jose.
Crime Rate – Feel Safe in Your New Northern CA Senior Community
When looking for a place to retire in Northern CA, you should always check on a city's crime rate. Ensuring that the city you want to reside in does not have high crime numbers will give you a peace of mind, as well as keep you safe. We have gathered crime statistics on both of these Bay Area senior cities and found that they are safe to reside in. However, Walnut Creek's crime numbers are slightly lower than San Anselmo.
Walnut Creek Crime Rate: 11.7
San Anselmo Crime Rate: 13.3
(Crime is ranked on a scale of 1 (low crime) to 100 (high crime)
Healthcare – Bay Area Hospitals That Provide Excellent Care for Seniors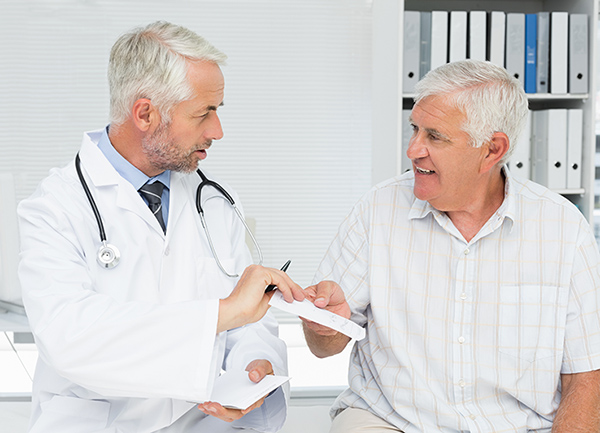 If healthcare is on the top of your priority list, then you will want to retire in a Bay Area city where you will have access to a quality hospital. Even if you are in great condition, emergencies do happen, and this is when every minute matters. With this in mind, we researched the area's hospitals and found the following information:
Walnut Creek John Muir Medical Center:
This well-known hospital is situated near Downtown Walnut Creek, making it easily accessible to the seniors who reside at the Heritage Downtown. Additionally, it was named by U.S. News & World Report as one of the nation's premier healthcare providers. Furthermore, John Muir was awarded the Joint Commission's Gold Seal of Approval™ for certification as a primary stroke center and is accredited by the American Heart and Stroke Association. This hospital features 554-licensed beds and they specialize in orthopedics, rehabilitation, neurosciences, cardiac, trauma, cancer care, and more. John Muir is an exceptional hospital that exceeds the expectations of its patients.
Kentfield Hospital: For those who are thinking about retiring in San Anselmo, you should know that this city does not have a hospital located within its borders. Kentfield Hospital is nearby in the neighboring city of Kentfield. This hospital is considered a long term acute care facility and has a capacity of 60-beds. A few of its specialties includes pulmonary and neurological care. Furthermore, depending upon where you would reside in this San Francisco Bay Area retirement community, you would have a 5 to 45 minute drive to reach this hospital.
Entertainment – Enjoy Your Retirement in the San Francisco Bay Area
When you retire in the Northern CA area, it goes without saying that there will be plenty to do. From festivals to catching a musical, be prepared to have a great time. We have gathered some information on activities from both Bay Area retirement communities. Let's take a look:
Activities You Can Look Forward to if You Retire in Walnut Creek: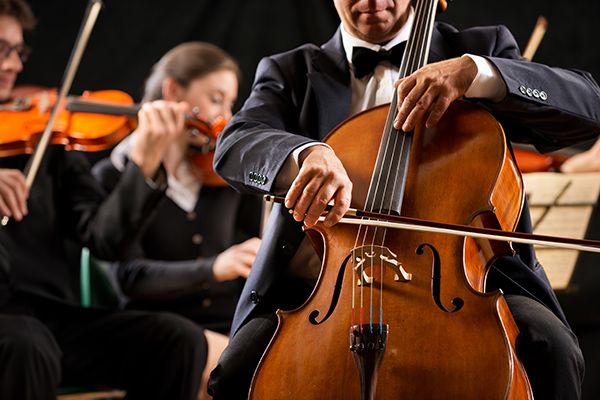 If being entertained is important to you, then you will be happy with all that Walnut Creek has to offer. This city has many fun and interesting activities to do.
ENTERTAINMENT IN WALNUT CREEK:
Lesher Center for the Arts:

Do you enjoy fine art, as well as entertainment? If so, you are going to just love the Lesher Center for the Arts. Seniors from around the Bay Area travel to see musicals, operas, comedies, plays, and more. You can also take a walk through the Bedford Art Gallery. It showcases historical, modern, and contemporary works of art. This gallery shows four to five exhibitions year. With all this center has to offer, it was a wise idea for the Heritage Downtown to

partner with the Lesher Center for the Arts.
Walnut Creek Art & Wine Festival: This annual event is known throughout the Bay Area and will be sure to impress anyone who attends. It sports live music, great food, micro-beers, fine wines, as well as hand-made crafts that you can purchase. If you plan on moving to a Walnut Creek retirement community, you will certainly want to mark your calendar for this event!
Boundary Oak Golf Course: Bay Area golf lovers just love this 18-hole championship golf course, and for good reason. It features professional putting greens and a modern driving range, as well as a clubhouse where you can purchase everything you need for the game. The San Ramon Valley is visible while on this course and the view is stunning, especially at sunset. If you like to hang out with your friends after a great game of golf, you can meet at the Tap House, its onsite eatery. Furthermore, if you would like to impress your friends by perfecting your game, Boundary Oak also provides golf lessons.
Activities You Can Look Forward to if You Retire in a San Anselmo Senior Community:
Although Walnut Creek does have much more going on when it comes to entertainment, if you retire in San Anselmo, you will find a few great places to visit. Take a look at these two popular places that seniors seem to love.
INTERESTING PLACES TO VISIT IN SAN ANSELMO:
Annual Art & Wine Festival

: This popular event is held by the Chamber of Commerce and it typically pulls in over 30,000 people. It's held in downtown San Anselmo and features work from local artists, along with live musical entertainment. Additionally, it showcases fantastic food, gourmet wines, craft beers, and more. You can also shop the many vendors that sell a variety of items. If you retire in San Anselmo, you won't want to miss this spectacular event.

San Anselmo Historical Museum

: This museum is known for its large collection of photos and other memorabilia pertaining to San Anselmo's history, and it's certainly a must-see. If you move to a San Anselmo retirement community, you and your fellow seniors will be sure to visit this museum more than once. It is here that you will find historical records of the city's businesses, events, and people. They have a variety of displays that rotate throughout the year, which include photographs, videos, and more.
Senior Housing in San Anselmo and Walnut Creek
Now that you may have a general idea of which city you would like to retire in, it's time to start thinking about which senior housing facility you would like to live in. There are many senior homes in San Anselmo, as well as Walnut Creek, it's just a matter of finding one that's perfect for you and your needs.
San Anselmo Senior Housing
For those of you who have decided to retire in San Anselmo, it would be wise to start searching the city for your dream retirement housing. While doing so, it's important to ensure that it's close to public transportation so that you can easily catch the bus when needed for medical appointments, and so on. You will also want to make sure that the location you choose has a low crime rate. It's important that you take your time when choosing your final Bay Area retirement housing destination. Once you find what you are looking for, we wish you the best of luck in your new home!
Walnut Creek Senior Housing
If Walnut Creek is where you would like to spend your retirement years, you will be happy to hear that this Northern CA retirement community is recommended by all who live there. It's a fabulous location to retire that offers so much to its senior population. With that in mind, let's take a look at one of the most popular senior homes in the area:
The Heritage Downtown Active Senior Living Apartments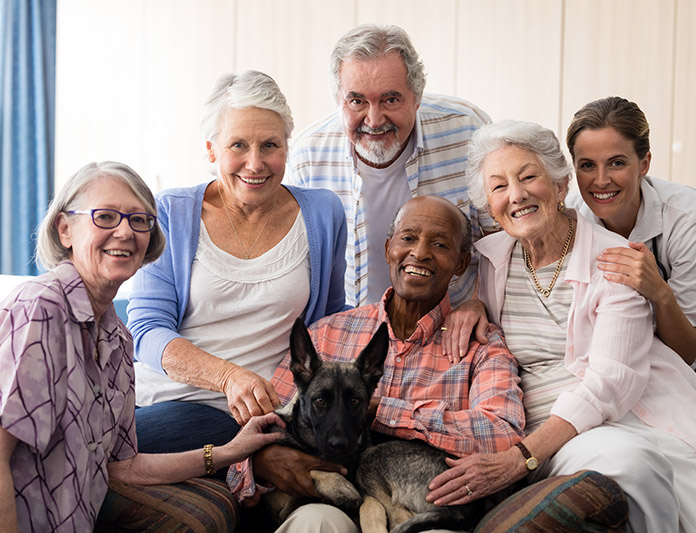 The Heritage Downtown Senior Apartment Homes are said to be the Bay Area's most popular retirement community. It features top-rated
amenities
that its residents just love. These Contra Costa senior apartments are located in the heart of downtown Walnut Creek, which is a very desirable location. This is because its where all the action is – restaurants, shops, businesses, and more. This East Bay Area senior facility showcases enriching programs, educational classes, innovative tech rooms, housekeeping services, and more. They are an excellent place for seniors of all ages that are interested in keeping mentally and physically fit, as well as making many friends. If you move to the Heritage Downtown, you will be able to enjoy their in-house restaurant that is so popular among their senior residents. Additionally, if you like to get a little exercise in the sun, they sport a beautiful swimming pool, and a spa. Along with this, they offer gated secured parking, and a fitness center with guided classes taught by professionals. If you become a resident of these fabulous San Francisco Bay Area senior homes, we know you are going to enjoy living there!
See More of Our Bay Area Senior Community Comparisons
We have listed out a few more city comparisons for you to take a look at:
Enjoy Life in a Walnut Creek or San Anselmo Retirement Community!
After reading through our retirement community comparison, we hope all your questions have been answered and that you are ready to move forward with your new adventure in life. No matter which senior community you have settled on, be sure to watch the following video to see all that Walnut Creek has to offer you as a retired senior citizen.
.
.