Walnut Creek vs Dublin Retirement Community Comparison

If you have been searching for the best place to retire in the San Francisco Bay Area, we suggest reading our Walnut Creek vs Dublin retirement community guide. It details important aspects of retiring in either of these two East Bay senior hot spots. You will read all about the transportation and entertainment options available, as well as specifications on crime, weather, and more. Our detailed research will assist you in determining if Walnut Creek or Dublin will meet your needs as you seek out the perfect retirement community in the Northern CA area. [toc]
The Best Retirement Communities in Dublin & Walnut Creek
Chances are, wherever you decide to retire, you will want to make it your permanent home. With that in mind, it's important to ensure the city you move to will be one that you're happy with. This is where our Walnut Creek vs Dublin retirement community comparison comes into play. It will allow you to learn more about each city and all they can offer you as a retired senior. Let's dive in and take a closer look!
Location – Popular Northern CA Retirement Cities
Some individuals love being surrounded by nature, while others like the city life. Or, maybe convenient freeway access is a must-have for those who love to travel. Each city has its own unique set of characteristics when it comes to its location.
Here are a few location specific details on these two East Bay senior communities: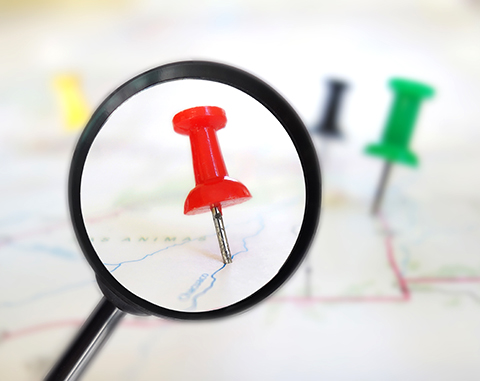 Walnut Creek:
Seniors who live in a Walnut Creek retirement community seem to enjoy all the location as to offer. If you prefer to live in an area with more nature, then this city is for you. It showcases lovely fields, beautiful rolling hills, well-kept parks, hiking trails, and more. Additionally, for those who love the city, Walnut Creek offers a fantastic city life that provides plenty of stores, restaurants, as well as entertainment options. The residents of the
Heritage Downtown
especially enjoy this location seeing how they are located in the heart of downtown Walnut Creek. If you're a traveler at heart, then you will especially like retiring in Walnut Creek. It has a convenient freeway system where main freeways in the area connect. This is great if you plan on taking many day trips throughout the year.
Dublin:
This Northern CA retirement community is located in Alameda County, just East of San Francisco. The city covers 14.9 miles with only 0.03 percent being comprised of water. This East Bay senior hot spot is considered to be within a city atmosphere, which will allow you to have access to plenty of shopping and dining experiences. On the other hand, Dublin also contains a few large parks where you can enjoy a nature setting. If you move to a Dublin retirement community, you will have access to two main freeways. One runs through a small portion of Dublin, while the other runs along the entire bottom border of the city. Although its freeway access is not as convenient as Walnut Creeks, it will still allow you to get out and travel the area.
Climate – Retire in the East Bay with Outstanding Weather
Northern CA seems to have perfect weather no matter what city you reside in. Although this is true, each city can vary slightly. The small difference may be just enough for you to choose one city over the other. We will go into a few details of these two San Francisco Bay Area retirement cities so you have a better idea of what they are like as far as the weather is concerned.
Walnut Creek:
This NorCal retirement community seems to showcase a near perfect climate. Its temperatures normally fall between the 30s during the winter to the 80s during the summer. If you are one to have joint pain in wet weather, know that Walnut Creek does not have much rain. The older adults of the Heritage Downtown Senior Apartments love the weather their city provides. Especially since it enables them to go for walks and enjoy the sun. Walnut Creek is known for having almost unbroken sunshine throughout the year. So, if you are looking for the best weather an East Bay city can offer, you will find it in a retirement community in Walnut Creek!
Dublin: If you retire in Dublin, you won't have any problems when it comes to the weather. It sports a typical Mediterranean climate that retiring seniors seem to enjoy. Its average temperatures run in the low 30s to high 80s with normally 262 sunny days a year. This Tri-Valley city also has a low percentage of rain. This is perfect for seniors who suffer from arthritis pain due to damp conditions. In sum, Dublin offers the 55 plus community great weather throughout the year, making it an appealing place to retire with the Northern CA Bay Area.
Cost of Living – Both Walnut Creek and Dublin Retirement Communities are Affordable
If you are considering moving to one of these East Bay retirement communities, then you will be all set when it comes to the cost of living. Our research shows that both Dublin and Walnut creek offer cost-effective living. This is an essential factor when it comes to finding a place to retire in Northern CA. If you plan on researching other Bay Area retirement communities, be sure to check on the typical senior housing prices for that particular city, along with transportation fees. Dublin's housing costs are slightly higher than Walnut Creek's pricing, but still in an affordable range.
Population – Dublin and Walnut Creek Feature Great Community Numbers
For those seniors who prefer smaller population numbers, you will fit right in if you retire in Dublin or Walnut Creek. These two San Francisco Bay Area cities offer great overall population statistics. Walnut Creek's numbers are currently 68,516, with Dublin falling in the same range. This means that if you want to avoid an overcrowded, large city, these two NorCal independent senior retirement communities will meet your requirements.
Take a look at the population numbers for Dublin and Walnut Creek senior communities:
Walnut Creek's population numbers for senior citizens ages 65-74 is 13% and 5.7% in Dublin, CA.
The median age is 11.9 years older in Walnut Creek than in the city of Dublin.
For those older adults who are 85 and older, you might want to take a look at these numbers as well: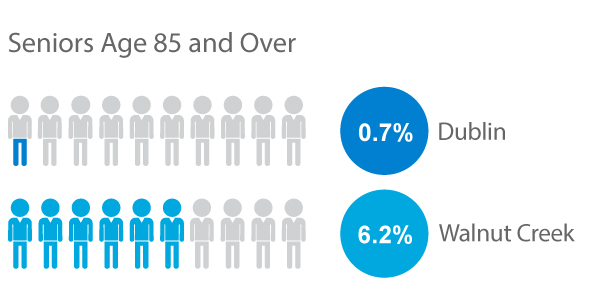 Transportation – Seniors Can Easily Travel Around Town and The Bay Area
Having the ability to get to your appointments with no issues, or to easily travel across town to have lunch with friends is essential. No matter where you retire within the San Francisco Bay Area, you will want to ensure that excellent transportation options are available. From taking the bus to travel within the city limits, to planning trips around the Bay Area utilizing the BART system, both Walnut Creek and Dublin retirement communities will have you covered.
Take Advantage of Walnut Creek's Great Transportation Options: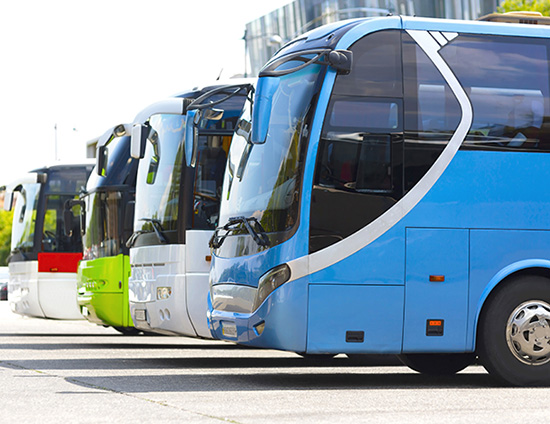 If you are an independent senior retiring in Walnut Creek, you will have no issues with transportation. This city has ensured that its residents are well taken care of when it comes to meeting their mobility needs. Let's take a look at what options will be available to you if you move to a Walnut Creek retirement community:
Rides for Seniors: Walnut Creek offers a Senior Mini Bus Program that is utilized by seniors for $1 each way. This transportation option is an affordable choice for those who would rather not take the city bus. It allows the older adult community to make their medical appointments, go grocery shopping, and so on.
The Downtown Trolley: If you're a 55+ senior who loves to spend time downtown shopping and dining, then you will love Walnut Creek's Trolley service. It's free of charge and operates 7 days a week.
No-Cost Shuttle: Walnut Creek senior residents take the Creekside or Shadelands Shuttles often. It allows them to run errands and get their shopping done. Both shuttles are free of charge and great for seniors who would like to be more active.
City Bus & BART System: If you move to a senior community in Walnut Creek, you will be sure to catch the County Connection city bus. This bus system travels around the city, as well as outside the city limits, providing you with plenty of opportunity to get out and about. Plus, if you are an independent active senior who loves to travel, then you will be happy to hear that Walnut Creek utilizes a popular commuter rail system called BART. It's an affordable means of travel that will take you around the Bay Area in no time!
Dublin Senior Retirement Community Transportation Options
Older adults who need a cost-effective means of transportation can rely on this East Bay senior community's great mobility options. This will allow them to travel around Dublin, as well as other San Francisco Bay Area cities.
Wheels: This option provides city bus services within Dublin, as well as other areas of Alameda County. It's a reliable means of transportation that has been around since 1986. It will enable seniors of all ages to travel around the city at an affordable price.
BART: Dublin sports two BART stations within the city, making it especially easy to travel. It will allow seniors to plan afternoon getaways to San Francisco, and other Bay Area cities that offer additional entertainment.
Before planning your next group outing with friends, take a look at our
Bay Area destination guide.
Crime Rate – Live in a Safe San Francisco Bay Area Senior Community
When searching for the best place to retire in the Bay Area, you will want to pay close attention to the crime statistics. Even if a city has beautiful rolling hills and lots of great shopping opportunities, it would be wise to avoid it if the crime rate is high. Imagine walking home from the bus stop, or maybe taking a walk through your neighborhood, worrying about your safety. Our research reveals that if you move to a Walnut Creek or Dublin retirement community you will be set up in a city that offers low crime rates. Both of these Northern CA retirement communities have great crime statistics, making them safe places to retire!
Healthcare – Northern CA Medical Centers for the 55+ Community
Having great medical facilities in the area is an important factor when choosing your new retirement city within the Bay Area. Your health should be your number one priority. We are happy to report that whether you move to a retirement community in Walnut Creek or Dublin, you will have excellent health care facilities at your service.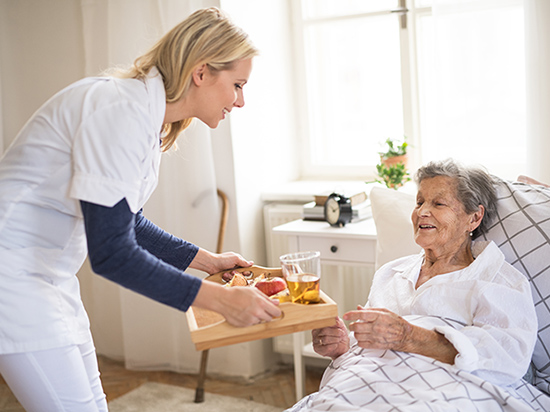 Walnut Creek John Muir Medical Center:
Having won many awards and being known for having well qualified staff is just a few aspects of what makes John Muir so great. It doesn't matter why you are at this hospital; an injured back, or symptoms of a heart attack, all your needs will be taken care of. John Muir has 554-licensed beds making them a larger scale facility. This hospital has been named one of the nation's premier healthcare providers by U.S. News & World Report. In addition to this, John Muir has won an award for the Joint Commission's Gold Seal of Approval™ for certification as a primary stroke center. This East Bay hospital is located near downtown Walnut Creek, which makes it convenient for the residents of the Heritage Downtown to quickly travel to the hospital in case of an emergency.
Stanford Health Care – ValleyCare Medical Center: If you move to a senior community in Dublin, you will find excellent physicians, nurses, and staff at the VallyCare Medical Center. You will be well taken care of no matter what your condition, whether it's cardiac issues, a sprained arm, or lung problems, and the like. The ValleyCare system dates back to the 1960s, and they have several locations within the Bay Area. If you have a health matter where you will not need to be admitted to the hospital, Dublin has an outstanding urgent care facility where your needs will be met.
Entertainment – Enjoy Fun Activities When You Retire in Dublin or Walnut Creek
Northern CA is filled with plenty of awesome things to do, but occasionally you run into a city that doesn't have much going on. You will want to ensure that you don't end up retiring in a city that is less than entertaining. With that in mind, we did some upfront research and found that both Walnut Creek and Dublin senior communities have enough entertaining activities going on to keep any senior busy. Let's see what you can look forward to when you move to one of these San Francisco Bay Area senior communities:
Enjoy These Entertainment Activities When You Retire in Walnut Creek: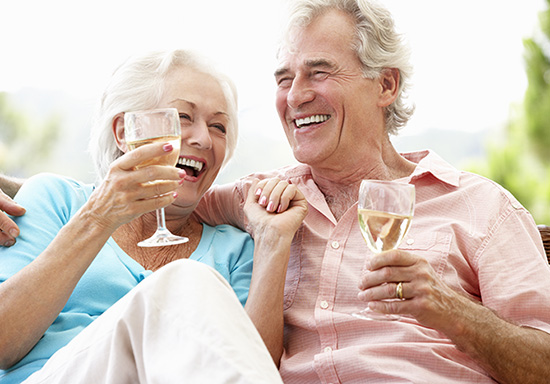 If you're looking for a fun and active retirement community, then you will certainly find it in Walnut Creek, CA. There is something to do for seniors of all ages, and the residents of the Heritage Downtown know this all too well. You will frequently find them enjoying a musical, fine art, as well as a round of golf, just to name a few.
ENTERTAINMENT IN WALNUT CREEK, CA:
Walnut Creek Art & Wine Festival: Seniors love attending this exciting street festival. It has been a part of the community for years, and will continue to do so for many more. It is here that you will find live music, dancing, as well as a variety of great food from many local vendors. The festival features award-winning wines and microbrews, and provides a premium wine tent where you can converse with friends. The best part is that there are typically more than 200 artisans that sell hand-made crafts and other exceptional items.
Boundary Oak Golf Course: If you're a golf lover, then you are really going to enjoy retiring in Walnut Creek, CA. It's the home of Boundary Oak, a popular East Bay golf course. It's an exceptional 18-hole championship golf course that's known throughout the Bay Area. Boundary Oak sports fantastic putting greens and a modern driving range. You will also find their clubhouse to be a great place to shop for all your golf needs. Additionally, this course allows for terrific views of the San Ramon Valley. After a game, grab some lunch at the Tap House located on the premises. It's a nice place to catch up with friends and have a few drinks.
Lesher Center for the Arts:

If you like to be entertained, you will want to visit this amazing art center. It sports wonderful musicals, ballets, comedies, operas, and so much more. Additionally, you will want to stop by the Bedford Art Gallery, located within the Lesher Center for the Arts, to see breathtaking works of art. The residents of the Heritage downtown attend this art center on a regular basis. In fact, the Heritage Downtown

admires this center so much that they have proudly partnered with the Lesher Center for the Arts.
OUTSTANDING SENIOR CLUB
Walnut Creek Senior Club: If you want to make friends fast, join a senior club! Retiring in Walnut Creek will allow you to acclimate into your new East Bay Area retirement community twice as fast by becoming a part of this sensational club. You will have a grand time meeting the same club members each week, as well as taking part in many fun activities. This includes such things as bridge, tennis, chorus, ski trips, and more!
Enjoy These Entertainment Activities When You Move to a Retirement Community in Dublin:
If you retire in Dublin, you will want to ensure that you take advantage of all this city has to offer. With that in mind, these two popular options would be a great place to start!
FUN PLACES TO VISIT IN DUBLIN:
The Dublin Senior Center: If you retire in Dublin, you will want to become a part of their well-known senior center. It sports fun and interesting classes, many activities, beneficial programs, and more. You will enjoy arts and crafts, games, computer workshops, as well as dance classes. Joining this club will have you looking forward to going each week!
Dublin Heritage Park and Museums: This is a fantastic place to visit that offers a variety of things to do. First of all, it's a 10-acre park where you can enjoy the sunshine, picnic with friends, or just take a walk. Within the park you will find two museums and a historic cemetery. The first museum is the 1856 Murray Schoolhouse that contains the rich history of Dublin. The 2nd museum is the Kolb House, a historic house within the community. You can also visit the 1859 St. Raymond Church, as well as the Kolb Sunday School Barn. If you move to a Dublin retirement community you won't want to pass up visiting the Heritage Park and Museums!
Older Adult Housing in a Walnut Creek or Dublin Retirement Community
After reading through our Walnut Creek vs Dublin Retirement Community Comparison, you may now have a better idea of where you would like to live. If you have decided, it means that it's time to start looking for the best San Francisco Bay Area senior housing. There are many choices in these two NorCal cities. Let's take a closer look:
Dublin Senior Housing
If Dublin is your preferred choice when it comes to a retirement community in Northern CA, congratulations on your decision. There are a variety of senior housing facilities in this East Bay city that you can choose from. No matter what your budget, there is something for everyone. Take your time and research several Bay Area senior housing options. You may want to personally visit them or check out reviews. Be sure you are choosing senior housing that is in your price range and in a crime free area. We wish you the best as you start on your new adventure in Dublin, CA!
Walnut Creek Senior Housing
For those of you who have chosen Walnut Creek as your preferred retirement destination, you will have so much to look forward to. The Heritage Downtown is located in Walnut Creek and will be our featured senior housing for this comparison. Let's dive in!
The Heritage Downtown Active Senior Living Apartments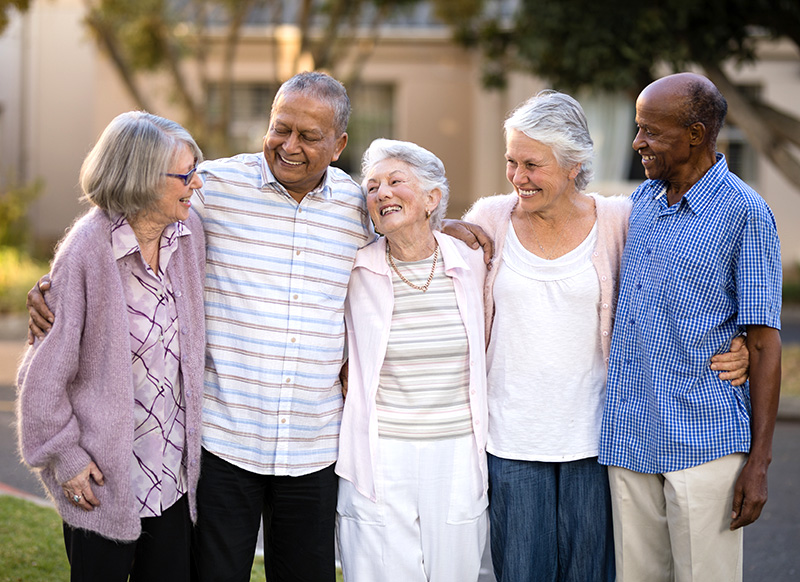 The Heritage Downtown is known as the San Francisco Bay Area's #1 Active Senior Living community, and for good reason. It showcases exceptional
amenities
, along with the perfect location – in the heart of downtown Walnut Creek. This allows its senior residents to take a stroll over to the best restaurants in the area. They can also walk a short distance to do a little shopping! The Heritage Downtown Senior Apartment Homes sports outstanding programs, classes, tech rooms, resident gardens, just to name a few. The goal of the Heritage Downtown is to have a place for seniors to live and enjoy life to the fullest, as well as keep mentally and physically fit. The Heritage Downtown features an award-winning, in-house restaurant where its residents meet with friends for lunch and dinner. If you love to swim, you will find an incredible swimming pool, as well as a relaxing spa. Its 55+ residents also enjoy gated secured parking in an underground garage, along with a game room and library, and a lot more. We know you would just love living at the Heritage Downtown, everybody else does!
Check Out a Few More Northern CA City Comparisons
If you're not positive that moving to a retirement community in Dublin or Walnut Creek is right for you, take a look at these additional city comparisons:
Live Life the Way It Was Meant to Be in a Walnut Creek or Dublin Retirement Community!
No matter where you retire, in Dublin or Walnut Creek, we wish you the best as you start your new journey. We also hope that our retirement comparison has been helpful in determining which Northern CA senior hot spot would be best for you. Before we go, we would like to share the following video with you so that you may see for yourself just how wonderful Walnut Creek really is.
.
.