Walnut Creek vs Livermore Retirement Community Comparison

The San Francisco Bay Area can be a beautiful place to retire, especially when you live in a Walnut Creek or Livermore retirement community. These two fabulous senior hot spots have gained much attention over the years as being the place to be when it comes to enjoying your retirement years. In this comparison, we cover all the details of retiring in these two Northern CA retirement cities. Let's dive in and find out more! [toc]
Impressive Retirement Communities in Livermore & Walnut Creek
You will find that both Bay Area retirement communities have much to offer their senior residents. Which city you decide to move to will depend on your personal preferences in regards to such things as cost of living, transportation, entertainment, and so on. We have gathered information on these topics, and more, so you can view them all in one convenient place.
Location – The Best Areas to Retire in Northern CA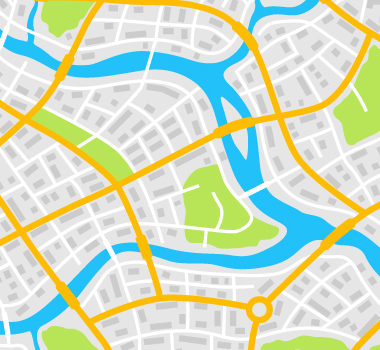 As far as location is concerned, some areas offer more nature, with rolling hills, wide-open spaces, parks, and the like. Others may have more of a city landscape where you can enjoy fine-dining and shopping. Each location, although similar, have distinct differences that are worth looking into when you are deciding which NorCal retirement location may be best for you.
Let's look at the fine details of these popular 55+ California communities:
Walnut Creek:
The older adults that live in this popular Contra Costa retirement community love the location for many reasons. This Bay Area city has wonderful natural aspects to it. It includes open fields, hills, parks, hiking trails, and more. In addition to this, Walnut Creek has an outstanding city landscape filled with thriving businesses, 5-star restaurants, along with many shops and boutiques. For this reason, the seniors that reside at the
Heritage Downtown,
which is located in downtown Walnut Creek, enjoy their location even more. They can simply take a short walk to where all the action is. For those older adults who love to get out of their home city once in a while, Walnut Creek makes it an easy thing to do. This is because of the fact that Walnut Creek has more than a few major freeways running through it that interconnect. In sum, this Bay Area retirement community will, without a doubt, exceed your expectations!
Livermore:
This Alameda County retirement community sits on the eastern edge of the San Francisco Bay Area. It's comprised of about 25.2 square miles, with 99 percent of it consisting of land. Livermore provides beautiful mountain views, along with sensational vineyards scattered about. It's also a Northern CA 55 plus community that sports a thriving city landscape. If you love to shop and dine, Livermore will provide you with plenty of opportunities. When it comes to traveling, Livermore, CA, has two major freeways that run along the borders of the city. So, depending on where you would reside, accessing a freeway would either be a quick drive, or, it could take a bit of time. Overall, this East Bay city offers a location that would be perfect for retired seniors.
Climate – East Bay Area Senior Communities that Offer Great Weather
Although you may think that the weather patterns are not important, you should reconsider that thought. Certain climates can cause an individual to frequently experience joint pain due to inflammation on rainy days. At the same time, certain climates will allow a senior to get out to enjoy the sunshine. As you can see, the weather can affect your day to day experiences. Here are a few specifications on the weather patterns in these two Bay Area retirement communities:
Walnut Creek:
This Northern CA retirement city sports great weather patterns, and temperatures range from the 50s to 80s. Those who reside at the Heritage Downtown Active Senior Living Luxury Apartment homes love the typical weather that Walnut Creek presents to them on a daily basis. Plus, it doesn't rain too often in this East Bay retirement community, which is great for those who suffer from arthritis. If you are one to get some walking in when it's cool outside, you're in luck. This city typically has cool mornings that are perfect for this type of activity. Walnut Creek features a Mediterranean climate with sunny days throughout the year. So, if you're looking for a place to retire within the San Francisco Bay Area that offers wonderful weather, Walnut Creek is the place to be!
Livermore: This California retirement community also sports a Mediterranean climate. Its summers are hot and dry, and it commonly has wet, cool winters. It's also known for its summertime humidity, monsoon clouds, and periodic thunderstorms. Although Livermore's summers can get pretty warm, the summer nights tend to be a lot cooler. This may be due to the nighttime wind that typically makes its way from the ocean. Livermore's average temperatures range from the 30s to 80s.

Cost of Living – Both Livermore and Walnut Creek are Affordable
Even more important than the climate, a city's cost of living should be looked at in detail. This especially holds true for those retired seniors who are on a budget. In this situation, moving to a city with a high cost of living could leave an individual with no money left at the end of the month. Or, worse yet, leave them with not enough money to pay the bills. With this said, we looked into both of these Northern CA active senior retirement communities and found them both to offer cost-effective living. Either city will allow you to enjoy your retirement, even on a budget.
Population – Bay Area Senior Hot Spots that are Not Overcrowded
Walnut Creek and Livermore have similar population numbers, with Livermore being slightly higher. Walnut Creek's population numbers are currently at 68,516. Livermore comes in at 88,232. So, if you decide to move to a Walnut Creek or Livermore retirement community, you won't have to deal with an overpopulated city!
Have a look at these age related population numbers for Walnut Creek and Livermore:
Walnut Creek's population numbers for older adults ages 65-74 is 13 percent, compared to Livermore's 7.4%.
The median age is 8.8 years younger in the city of Livermore.
If you're interested in how Walnut Creek compares to Livermore's 85 and older population, take a look at these statistics: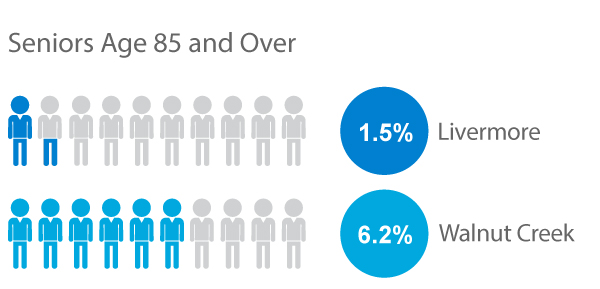 Transportation – 55+ Bay Area Retirement Communities with Great Mobility Options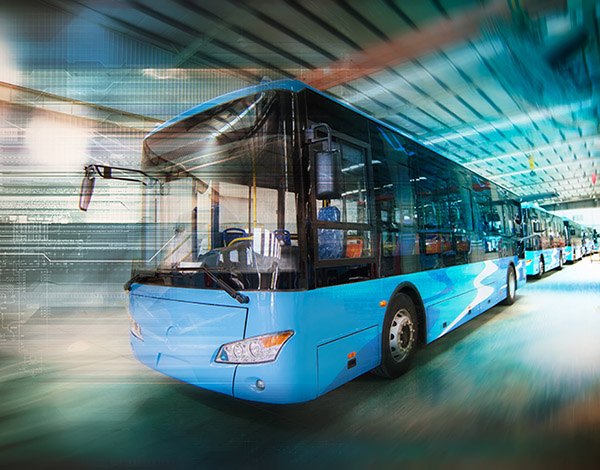 If you are moving to a Livermore or Walnut Creek retirement community, you should ensure that there are optimal transportation options. It goes without saying that you will want to enjoy your retirement. With that comes the chance to get out and about in your community; enjoying the scenery, as well as traveling to other Bay Area cities. As you can see, this is an important aspect of choosing your San Francisco Bay Area retirement community. So, let's dig deeper into what transportation options are available in each city.
Reliable Walnut Creek Transportation Options:
Seniors who retire in Walnut Creek will have no problems getting around whatsoever. This city offers excellent transportation options that senior citizens take advantage of on a daily basis.
Rides for Seniors: Walnut Creek takes care of its senior population, and it shows. Older adults who may have issues taking public transportation can utilize Walnut Creek's Senior Mini Bus program. The cost is $1 each way, which is very affordable.
The Downtown Trolley: The city's trolley service is free of charge and used by seniors of all ages. If you move to a retirement community in Walnut Creek, you will become familiar with this convenient means of transportation. The trolley travels around the downtown area where you can catch a bite to eat, do a little shopping, and more.
Take the Shuttle: Walnut Creek also provides free shuttle services such as the Creekside or Shadelands Shuttle. Just ask the independent active seniors of the Heritage Downtown. They frequently use this service to get to medical appointments, run errands, and so on.
East Bay Public Transportation: For a small fee, you can ride the County Connection bus system. It makes stops all around the city, and travels to other Bay Area cities as well. If you love to do extensive traveling, you may want to utilize the Bay Area Rapid Transit – BART. It's a fantastic commuter rail system that provides Walnut Creek and its surrounding cities with a reliable and cost-effective means of getting around.
Great Transportation Options in Livermore, CA:
If you decide to move to a Livermore retirement community, you will be happy to hear that it will have the same city transportation options that Walnut Creek offers. You can conveniently utilize the BART system when you are planning your day trips around the Bay Area. In addition to this, when you prefer to just stay within the city borders, you can catch the bus (County Connection). These two fantastic options will cover all your bases and get you where you need to go, whether it's for a medical appointment, or, meeting a friend for lunch! If you happen to be one to go sightseeing, and love to get out and travel, take a look at our
Bay Area destination guide.
You and your friends can keep busy visiting all these terrific San Francisco Bay Area senior destinations.
Crime Rate – Safe Retirement Communities in Livermore & Walnut Creek
When it comes to safety, your place of residence should have the lowest crime rate as possible. This will allow you to have a piece of mind and sleep well at night. The last thing you will want to worry about in your retirement years is if it's safe to walk around your neighborhood. Or, feeling like you need to lock your windows during the afternoon. Knowing that the crime rate can be a major factor in finding the best retirement community in Northern CA, we went ahead and did the research for you. We are happy to report that either a Walnut Creek or Livermore retirement community will be safe locations to retire in.
Walnut Creek Crime: 11.7
Livermore Crime:

14.5
Crime is ranked on a scale of 1 (low crime) to 100 (high crime)
Healthcare – San Francisco Bay Area Senior Communities with Quality Medical Facilities

No matter where you retire, it's imperative to ensure that the city's healthcare facilities will be able to take care of your medical needs. Active seniors who move to a retirement community in Walnut Creek or Livermore, will find that both cities offer quality medical facilities. Let's take a closer look at what these two cities have to offer.
Walnut Creek John Muir Medical Center:
With many awards under its belt, John Muir is known for being a quality, top-notch hospital. No matter what you're there for – a broken hand, or, emergency surgery, you will be well taken care of. This medical center currently holds 554-licensed beds, and houses an amazing team of physicians, nurses, and staff members. This fantastic hospital is the county's sole trauma center. So, it would be to your advantage to live close by, just like the senior residents of the Heritage Downtown. Additionally, this Walnut Creek hospital has been named one of the nation's premier healthcare providers by U.S. News & World Report. Furthermore, it was awarded the Joint Commission's Gold Seal of Approval™ for certification as a primary stroke center. John Muir Medical Center is located near downtown Walnut Creek.
Stanford Health Care – ValleyCare Medical Center: For those 55+ seniors who retire in Livermore, they will be able to utilize the ValleyCare Medical Center. This East Bay medical facility has many specialized medical programs, outstanding physicians, and innovative medical equipment. They have won many awards and have been recognized by the American Heart and Stroke Association as achieving 85% or higher adherence to all "Get With The Guidelines" heart failure performance achievement indicators. This hospital provides services in the areas of cardiac care, arthritis, cancer care, dermatology, joint replacement, senior care, and more.
Entertainment – Livermore & Walnut Creek Offer Great Activities for Senior Citizens
It's important to keep active in our senior years. Doing so will keep you physically fit, as well as young at heart. In addition to this, participating in activities, especially with friends, is imperative for good mental health. In contrast, sitting home alone can lead to isolation and depression. With all this in mind, we did extensive research to see what fun and interesting activities you would have access to if you were to move to a Walnut Creek or Livermore senior community. Take a look at the information we have gathered:
Walnut Creek Provides the Following Entertainment Options: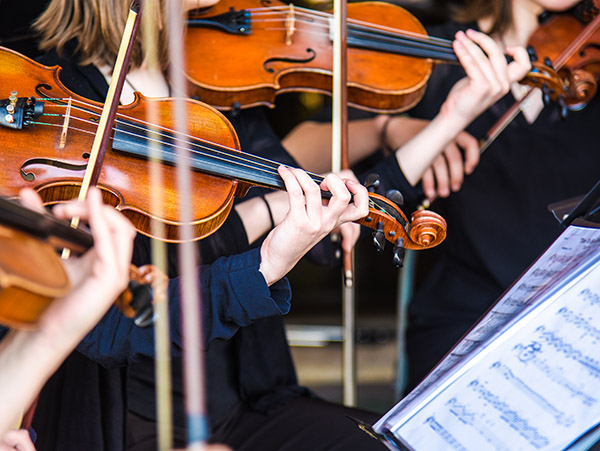 If you think you might retire in this San Francisco Bay Area retirement community, you will have a lot to look forward to. Walnut Creek offers so much in the way of entertainment. In fact, seniors from other Bay Area retirement centers travel to Walnut Creek to join in on all this city has going on. Take a look for yourself:
FANTASTIC THINGS TO DO IN WALNUT CREEK, CA:
Lesher Center for the Arts: The Heritage Downtown has partnered with the Lesher Center for the Arts, and this gives you an indication of how fabulous this art center really is. It's conveniently located within downtown Walnut Creek and provides endless opportunities to be entertained. This center for performing arts showcases plays, musicals, ballets, comedies, operas, orchestras, and so much more. Plus, if you are a lover of art, you will want to take a stroll through the Bedford Art Gallery which is located within the Lesher Center for the Arts.
Boundary Oak Golf Course: Golf lovers of all ages play this course daily. It's an impressive 18-hole championship golf course that will certainly exceed your expectations. Boundary Oak sports immaculate putting greens, a popular driving range, along with a clubhouse that houses everything you would need. Additionally, if you like a course with a view, this one has exceptional views of the San Ramon Valley. For those of you who love to grab a beer or a bite to eat after a good game, Boundary Oak has an on-site eatery called the Tap House. You will often see residents from the Heritage Downtown enjoying lunch or dinner here. Boundary Oak is well known throughout the Bay Area as being a retired senior's dream course.

Walnut Creek Art & Wine Festival: If you like street festivals, then you will love retiring in Walnut Creek! The city puts on an art & wine festival once a year that has seniors from other Bay Area communities traveling to attend. It is here that you will have a chance to shop the many arts and crafts booths, as well as grab a bite to eat or drink. You will also have a chance to hear live local music!
AN AWESOME SENIOR CLUB
Walnut Creek Senior Club: If you retire in Walnut Creek, you will be happy to hear that this city has a popular senior club that has many members. It's a great place to meet people in the community, take part in activities, and just have a good time! They have many programs and activities designed for their members who live in this San Francisco Bay Area retirement community. From softball to bridge, and even ski trips and sing-a-longs, you will be sure to have the time of your life when you join this Walnut Creek senior club.
For those who love to travel outside their city limits, here is a
Senior Bay Area Destination Guide
that will give you some ideas on where to take day trips or weekend getaways.
Entertainment Opportunities in Livermore:
When you move to a great Bay Area retirement community such as this, you will have fantastic entertainment opportunities to take advantage of. From visiting local wineries to stopping by a famous museum, Livermore will certainly keep you busy. Let's see what this Northern CA senior hot spot has to offer:
MUST-VISIT PLACES IN LIVERMORE, CA:
Livermore Wine Trolley: Moving to this East Bay retirement community will also give you a chance to frequently ride the Livermore Wine Trolley! You and your fellow seniors will have a fabulous time as you explore the local wineries that are within the Livermore Valley. They offer an all-inclusive tour called the "Taste of Livermore", it's a guaranteed good time. On their tours you will learn about the region's wines, have a chance to see rolling hills and beautiful vineyards, and of course, go wine tasting.
Duarte Garage & Lincoln Highway Museum: For those of you who move to a retirement community in Livermore, CA, you will certainly want to visit this famous museum. The original garage was constructed in 1915, on the path of the first transcontinental United States highway. It sold oil and gasoline, and eventually started selling automobiles. In the 1940s the garage began doing machine shop work such as rebuilding winery equipment. This multi-purpose garage was restored by the Livermore Heritage Guild in 1976 and was presented as a museum. Duarte Garage Museum houses must-see classic and antique cars, as well as vintage firetrucks. In fact, they have a 1920 Seagrave Firetruck, as well as a Model-T Firetruck built in the 1930s.
Senior Housing in Walnut Creek & Livermore Retirement Communities
Now that you have had a chance to read all the details of these two San Francisco Bay Area retirement communities, you may be leaning one way or the other. No matter which city you choose, you will want to ensure you find senior housing that fits your particular needs. Both cities certainly have plenty of Bay Area senior housing options.
The Best Senior Housing in Livermore, CA
If you have decided to retire in Livermore, it's time to start searching for senior housing within the area. There is certainly affordable senior housing in Livermore, so, you would just need to determine which one is right for you. We recommend doing an extensive search for Livermore senior apartments or homes. Once you locate a few prime facilities, compare notes for pricing, as well as nearby transportation options, and choose the facility that you think is best. We hope that your new Northern CA Bay Area retirement community meets all your needs and provides you with the life you are hoping for.
The Best Senior Housing in Walnut Creek, CA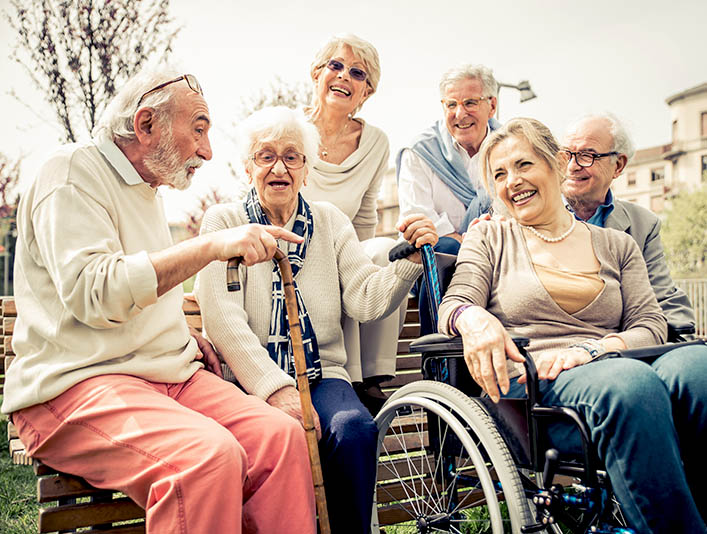 If a Walnut Creek retirement community is more your speed, then you will have a lot to look forward to. This outstanding East Bay senior hot spot has been attracting 55+ individuals for many years now. Walnut Creek offers various programs, activities, and transportation options for older adults. This may be why the senior population there just keeps growing! Let's take a look at one of the most popular senior apartment homes in Walnut Creek:
The Heritage Downtown Active Senior Living Apartments
For those of you who have your heart set on retiring in Walnut Creek, you will want to take a look at these wonderful senior apartment homes. They offer many
amenities
that cater to seniors of all ages, which makes living there a lovely experience. Furthermore, the Heritage Downtown features senior programs that were developed to ensure their residents are in good physical and mental shape. These senior luxury apartment homes offer gardening spaces for their residents who love to get out in the sunshine to do a little gardening. But if you are more of a technical indoors type person, you can conveniently visit their technology rooms. They provide 24-hour concierge service, free shuttle rides, outstanding weekly housekeeping, planned afternoon getaways, and a chance to take a dip in their beautiful pool and spa. If you love to gather with friends for lunch and dinner, the Heritage Downtown offers its 5-star, on-site eatery. These Bay Area senior apartments rest within downtown Walnut Creek, and this is said to be one of its best features. The senior residents can simply take a short walk and they will be surrounded by boutiques and fine-dining opportunities. If you move to the Heritage Downtown Active Senior Living Apartment Homes, it will certainly meet all your needs!
Take a Look at These Additional Bay Area City Comparisons
If you feel that a Walnut Creek or Livermore retirement community is just not right for you, see if one of these other cities meets your needs:
Live Life to the Fullest in Your New Walnut Creek or Livermore Retirement Community!
Moving to the San Francisco Bay Area to retire will be a great experience no matter where you retire. If you have landed on a Livermore retirement community, we hope you are happy with your decision. If you are retiring in Walnut Creek, we know you are going to absolutely love this Northern CA senior community. To back this statement up even further, take a look at the following video. In it you will see just how sensational Walnut Creek really is.
.
.