Walnut Creek vs Menlo Park CA Retirement Community Comparison – Bay Area Guide for Seniors

There are many outstanding places to retire in Northern CA, and with so many options, it can be a bit challenging to figure out which Bay Area city is best to retire in. With that in mind, we have put together a comprehensive guide that covers Walnut Creek and Menlo Park retirement community information. You will be able to read about transportation options, entertainment, the climate, and more. We know you are eager to get the ball rolling! So let's dive in and see what these two San Francisco Bay Area senior communities have to offer. [toc]
Outstanding Senior Communities in Menlo Park & Walnut Creek
Both of these sunny California retirement cities offer much to their senior residents. Although each city may be a great place to retire, it's worth doing a little research to pinpoint which Bay Area retirement community best fits your particular needs. For instance, you may be looking for a city that has a small population, or maybe you prefer a landscape that offers more greenery. There is much to consider, even down to the fine details, and our comparison will certainly help you sort through them.
Location – Beautiful Areas to Retire within the Bay Area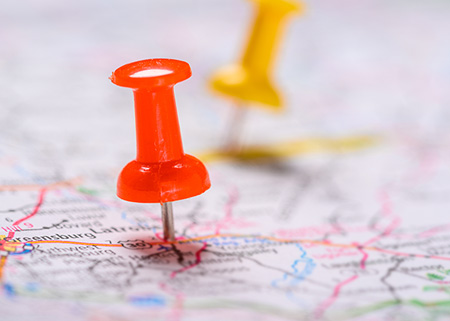 Everyone knows just how beautiful the San Francisco Bay Area is, and this is why it's such a popular place to retire. It offers rolling hills, ocean breezes, and a chance to take day trips to the city of San Francisco. Our research shows that both Bay Area retirement communities offer much when it comes to their locations.
Here are a few location specifics for Walnut Creek and Menlo Park:
Walnut Creek:
This city is located in Contra Costa County, in the East Bay region, just below the western slopes of Mount Diablo. This 55+ community showcases a perfect combination of both nature and city landscapes. You will find beautiful wide-open areas of land throughout Walnut Creek, as well as rolling hills, many areas to take walks, or go hiking. Additionally, Walnut Creek's location is filled with successful businesses, boutiques and popular dining options. If you make this East Bay retirement community your home, you will most likely become familiar with Downtown Walnut Creek. It is here that you will often see the residents of the
Heritage Downtown
shopping and having a great time. Plus, several major freeways interconnect in this location, making it a central hub for travelers. Overall, Walnut Creek offers a location that has everything a senior would hope for in a Bay Area retirement community.
Menlo Park:
This senior retirement city is located in San Mateo County, on the eastern edge. It's a 35-minute drive to San Francisco, which is convenient for those of you who love big city shopping. Menlo Park CA also gives its residents easy access to the Dumbarton Bridge, which will allow you to cross the San Francisco Bay in no time when you would like to visit other Northern CA cities. In addition to this, several major freeways pass through Menlo Park, making it simple to travel to your destinations. A section of the city is located near the water's edge, which provides breathtaking waterfront views. But if you prefer more greenery, Walnut Creek comes out on top. However, you will find some excellent parks that are located in Menlo Park, CA.
Climate – Move to a Walnut Creek or Menlo Park Retirement Community for Great Weather Year-Round
If you are planning on retiring in the Bay Area, you can expect excellent weather in most cities. Each city has its own particular weather pattern, so it's worth looking into the climate in detail for the city you are interested in. For instance, you may prefer less rain, or maybe you want to avoid the foggy conditions that some coastal cities experience. Both Walnut Creek and Menlo Park CA have great weather to offer retired seniors, but let's take a closer look at each city.
Walnut Creek:
This East Bay Area senior hot spot provides outstanding weather that seniors can enjoy. This includes almost unbroken sunshine year-round, which is great for older adults who love to get out and walk on a daily basis. Seniors who retire in Walnut Creek can expect average Bay Area temperatures that range from the mid 30s to high 80s. For those seniors who avoid rainy locations due to arthritis pain, you will be happy to hear that Walnut Creek doesn't experience too much of it. If you are searching for a Bay Area city to retire in that offers fantastic weather, then you may want to consider Walnut Creek!
Menlo Park:
Being so close to the San Francisco Bay, retired seniors can expect to enjoy cool breezes, which is perfect on those warm summer days. However, being so close to the water's edge can also bring about a good amount of fog that this area is known for. Menlo Park CA has average temperatures that range in the high 30s to the low 80s, depending upon the season. If you love to soak up the sun, the hottest months are July through September. Additionally, when it comes to rainy days, just like Walnut Creek, this is something you won't have to worry about.
Cost of Living – Affordability is a Must for Retired Seniors in Northern CA
The cost of living is an important factor when it comes to determining which San Francisco Bay Area retirement community will work out best for your budget. With this in mind, it's crucial to research any city you are considering moving to. Imagine packing all your belonging and getting set up in your new retirement housing, only to find the area you choose is way out of your budget. You will want to retire in an area that will not only allow you to cover all your monthly bills, but also have spending money left over. In our research, we found Walnut Creek to be 49.2% less expensive than Menlo Park, CA.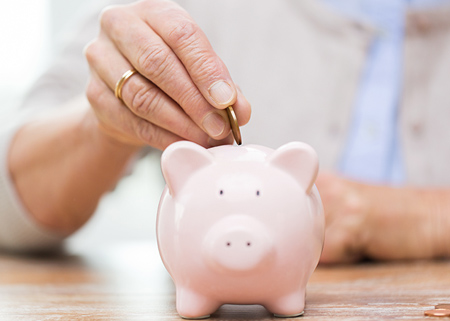 Take a look at a few cost of living numbers below to get a better idea of the difference between the two cities:
Walnut Creek Retirement Community Offers These Cost of Living Numbers:
Overall: 195.1
Housing: 377.9
A Menlo Park Retirement Community Offers These Cost of Living Numbers:
Overall: 384.3
Housing: 983.5
Under 100 means less expensive than the U.S. averages. Above 100 means more expensive.
Population – Retire in a San Francisco Bay Area City That's Not Overcrowded
Most senior citizens would like to avoid crowded cities. With this in mind, you will be happy to hear that both Walnut Creek and Menlo Park CA retirement communities have low to mid-size populations. Walnut Creek's population numbers come in at 68,516, while Menlo Park has a lower number of 33,661. Although Menlo Park has a lower population number, keep in mind that if it's too low, that may affect the number of resources and senior programs a city can offer. In sum, both Northern CA retirement cities have great population numbers.
Take a look at a few additional details regarding age-specific numbers:
The city of Walnut Creek's population numbers for older adults ages 65-74 is 13% and 6.9% for Menlo Park, CA.
The median age is 11.3 years older in the city of Walnut Creek than it is in Menlo Park.
Are you 85 or older? If so, you may be interested in the following information: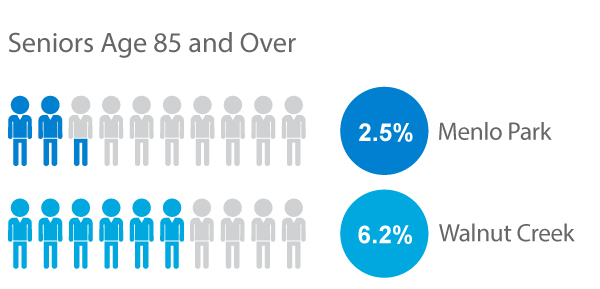 Transportation – Walnut Creek & Menlo Park Retirement Community Mobility Options
It's important for seniors of all ages to keep busy and active. With this comes the need for excellent transportation options. Great transportation within a city can mean the difference between enjoying your afternoons to sitting home bored and isolated. Knowing the importance of this topic, we fully researched each city to see what mobility options are available.
Walnut Creek Retirement Community Transportation:
If you are one to be on the go, you will love all that Walnut Creek as to offer when it comes to transportation. From the city bus to the BART system, you will be able to do your shopping, visit friends, or catch a movie with no issues. Let's take a closer look at what transportation services are available in Walnut Creek.
Senior Transportation: This Contra Costa County retirement community provides older adults with an outstanding Senior Mini-Bus Program. The cost is only $1 each way, making it an affordable option for many. It's a great alternative for those seniors who like to avoid riding the city bus. The mini-bus program will enable you to do your shopping, run errands, and more.
Downtown Trolley: The Trolley is free of charge and operates seven days a week. It's a convenient means of transportation for getting around the downtown area with services every 12 minutes on weekdays, and every 20 minutes during the weekends. It will allow you to easily meet friends for lunch, visit the local art center, or the Walnut Creek senior center.
Shuttle Services: If you retire in Walnut Creek, you will want to become familiar with the city's shuttle services. This includes the Creekside and Shadelands shuttles. They offer complimentary weekday services that will allow seniors of all ages to shop, dine, as well as make it to their doctor's appointments.
Public Transportation: The city's most popular transportation option for seniors is the city bus, County Connection. It's a reliable way to travel around Walnut Creek, as well as other Bay Area cities. Additionally, if you are one to explore your surrounding cities, the BART system will take you to most places within the San Francisco Bay Area.
Menlo Park Retirement Community Transportation Options:
Senior Citizens who retire in Menlo Park will also have access to convenient and affordable transportation options. This will give any older adult living in this San Francisco Bay Area retirement community the opportunity to remain independent and active.
Menlo Park City Transportation: For those active senior citizens who know they would like to travel to San Francisco and other popular Bay Area cities, you can easily utilize the BART system to accomplish this. It's a fast and affordable way to plan day trips, visit friends, and so on. Or, if you are one to stay within your city limits, the city bus, samTrans can take care of your transportation needs. It's a low-cost means of getting to the shops, grocery stores, and other destinations.
Shopper's Shuttle Service: Older adults who are not able to drive and shy away from the public bus, can take advantage of this fantastic service. It's a 20 passenger shuttle that's free of charge and runs Wednesdays and Saturdays. Additionally, it provides accommodations for seniors with wheelchairs. The shuttle makes its rounds through Downtown Menlo Park, and other select areas. It makes stops at the local Safeway, as well as the Stanford Shopping Center. As you can see, the Shopper's Shuttle Service is more than enough to ensure you are able to run your errands.
If you would like to get an idea of which Bay Area cities might be worth traveling to for some fun, take a look at our
Bay Area destination guide.
Also, you can view these additional comparisons for even more ideas for taking day trips –
Pleasanton
,
Newark,
Napa,
and
San Jose.
Crime Rate – Retire in a Safe Northern California Senior Community
Before moving to any city, it's best to check out its crime rate. You would want to ensure that the San Francisco Bay Area retirement community that you decide on will be a safe place for you to live. Nothing would be worse than getting set up in a city only to realize later that it's not even safe to take a walk by yourself. That said, your quality of life can depend on whether or not you live in a low crime area. With this in mind, we did some upfront research and found that both a Walnut Creek or Menlo Park retirement community would be a safe place to call home.
Healthcare – Quality Hospitals for Retired Seniors in Walnut Creek & Menlo Park CA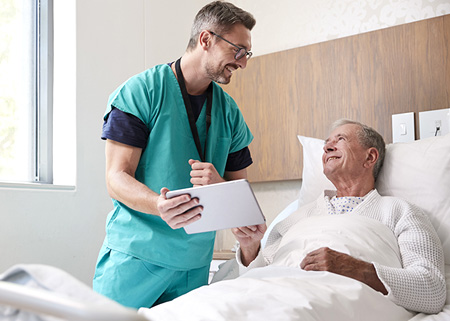 When seconds count, you will want to ensure you retire in an area that has a quality hospital nearby. It's worth mentioning that Menlo Park does not have a hospital within its city limits. However, there are hospitals in nearby cities that you would have access to. Our research found two outstanding hospitals that can take care of all your medical needs.
Walnut Creek John Muir Medical Center:
This impressive hospital is close to downtown Walnut Creek. This provides the seniors of the Heritage Downtown Luxury Apartments with a peace of mind. John Muir Medical Center was named by U.S. News & World Report as one of the nation's premier healthcare providers. Additionally, this hospital was given the Joint Commission's Gold Seal of Approval™ for certification as a primary stroke center. It was also accredited by the American Heart and Stroke Association. This professional medical facility sports 554 beds. It's known for its exceptional care in orthopedics, rehabilitation, neurosciences, cardiac, trauma, cancer care, and more. In addition to this, it houses the sole Emergency Trauma Center for all of Contra Costa County. John Muir Medical Center is capable of handling the most extreme medical emergencies, as well as less severe cases. All your medical needs will certainly be taken care of at this East Bay Area hospital.
Kaiser Permanente Redwood City Hospital
If you reside in a Menlo Park retirement community you will have to travel to a neighboring city to reach the closest hospital. Kaiser hospital, located in Redwood City, is about a 15-minute drive from the heart of Menlo Park, CA. This particular hospital features an advanced neuroscience center, high-end operating rooms, interventional radiology suites, and an expanded emergency department. Kaiser Permanente Redwood City Hospital has been named a Comprehensive Stroke Center by the Joint Commission. Additionally, they were one of the first in the nation to receive this certification. If you happen to stay overnight, you will find that they offer private rooms with Wi-Fi, pullout guest beds, and more. This state-of-the-art hospital offers quality health care, exceptional physicians, and helpful staff members.
Entertainment – Keep Active in Your Bay Area Retirement Community
When you hit your retirement years, it's time to have some fun! You now have a free schedule that will allow you to spend your days however you please. With this said, you can see how important it would be to retire in an area that has a lot of entertaining activities. Having fun and keeping active will bring about a sense of well-being and keep you physically fit. We gathered some information on entertainment options in both Bay Area retirement communities, let's take a look:
Walnut Creek Retirement Community Entertainment: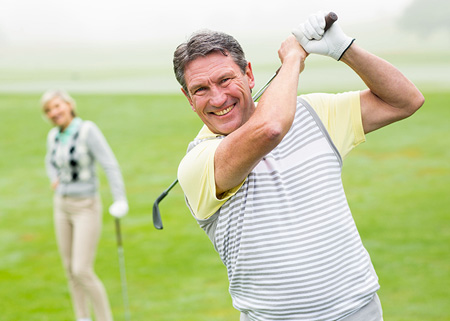 Active seniors who move to Walnut Creek won't have to worry about a lack of entertainment. The residents of the Heritage Downtown know this all too well. They have a wide variety of options for keeping active and being entertained. From strolling through a well-known art gallery to dancing at a popular street festival, there is certainly something for everyone.
ENTERTAINMENT IN WALNUT CREEK:
Boundary Oak Golf Course: With a golf course that hosts around 65,000 rounds per year, you know you can't go wrong. Boundary Oak is a great place for all level golf tournaments, as well as perfect for enjoying an everyday round of golf. This 18-hole championship course sports sensational views of Mt. Diablo. Plus, it features putting and chipping greens, as well as an incredible driving range. You will also find an outstanding clubhouse where you can purchase everything needed for your game. If you like grabbing a bite to eat after a good game, stop by the Tap House, Boundary Oak's onsite eatery. You can enjoy good food, drinks, and great company!
Walnut Creek Art & Wine Festival: The seniors of the Heritage Downtown, along with all the residents of Walnut Creek, look forward to this fabulous street festival every year. Now 38 years strong, and voted Best Community Event in Walnut Creek by the 2018 Reader's Choice Awards, it's a celebration you won't want to miss. It features live local music, arts and crafts, fine beers, award-winning wines, and a chance to have a great time with your friends.
Lesher Center for the Arts: If you retire in Walnut Creek, you will be lucky enough to live close to one of the most popular performance centers in the East Bay. The seniors of the Heritage Downtown take full advantage of living so close to this amazing art center. In fact, they have partnered with the Lesher Center for the Arts, that's how popular it is with the seniors of Walnut Creek. This art center puts on incredible performances such as plays, musicals, comedies, operas, ballets, and much more. The center also features the Bedford Art Gallery, which displays works of historic, modern, and contemporary artists.
Menlo Park Retirement Community Entertainment: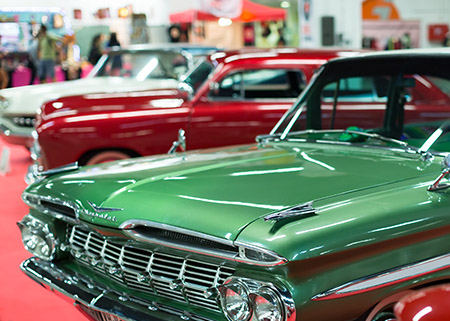 Menlo Park also has its fair share of entertainment options, which certainly makes living in this Northern CA Bay Area city much more interesting. It will provide you with a chance to hear live music, stop by a car show, and a lot more. Take a look at a few activities you may want to participate in if you retire in Menlo Park, CA.
ENTERTAINMENT IN MENLO PARK:
Menlo Summer Fest: This free annual festival brings the community together for two days of summer fun. They feature outstanding on stage live music, perfect for those active seniors who love dancing with their friends. They also showcase a Tiki Lounge, stay cool misting tent, gourmet food booths, crafts beers, local wines, and more. You can also enjoy their Artsplash section that contains works of art from over 250 artists! In addition to this, Menlo Park's Summer 5K Fun Run & Walk will be taking place on the last day of the event. If you move to a Menlo Park retirement community, you will certainly want to attend this event!

Cars & Coffee:

For those car buffs out there, or those who just love to reminisce about the good old days by viewing vintage cars, you may be interested in this free monthly event. It features an incredible collection of vintage and exotic cars from all over Silicon Valley. Plus, it gives you a chance to meet fellow car enthusiasts! While there, you can enjoy a cup of coffee, as well as a pastry while you stroll past rare, beautiful, and incredible cars on display. This Menlo Park event takes place every 3rd Saturday of the month at 9 AM.
Retirement Housing in Walnut Creek & Menlo Park CA
Now that you know all about these two popular Northern CA senior hot spots, it's time to decide where you would like to retire. Either city will provide you with great entertainment, affordable transportation, and much more. The final decision will now depend on your personal preferences. No matter what San Francisco Bay Area retirement community you choose, we wish you the very best!
Retirement Housing in Menlo Park CA
If you have decided that Menlo Park is where you would like to retire, you should start searching for specific senior housing. You will want to pay attention to the neighborhood's proximity to city transportation, if it's considered a low crime area, and so on. You should be happy with your final decision if you plan on calling your new senior housing facility your home for years to come. Once you find the best place to retire in Menlo Park CA, we hope you make many friends, and live life to the fullest in your new city!
Retirement Housing in Walnut Creek CA
For those who have fallen in love with Walnut Creek, we don't blame you! This fabulous East Bay Area retirement community is a favorite among many seniors. Plus, it houses the best senior apartments in the Bay Area, the Heritage Downtown.
The Heritage Downtown Active Senior Living Apartment Homes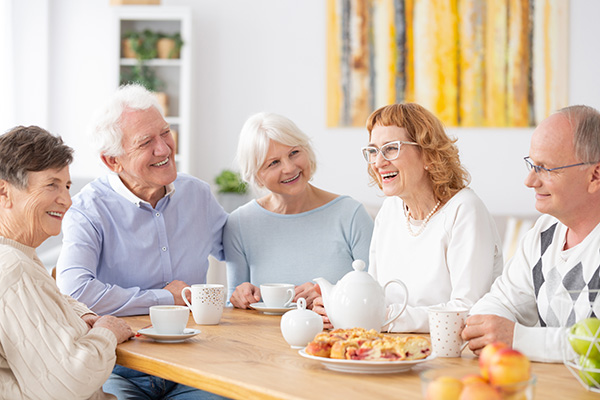 The Heritage Downtown has been named the Bay Area's #1 Active Senior Living Apartment Community. This is to be expected due to the fact that it offers exceptional
amenities
, along with the finest facility in the Bay Area. They have created an environment that offers resort-style living. They also provide the opportunity to live a fulfilling life, as well as the chance to make amazing friends. The Heritage Downtown provides its senior residents with outstanding programs that include social activities, exercise groups and educational classes, just to name a few. While living at the Heritage Downtown, you will enjoy technology rooms, resident gardens, a useful library, and the list goes on. For those seniors who love to swim, it offers a modern swimming pool, along with a relaxing spa. You can also take advantage of its housekeeping services, van and bus shuttle services, BBQ and music pavilion, and much more. These San Francisco Bay Area senior apartments feature a 5-star restaurant that its residents enjoy on a daily basis. It's definitely a great place to meet your neighbors for lunch. The seniors who reside at the Heritage Downtown are able to easily enjoy a day of shopping or dining in Downtown Walnut Creek. This is possible due to the fact that they live so close to the downtown area. While there, they can catch the trolley to explore all this charming area of Walnut Creek has to offer.
Check Out More Bay Area Retirement Cities
Not positive you would like to move to a Walnut Creek or Menlo Park retirement community? Take a look at a few more comparisons:
Enjoy Your Golden Years to the Fullest by Retiring in Walnut Creek or Menlo Park CA!
Deciding what Northern CA city you would like to call home is an important decision. From location specifics to transportation options, there is much to consider. It may even be wise to take a trip to visit Menlo Park and Walnut Creek to make a final decision. No matter which city you retire in, we hope this comparison has been helpful and that you enjoy your golden years in an outstanding Bay Area city that you love. We would like to end this detailed Bay Area senior guide by giving you the opportunity to take a glimpse into the city of Walnut Creek by viewing this incredible video. It will give you an insider's view as to just how wonderful this San Francisco Bay Area retirement community really is.
.
.