Walnut Creek vs Cupertino Retirement Community Comparison – Bay Area Guide for Seniors

Thinking about moving to Northern CA? If so, continue reading our Walnut Creek vs Cupertino Retirement Community Comparison. It's filled with useful and exciting information that will have you packing your bags and moving to one of these fabulous Bay Area cities. We cover aspects of retirement communities that can be important to seniors who are looking for a new place to call home. Find out what type of transportation is offered, how the entertainment scene looks, as well as what the best hospitals in the area are. There is so much to consider! Let's get started and have a look at Walnut Creek and Cupertino, CA.
The Best Retirement Communities in Cupertino & Walnut Creek
The San Francisco Bay Area contains many outstanding retirement cities that are worth checking out. Cupertino and Walnut Creek are most certainly on that list. They both offer much to seniors of all ages. The question is, which city would best fit your retirement needs? You will surely be able to sort that out by the end of this helpful senior Bay Area retirement guide.
Location – Move to a San Francisco Bay Area City that You Will Love
Settling into a Walnut Creek or Cupertino retirement community would be a great way to start your retirement. Although both are great places to call home, it's best to take a look at their differences, especially when it comes to location. Whether you love the city life, or a bit of nature, these two NorCal senior hot spots have got you covered.
Let's take a close look at what Walnut Creek and Cupertino have to offer location-wise: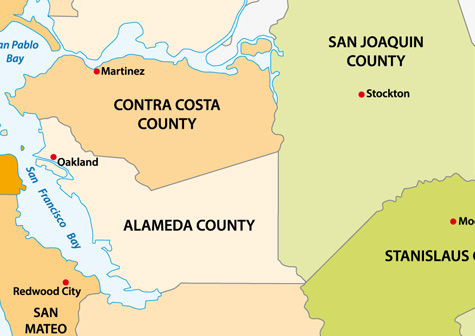 Walnut Creek:
This Bay Area retirement community is centrally located and contains a few major highways that join to form what is called a hub for those who enjoy getting out to travel. This is a bonus for those active seniors who want to take plenty of day trips around the San Fransisco Bay Area. The
Heritage Downtown Senior Living Apartments
plan plenty of
senior afternoon trips,
so living in this particular area is certainly advantageous. For those who like to stay local, Walnut Creek's location offers beautiful landscapes, open fields, hiking trails, parks, as well as a thriving city life. One of its most breathtaking features is the view of Mount Diablo. When your finished enjoying all the nature that this location offers, you can stay busy and have a great time in downtown Walnut Creek. It's filled with fantastic restaurants and incredible shopping opportunities. Walnut Creek has a location that provides something for everyone!
Cupertino, CA:
This retirement city is in Santa Clara County, within the San Francisco Bay Area. It's also in Silicon Valley, a place that is known to be a leading hub for high-tech companies such as Apple Inc. If you move to a Cupertino retirement community, you will be directly west of San Jose, on the southern end of the San Francisco Bay. Cupertino has a bustling city life, but it also has some wonderful nature aspects to it. For instance, it's the home of the Rancho San Antonio Preserve. This preserve offers Cupertino locals an escape from the city where they will find bicycle and equestrian trails, along with hiking and walking trails. Overall, choosing to move to a Cupertino senior community would offer any senior a chance to live in a location that is adored by many.
Climate – Enjoy Comfortable Weather Year-Round in a Bay Area Senior Community
Ensuring you are comfortable with an area's weather patterns is an important factor. Imagine moving to a location that has constant fog that will make your days cold and damp. Or, a city that is too hot during the summer months. With that in mind, it's a great idea to look into the weather of the Bay Area city you are considering retiring in. Let's see what these two Northern CA retirement communities have to offer:
Walnut Creek, CA:
This Bay Area retirement community offers great Mediterranean weather. It also provides wonderful San Francisco Bay Area temperatures that are typically in the 30s to high 80s. If you are a senior who has issues with rainy days, we are happy to let you know that Walnut Creek won't give you too much of it. This is great for seniors who experience joint pain when it's damp out. This city has plenty of sunshine. In fact, it has almost unbroken sunshine year-round. The seniors of The Heritage Downtown take full advantage of this by going on walks and hikes, and just enjoying the day. If you are looking for a Northern CA retirement community that offers perfect weather, then Walnut Creek might just be your new home.
Cupertino, CA:
If you are one to avoid the rain, this San Francisco Bay Area retirement community does not have much of it. When it does happen to rain, it's normally in the winter, and brings along with it colder temperatures. Cupertino offers a warm and temperate summer climate, that is said to be very comfortable. Its average temperatures range from the low 40s to the low 80's, depending upon the season.
Cost of Living – A Retirement Community in Walnut Creek Is More Affordable than Cupertino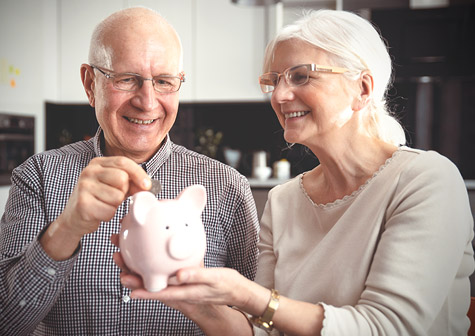 The cost of living for the Northern CA retirement community that you are considering should be within your budget. As a retired senior, you may have limited funds, and with that comes spending money wisely. With that said, we did some research and found that Walnut Creek is much more affordable than Cupertino, CA. In fact, Walnut Creek is 45.0% less expensive than the city of Cupertino is. The cost of living numbers below give you a good indication of the affordability factor:
Cost of Living Info for Walnut Creek Retirement Communities:
Overall: 195.1
Housing: 377.9
Cost of Living Info for Cupertino CA Retirement Communities:
Overall: 354.6
Housing: 893.2
Under 100 means less expensive than the U.S. averages. Above 100 means more expensive.
Population – Walnut Creek Features More Retired Seniors
Those who retire in Walnut Creek certainly won't have to deal with an overpopulated city. It happens to sport a great population number of 68,516. Cupertino also boasts a comfortable number of 60,687. Both cities come out on top when it comes to not being too crowded. However, Walnut Creek does win when it comes to the number of seniors it has. This may have something to do with the fact that Cupertino attracts a younger crowd because of its history in the tech industry. Take a look at these facts to see why Walnut Creek would be a wonderful retirement location:
The percentage of seniors ages 65-74 that reside in Walnut Creek is 13, compared to Cupertino's 6.5%.
The median age is 7.5 years older in Walnut Creek than in the city of Cupertino.
If you are 85 and up, check out these percentages of seniors who are your age: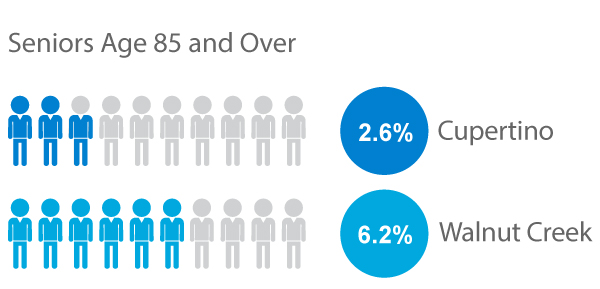 Transportation – Retire in Cupertino or Walnut Creek with Great Mobility Options
Retiring in Northern CA provides the opportunity to travel and explore a beautiful area. Because of this, it's important to ensure that the area you move to has optimal transportation options. Imagine moving to a new area and not able to take afternoon getaways because of less than desirable mobility choices. We researched both areas so you can compare what each city has to offer:
Walnut Creek Transportation: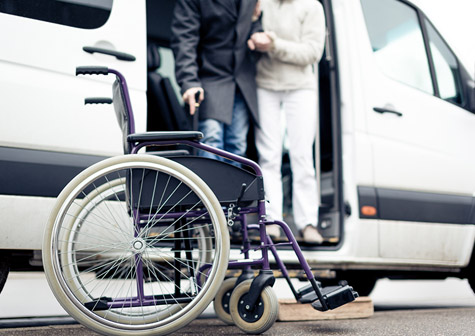 The city of Walnut Creek offers a variety of transportation that its local seniors can take advantage of. From the BART system to specific senior transportation, this East Bay retirement community has got you covered.
55+ Transportation: This Contra Costa County retirement community provides seniors with a great option called the Senior Mini-Bus Program. It's very affordable at only $1 each way. It allows retired seniors to avoid using public transportation when they need to go grocery shopping or run other essential errands.
The Downtown Trolley: This means of transportation is a popular option for those who retire in Walnut Creek. It's a great way to travel throughout the downtown area to explore the many shops and restaurants. It runs seven days a week and is free to ride.
Shuttle Service: Retired Walnut Creek residents often catch the Creekside or Shadelands shuttles. They travel to multiple destinations at no charge. It's a convenient and reliable way to run errands or get to your medical appointments.
Public Transportation: If you think you may want to travel around Northern CA to explore a bit, then you can utilize the Bay Area Rapid Transit (BART) System. It's a fast means of transportation that's perfect for day trips or afternoon getaways! Or, for those who just want to travel around town, Walnut Creek offers the County Connection city bus. It makes stops at many popular destinations throughout the week.
Transportation Options in Cupertino CA:
Moving to a Cupertino senior community will also provide you with sufficient transportation options. You will be able to travel around the city, or catch a bus transfer to a neighboring city for a day of fun.
Valley Transportation Authority: The VTA city bus system makes many stops within Cupertino, allowing you to run errands, go to your medical appointments, or meet a friend for lunch across town. It's a reliable and affordable way to keep independent and active.
Via Cupertino Shuttle: This fantastic shuttle service is an on-demand transit option that travels anywhere within Cupertino. For seniors, they offer one-way fares of only $1.75. This service provides door-to-door service for disabled riders, as well as wheelchair access.
For those active seniors who want to get out and explore, see our
Bay Area Senior Destination Guide.
Looking for a place to visit, check out a few of our other Bay Area retirement guides for more information on each city –
Daly City
,
Santa Clara,
Novato,
Alameda,
and
Pleasanton
.
Crime Rate – Making sure your Bay Area Retirement Community is Safe
Before retiring anywhere in the San Francisco Bay Area, It would be wise to check the city's crime rate. It goes without saying that you will want to feel safe walking around your neighborhood, riding the public bus, and so on. Your safety should be a priority, and checking a city's crime rate is fairly simple. In fact, we did the research for you and found that moving to a walnut creek or Cupertino retirement community would provide you with a low-crime area to call home. Compared to most Bay Area cities, Walnut Creek and Cupertino rank low on the crime scale.
Crime is ranked on a scale of 1 (low crime) to 100 (high crime)
Healthcare – Professional Hospitals for Seniors in the Bay Area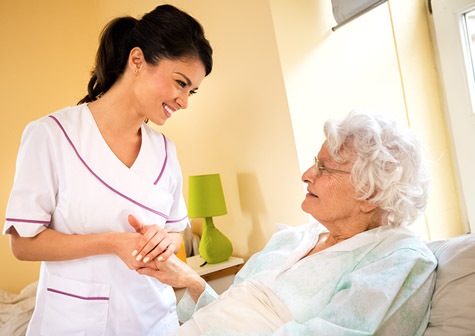 Those of you who retire in Walnut Creek will be pleased to know that this city houses the John Muir Medical Center. It's an outstanding hospital that is known for its exceptional care.
Walnut Creek John Muir Medical Center:
The residents of The Heritage Downtown feel confident knowing this medical facility is only an 8-minute drive away. This holds true because when an emergency arises, every second counts. John Muir specializes in orthopedics, rehabilitation, neurosciences, cardiac care, emergency services, trauma, as well as cancer care.
This hospital has been recognized by U.S. News and World Report, for the past eight years, as one of the nation's premier health care providers. John Muir Medical Center boasts 554-licensed beds and is the sole trauma center for all of Contra Costa County. This hospital has bee accredited by The Joint Commission for its compliance with their state-of-the-art high standards for quality and safety. Walnut Creek seniors can sleep well at night knowing they will be well taken care of it the need arises.
O'Connor Hospital
Although not in Cupertino, it sits nearby in the neighboring city of San Jose. It's an excellent hospital that features 600 plus physicians, 358-licensed beds, and modern medical equipment. Its key services include emergency and urgent care, cancer care, cardiac and vascular procedures, rehabilitation, and more. O'Connor Hospital has received many awards and recognitions such as the Joint Commission Hospital National Quality Approval and Accreditation. In addition to this, they have received the Blue Distinction Center for Knee and hip replacement program. If you move to a retirement community in Cupertino, your medical needs will certainly be taken care of.
Entertainment – Northern CA Provides Seniors with Many Activities
If you choose a retirement community in Cupertino, or one in Walnut Creek, you will be sure to keep active. These two San Francisco Bay Area senior communities offer much when it comes to indoor or outdoor entertainment. Let's see what you will have to look forward to:
Activities for Seniors Who Retire in Walnut Creek:
If you are leaning towards retiring in this East Bay senior community, you are in store for a good time! Walnut Creek is a fun and active city with many activities that seniors can enjoy.
ENTERTAINMENT IN WALNUT CREEK:
Ruth Bancroft Garden: This well-known garden is the talk of the town. It's a 3.5-acre garden that was originally built by its founder, Ruth Bancroft, during the 1950s. The Ruth Bancroft Garden features various succulents and other similar plants. They offer self-guided as well as docent-led tours. In addition to this, they provide DIY workshops, and community events. If you retire in this San Francisco senior community, you and your fellow seniors will love this place!
Boundary Oak Golf Course: This golf course hosts over 65,000 rounds per year, so they must be doing something right! Boundary Oak is a wonderful course for seniors of all levels – from beginner to pro. It sports an 18-hole championship course, driving range, and chipping greens. Additionally, while playing a round, you can enjoy sensational views of Mt. Diablo. You can visit its professional pro shop if you are in need of equipment, gifts, or more. After a great round of golf, grab a bite to eat at the Tap House, Boundary Oak's onsite restaurant. While there, you can enjoy delicious food, drinks, and some good conversation.
Lesher Center for the Arts: The Heritage Downtown Luxury Apartments has recently partnered with the Lesher Center for the Arts. This is exciting for their residents because they attend many performances at this fabulous art center. The Lesher Center for the Arts puts on outstanding plays, musicals, comedies, operas, and the like. Plus, when the shows over, you can visit the Bedford Art Gallery, located within the art center. There you will enjoy various works of art, from modern to classical.
Enjoy These Cupertino Retirement Community Activities: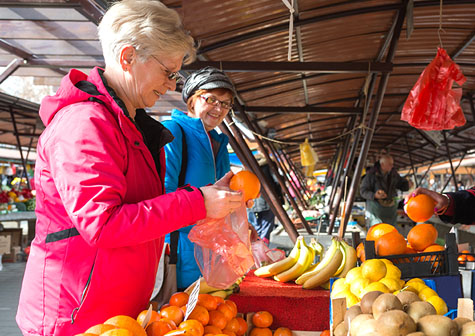 Seniors who retire in Cupertino will find a variety of entertainment options throughout the city. From popular golf courses, museums, art galleries, and more, it's certainly a great place to retire in Northern CA.
ENTERTAINMENT IN CUPERTINO:
Creekside Farmers' Market: If you love to eat healthy with fresh fruits and veggies, then you are going to enjoy strolling through the Creekside Farmer's Market. The food is brought in by local farmers and ranchers, and the quality is top-notch. This particular Farmers' Market is operated by the Pacific Coast Farmers' Market Association. They operate several markets throughout the Bay Area. Along with vegetables and fruits, you will also find honey, eggs, and specialty cheeses. If you retire in Cupertino, be sure to visit this Farmers' Market!

Deep Cliff Golf Course:

This sensational course has been named one of the Top Short Courses in America by Golf Range Magazine. Additionally, they offer a Senior's Player's Club, perfect for those 55+ active seniors who love to play golf. Deep Cliff Golf Course was created in 1961 and designed by Clark Glasson. It's an 18-hole, par 60 course that rests in the Cupertino foothills. This makes for breathtaking views while you enjoy a round of golf. You and your fellow seniors will enjoy walking the course with its flat terrain and lightly tiered greens. The course sports a beautiful atmosphere, along with challenging layouts. They also cater to beginners who are not up for a big challenge. The course is open daily, so stop by if you happen to move to a retirement community in Cupertino.
Great Senior Housing in Cupertino & Walnut Creek CA
Now that you have thoroughly researched both of these Northern CA retirement communities, it's time to start the search for senior housing in the Bay Area. When looking for senior housing in Cupertino, or Walnut Creek, make sure to cover all your bases. No matter which NorCal city you will retire in, it's best to make a list of your wants, needs, and requirements pertaining to senior housing. This will help ensure that you end up in a Bay Area retirement facility that you love. Let's take a look at a few details regarding senior housing in Cupertino and Walnut Creek:
The Best Senior Housing in Cupertino CA
If you're going to be looking for the best senior housing in Cupertino, be sure to take your time, and don't rush on any decisions. Landing on the perfect senior housing facility is your goal, so it would be wise to make a list of what's important to you, visit multiple Cupertino senior housing apartments, and ensure each place fits your budget. Once you have done your research, you may even want to ask a few of the residents in the facility you are looking at, if they are enjoying their stay. This will give you real feedback, as opposed to just reading reviews online. If you will be moving forward with retiring in Cupertino, we wish you the best with finding a place you can call home.
Affordable Retirement Housing in Walnut Creek CA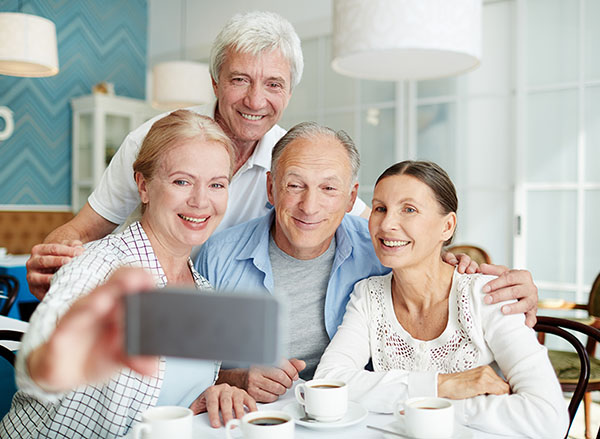 If you have decided to retire in Walnut Creek, congratulations! This Contra Costa County retirement community is the home of many 55+ seniors who love living there, especially the seniors who reside at The Heritage Downtown. Let's find out why:
The Heritage Downtown Active Senior Living Apartment Homes
Considered the best retirement community in the Bay Area, The Heritage Downtown is popular among seniors of all ages. This is due, in part, by the incredible
amenities
that are offered to their senior residents. For instance, they provide beautiful, comfortable rooms, with
spacious floor plans
, an innovative fitness center that includes group classes, fitness programs, and the like. You will also find a wonderful swimming pool and spa, gardens that the residents tend to, and helpful housekeeping services. In addition to this, The Heritage Downtown provides a much-talked-about, on-site eatery, so you and your neighbors can meet for gourmet meals and great conversation. Also, if you would like to dine out, The Heritage Downtown is located within walking distance to some of the best restaurants in the East Bay, all located in downtown Walnut Creek. You can also spend the day shopping, and meet with friends, all within a short distance from your front door. As you can see, these Walnut Creek senior apartments would be a lovely place to call home. If you would like to stop by for a tour, contact
The Heritage Downtown
today.
Take a Look at More Retirement Community Comparisons
Not sure if retiring in Cupertino, or Walnut Creek is for you? Then you will want to read through a few more San Francisco Bay Area retirement community comparisons.
Live in a Walnut Creek or Cupertino Retirement Community and Enjoy Your Golden Years!
The San Francisco Bay Area is a beautiful place to live. It's all a matter of finding that perfect location so you can fully enjoy your retirement years. If you move to a Walnut Creek or Cupertino retirement community, we are sure you will love the area! Both cities offer much in relation to what most senior citizens are seeking in a retirement community. Before you leave us today, take a look at this entertaining video that details downtown Walnut Creek. This will give you a good understanding of what it would be like to retire in this outstanding Bay Area city.